Book Explores Consciousness to Solve the Big Problems of Life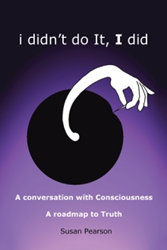 Author Susan Pearson explores why humans seem unable to solve the universal problems of disease, poverty, insecurity and injustice. In her debut book, "i didn't do It, I did" (published by Balboa Press AU), she reveals that we actually resist transcending our problematic state of consciousness, but could achieve this if only we understood the nature of that resistance.
Pearson explains that transcendence depends on the correct use of the mind. "A fundamental principle of Truth is that matter is mind," she says. "This means that the world we experience is under our control whether we know it or not. Our perceived lack of control therefore creates situations that in effect reinforce this perception in a self-perpetuating cycle of fear, pain, lack and dissatisfaction."
The book is a result of Pearson allowing her mind to listen to her "Voice of Truth," the same voice accessible to everyone but utilized by very few. She says that the principles of truth are not new, but they can be told in a new way. Notwithstanding, any book about truth must naturally lead the reader to ancient truth teachings such as the Bhagavad Gita, the Four Sublime Truths of Buddha and the Bible. Pearson relates these sacred works to life's everyday situations, making them more meaningful and accessible.
In order to convey the message received, Pearson presents a dialogue between her own human consciousness, "i," and universal spiritual consciousness, "I." She lets "I" lead "i" on an exploration of the two states of consciousness. Through answers to perennial questions such as "what am i doing here?", "why am i in this body?" and "why are humans so self-destructive?" "I" offers the practical tools to make transcendence from i to I possible. Ultimately, the perception of discord is shattered to reveal a more harmonious experience for everyone - dare she say "Peace on earth!"
Readers who want to know more about this self-help book may visit https://www.amazon.com/didnt-did-conversation-Consciousness-roadmap/dp/1504309855.
"i didn't do It, I did: A conversation with Consciousness A roadmap to Truth"
By Susan Pearson
Softcover | 6 x 9in | 322 pages | ISBN 9781504309851
E-Book | 322 pages | ISBN 9781504309868
Available at Amazon and Barnes & Noble
Author contact: +61 409 500 166
Book launch: Friday, June 22, 2018, 6 for 6.30, Gleebooks, 49 Glebe Point Road, Glebe, NSW 2037
About the Author
Before and during a lengthy career in business, Susan Pearson was drawn to many esoteric areas of study and investigation including meditation and transpersonal psychotherapy. She also holds a diploma in energetic healing. Pearson grew up in Melbourne and moved to Sydney in 1984. She is married and has two sons who now live in Sydney while she and her husband live close by in country New South Wales. "i didn't do It, I did" is her first published book.
Related Articles View More Books

Stories
More Hot Stories For You