BWW Review: DELICIOUS DESSERT COCKTAILS by Barbara Scott-Goodman for Sweet and Enticing Recipes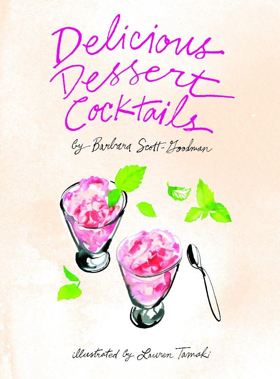 Are you in the mood for a delicious cocktail or a luscious boozy delight? Now, there's a book that satisfies all of your cravings. Published by Bluestreak Books and wonderfully written by Brooklynite, Barbara Scott-Goodman, Delicious Dessert Cocktails presents recipes that are sure to please. It is a beautiful book, with colorful, artistic drawings that jump right off the page. This distinctive book has totally new ideas for cocktail and dessert lovers.
You'll like the way the book is organized with easy to follow recipes using ingredients that are readily accessible. The first chapter has "Bar Basics" with instructions to make Simple Syrup, Fruit Shrubs, and Marinated Fresh Cherries. There are six additional chapters that have approachable recipes for all occasions. They include Classic Cocktails; Fresh Fruit Cocktails; Granitas, Affogatos, and Ice Cream Drinks; Hot Toddies, Cider, and Chocolate Drinks; Coffee Cocktails and Drinks; and Light Dessert Bites. You'll be able to find something perfect for special events to impress your guests.
Refreshing, fruity choices include the Frozen Orange Negroni, the Strawberry-Champagne Cocktail or the Honeydew Margarita. There are rich, creamy sips like the Brandy Alexander, White Russian and the Thin Mint Cocktail. Warm up with Amaretto Hot Chocolate or the Apple-Bourbon Hot Toddy. Top off a meal with French Sorbet, the Coffee Granita or the Chocolate and Amaretto Affogato. You can even whip up some tempting baked items like Ginger Cookies, Lemon Wafers or Raisin-Walnut Biscotti.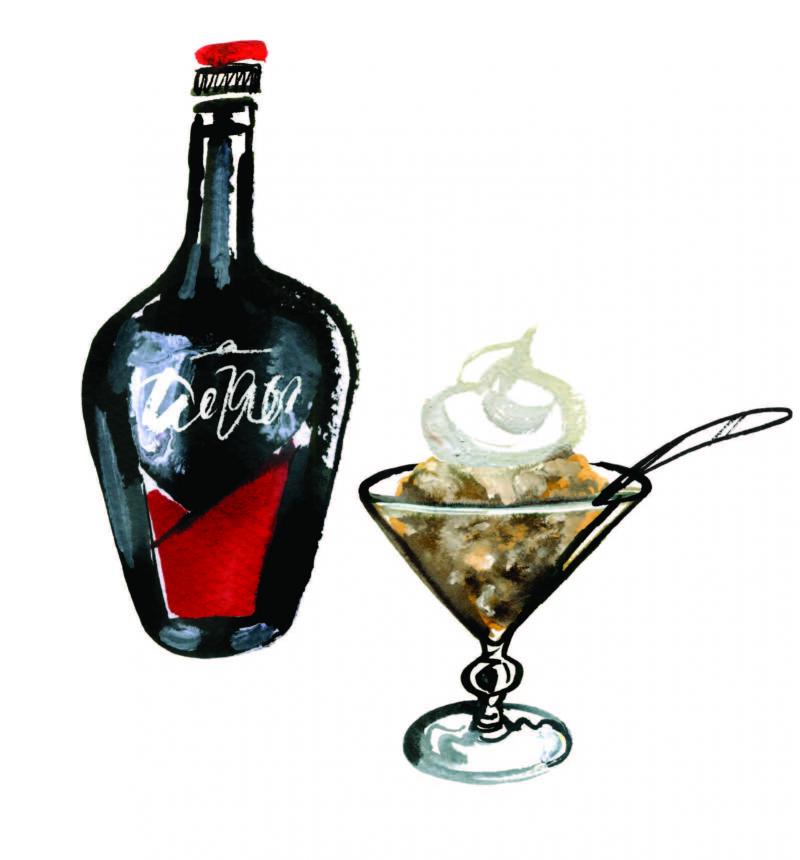 Indulge in some enticing treats. Delicious Dessert Cocktails is a very special book that definitely makes life a little sweeter! You'll enjoy owning it and it also makes an ideal gift.
About the Author
Barbara Scott-Goodman is the author, co-author, and designer of 14 cookbooks, including The Beach House Cookbook, The Vineyard Cookbook, The Ski Country Cookbook, and The Diabetes Menu Cookbook, a 2007 James Beard Award nominee. Her recipes have appeared in other cookbooks: Bon Appetit: Fast, Easy, Fresh, Soup's On, Smith & Hawken Gardeners' Community Cookbook, and The New York Cookbook and in Bon Appetit, Coastal Living, and Martha Stewart Everyday Food magazines. She is also the co-author and designer of Cake, a cookbook collaboration with author and illustrator, Maira Kalman. Lauren Tamaki is an award-winning illustrator whose work has appeared in many publications including The New York Times, and New York, GQ, Food & Wine, Saveur, and Martha Stewart Living magazines.
About Blue Streak Books, an imprint of Weldon Owen
With timely, trend-derived and stylishly timeless books for adults, Blue Streak Books creates high-content and beautifully made paper-based impulse and keepsake books. Founded in 1984, Weldon Owen US is a high-quality, non-fiction, adult book publisher specializing in producing innovative, richly illustrated lifestyle books. They illustrate great ideas, break down complex skills so anyone can learn them, and entertain and inspire along the way a wide range of readers' passions, be they practical, creative, adventurous, or all-out fun. Weldon Owen provides readers a way to feed their mind and fuel their passions. For more information and inspiration, visit, http://weldonowen.com
Delicious Dessert Cocktails has over 130 pages of excellent ideas. It is available in hardcover and can be purchased for $17.99 at Amazon.com by visiting: https://www.amazon.com/Delicious-Dessert-Cocktails-Barbara-Scott-Goodman/dp/1681882841.
Photo Credit: Courtesy of Weldon Owen
Related Articles View More Books

Stories