BLANC Magazine AW Issue Celebrates the Art of the Hustle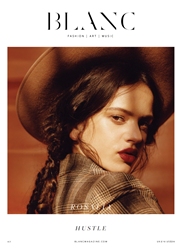 BLANC, an independently published luxury magazine striving to provide a diverse and often underrepresented perspective of fashion, art, and music, today announced the release of its AW issue: Hustle. The seventh issue in the publication's history is dedicated to the idea of recognizing one's gifts and actively working to reinforce and strengthen them—otherwise characterized as hustle.
Few will be surprised to see Rosalía Vila Tobella, the 25-year-old Spanish star on the rise whose new album recently earned her two Latin Grammy awards, featured on BLANC's first music cover. Accredited with bringing flamenco back to the forefront of the international music scene, Rosalía shares her story of resourcefulness, creativity, and vulnerability. Haitian model, Selena Marie Johnson, draped in DROMe and Opening Ceremony can be seen on the corresponding fashion cover. BLANC's latest issue profiles creatives who are on the brink of becoming and also celebrates more established artists whose alloy of natural ability and focused effort defines their hustle.
"Everyone has a hustle within them; a natural proclivity honed through practice and effort, that sets them apart from the crowd," said BLANC Editor-in-Chief, Teneshia Carr. "At BLANC we are always seeking out those artists who make us feel alive and move us. The artists in our latest issue not only achieved this with their talent, but with their hustle. We see their blood, sweat, and tears, and that is what we celebrate in this issue."
Among those featured within the Hustle issue are: artist Nathaniel Mary Quinn; artist Ta Thimkaeo; TOGA designer Yasuko Furuta; Syrian born designer, Nabil Nayal; Levi Palmer and Matthew Harding, the American-born graduates of prestigious Central Saint Martins college in London and design duo behind progressive fashion brand, Palmer//Harding; Spanish singer and actress, Rosalía Vila Tobella; modern-day soul-man and issue muse, Xavier Dphrepaulezz (better known as Fantastic Negrito); Irish-born, London-based fluoro-pop female artist, Cosha; Icelandic musician, Sara Pétursdóttir, aka Glowie; actor and star of Ryan Murphy television miniseries, "Pose," Jeremy McClain; British actress and model, Emma Laird; founder of gal-dem, Liv Little; model, Ikram Abdi Omar; model Aweng Chuol; model and artist, Taja Feistner; model, Joanna Diaz; and artist, Yuki Beniya.
As style, art, and music enthusiasts, BLANC readers and followers are an already influential and knowledgeable set of learned and inquisitive professionals and tastemakers who are always in search of further exploration. BLANC combines fresh, yet sophisticated fashion and style alongside smart, thoughtful and intellectually stimulating features. Each issue aims to merge the quality of a glossy magazine with the heart of a progressive and freethinking independent publication.
The BLANC Hustle issue is currently available for purchase on newsstands across the U.K., Europe and the U.S., as well as at http://www.blancmagazine.com/shop/. For more information, please visit http://www.blancmagazine.com.
About BLANC
BLANC is a fashion, art, and music magazine that shines the spotlight on up-and-coming artists from across the globe. Founded in 2011 with an emphasis on introducing diverse and underrepresented talent, BLANC built a reputation for top-quality productions by presenting designers, photographers, visual artists, galleries, musicians and more through personal profiles, in-depth interviews and extensive editorial imagery. BLANC is distributed across 20 countries.
Related Articles View More Books

Stories
More Hot Stories For You