Anne Marie Ruff Pens Beneath The Same Heaven: A Story Of Love And Terrorism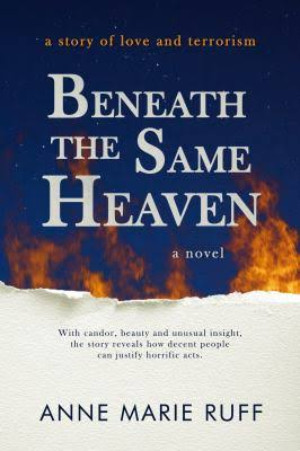 What drives good and loving people to commit acts of terrorism? And can those people remain good and loving afterward?
Anne Marie Ruff's surprising and thought-provoking second work of literary fiction, Beneath the Same Heaven: A Story of Love and Terrorism (Open Books, April 2018), is a love story of an American woman and a Pakistani-born Muslim man, who seem to have bridged the divide between Western and Islamic world views. But when the husband's father is killed by a U.S. drone attack near the Afghan border, their cross-cultural family descends into conflicting ideas of loyalty, justice, identity, revenge, and terrorism. With candor, beauty, and unusual insight, their story reveals both how decent people can justify horrific acts, and the emotional power required to heal.
An important and timely read, Beneath the Same Heaven is a book about terrorism, but told from a very personal, intimate perspective. Both Kathryn and Rashid tell the story from their own first person perspectives, so the reader sees the world from two different, and perhaps irreconcilable, cultures and systems of justice. The story looks deeply at why someone would commit a terrorist act and comes to the surprising understanding that love and a desire for justice can motivate a terrorist. The terrorist in the novel is not a dehumanized other from a barbaric culture, but a relatable man, a husband to a mainstream American woman and the father of their children. The story reminds readers that the desire for justice, like the desire for love, is universal.
"I want readers to be moved by the pain the characters cause each other, even though they are motivated by love, and how the geopolitics of the Western/Islamic conflict wreaks havoc in the lives of individuals from both cultures," explains Ruff. "I want readers to understand that the humans on the receiving end of drone attacks have relationships and emotional lives as rich and as important as the humans who direct the drones."
About the Author:
Anne Marie Ruff has spent her whole life telling stories: as a novelist, journalist, radio broadcaster, editor, teacher, and actor. She has spent much of her adult life traveling the world, living abroad, and asking questions in search of stories worth telling. Ruff worked as a journalist, based for several years in Bangkok, Thailand, and Abu Dhabi in the United Arab Emirates. Her work has been published/broadcast by NPR, BBC, PRI, PBS, Christian Science Monitor, Time Asia, Far Eastern Economic Review, and International Herald Tribune TV. Ruff's first novel, Through These Veins, about the development of a cure for AIDS, drew on her reporting about the environment, biodiversity, biotech, and AIDS research, in Thailand, Ethiopia, and Turkmenistan.
Born in Minnesota, she attended Blake Upper School before moving to Los Angeles to study geography and environmental studies at UCLA. She has recently returned to Minnesota where she lives in the big woods with her Indian born-and-raised husband and their two sons. Beneath the Same Heaven is her second work of fiction.
For more information, visit www.annemarieruff.com.
Beneath the Same Heaven is available on Amazon and bookstores nationwide.
Related Articles View More Books

Stories
More Hot Stories For You