A Rock and Roll Trip Between Heaven and Hell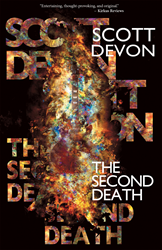 Henry Ford lived a simple life as an ordinary salesman. Upon his death, he finds himself in purgatory where he must use a new voice to avoid eternal death in the lake of fire. Author Scott Devon's "The Second Death" is book one of a trilogy that takes readers on a wild ride through the afterlife.
As Henry breaks into song guided by a piano man who helps him play with the riddles of pop culture, he dances with the hipster rock-star devil and his band of banditos, cavorts with his playful, talented, and sin-sational girlfriend, Lust, makes amends with his family, and witnesses miracles-all while attempting to find the "Stairway to Heaven" and avoid the "Highway to Hell."
"Like many others, I've always wondered what the afterlife is like," said Devon. "But I didn't want my book to be overly religious and added steamy and dusty characters laced with humor and pop-culture references along with music to entertain and assist the characters on their journey.
"Consider 'Second Death' the illegitimate lovechild of Dante Alighieri and Janis Joplin… sex, drugs, and rock and roll-in purgatory," said BlueInk Review.
Filled with classic rock and roll references, wit, and charm, "The Second Death" follows one man's thrilling ride through the afterlife as a battle for his soul begins.
"The Second Death"
By Scott Devon
ISBN: 9781480851061 (softcover); 9781480851047 (hardcover); 9781480851054 (electronic)
Available at the Archway Publishing Online Bookstore, Amazon, and Barnes & Noble
About the author
Scott Devon is an acclaimed entrepreneur and artist. "The Second Death" is book one in a three-part series. To learn more, please visit http://www.devonauthor.com
General Inquiries:
LAVIDGE - Phoenix
Bryan Beach
480-306-6554
bbeach(at)lavidge(dot)com
Review Copies & Interview Requests:
LAVIDGE - Phoenix
Kiersten Woglom
480-998-2600 x 586
kwoglom(at)lavidge(dot)com
Related Articles View More Books

Stories
More Hot Stories For You