Neil Sedaka at St. George Theatre
Dates

10/10/2021

Theatre


35 Hyatt Street
Staten Island,NY 10301
Twitter Facebook Instagram

Tickets Info

$40-$95
Phone: 7184422900




Singer. Songwriter. Composer. Pianist. Author. These are just a few of the titles that can describe Neil Sedaka. Classically trained at Juilliard, his impressive sixty year career ranges from being one of the first teen pop sensations of the 50s, a tunesmith for himself and other artists in the 60s, a superstar in the 70s, remaining a constant force in writing and performing presently. This is all thanks to the countless songs he has written, performed, and produced that continue to inspire artists and audiences around the world. Introduced to Howard Greenfield by Greenfields mother in 1952, he began one of the most prolific songwriting partnerships of the last half-century that sold forty million records between 1959-1963. Sedaka soon recorded chart toppers The Diary, Oh! Carol, Stairway to Heaven, Calendar Girl, Little Devil, Happy Birthday Sweet Sixteen, Next Door To An Angel, and Breaking Up Is Hard To Do.In 1964, the direction of American music changed drastically when The Beatles launched The British Invasion. Due to his many talents as a songwriter, Neil was able to prevail, writing hit songs for such artists including Frank Sinatra, Tom Jones, The Monkees and The Fifth Dimension.Sedaka found enormous popularity in the UK with the release of a string of critically praised albums Emergence, Solitaire and The Tra-La Days Are Over. These albums caught the attention of Elton John, who was riding the wave of his own tremendous success. Sir Elton would sign Sedaka to his fledging new label Rocket Records and re-introduce Sedaka to American audiences. The two albums recorded for Rocket, Sedakas Back in 1974 and The Hungry Years in 1975, became top selling albums globally. His comeback was further heralded by two of his songs co-written with Phil Cody; Bad Blood and the quintessential Laughter in the Rain, both reaching the #1 position on the music charts. Breaking Up Is Hard To Do was re-released as a ballad in 1975, and made music history by becoming the first song recorded in two different versions by the same artist to reach #1. During this time, Captain and Tennille scored a worldwide #1 hit and the Grammy for Record of the Year with Sedaka/Greenfields Love Will Keep Us Together. The line Sedaka Is Back can be heard as the song fades out.Always looking to challenge himself as a composer, Neil has returned to his classical roots, composing his first symphony, Joie De Vivre, and his first piano concerto, Manhattan Intermezzo. Neil recorded these two pieces with the Philharmonia Orchestra of London at Air Studios in London. Manhattan Intermezzo was released on 2013s The Real Neil. Joie De Vivre was released on 2016s I Do It For Applause.With a career spanning seven decades, the National Academy of Popular Music has twice honored him, first with his induction into The Songwriters Hall of Fame in 1984, and in 2004 with The Sammy Cahn Lifetime Achievement Award, which recognizes outstanding work in furthering the successes of songwriters. He has had a street named after him in his hometown of Brooklyn and was given a star on the Hollywood Walk of Fame. In addition to celebrating his 80th birthday this year, Neil received an Honorary Doctorate in Music from Moravian College in Bethlehem, PA. This songwriting icon remains an active performer still playing his celebrated pop hits to sold out audiences worldwide.Top 20 US Singles Written and Performed by Neil Sedaka1958 The Diary #141959 Oh! Carol #91960 Stairway to Heaven #91960 You Mean Everything to Me #171961 Calendar Girl #41961 Little Devil #111961 Happy Birthday Sweet Sixteen #61962- Breaking Up is Hard to Do #11962 Next Door to an Angel #51963 Alice in Wonderland #171974 Laughter in the Rain #11975 Bad Blood #11975 Breaking Up is Hard to Do (Slow Version)* -#8 (#1 Adult Contemporary Chart) *First artist to score top 10 hit with two different versions of the same song1980 Shouldve Never Let You Go #19 (#3 Adult Contemporary Chart)Partial list of notable artists who have performed Neil Sedaka compositions:Abba Ring RingClay Aiken SolitaireThe Beach Boys The DiaryGlen Campbell Thats When The Music Takes MeCaptain & Tennille Love Will Keep Us Together (Grammy Record of the Year 1976) The Carpenters Solitaire & Breaking Up is Hard to DoCher Dont Hide Your LoveJimmy Clanton Another Sleepless NightPetula Clark Calendar GirlPatsy Cline Stupid CupidSheryl Crow SolitaireBobby Darin Keep A WalkinThe 5th Dimension Workin On a Groovy ThingGloria Estefan Breaking Up is Hard To DoConnie Francis Where The Boys Are, Stupid Cupid, Frankie, FallinThe Four Sesasons Oh, Carol, & Breaking Up is Hard to DoRoy Hamilton Time Marches OnJan & Dean Your Heart Has Changed Its MindMike Love Calendar GirlThe Monkees When Love Comes Knockin At Your Door & The Girl I Left Behind Me Wilson Pickett Love Will Keep Us TogetherElvis Presley SolitaireQueen Stupid CupidThe Searchers SolitaireThe Simpsons Love Will Keep Us TogetherFrank Sinatra The Hungry YearsDinah Washington Never AgainFrankie Valli Make The Music Play

News About Neil Sedaka at St. George Theatre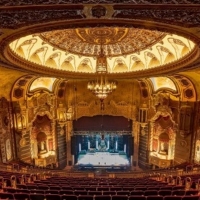 St. George Theatre Announces Reopening This Fall
June 08, 2021
Beginning Saturday, October 2nd with the Best of the Eagles tribute band, the St. George Theatre's 2021-2022 season includes headline performances from an eclectic lineup of musicians and singers such as Frankie Valli, Sarah Brightman, Neil Sedaka, The Mavericks, and The Temptations and The Four Tops, comedians Eric D'Alessandro, Mike Marino, and Anthony Rodia, and many more.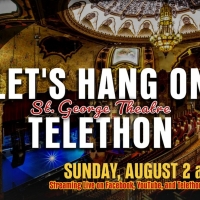 St. George Theatre Telethon LET'S HANG ON Raises Over $60,000
August 05, 2020
St. George's Theatre's live telethon, 'Let's Hang On' raised over $60,000 for the venue.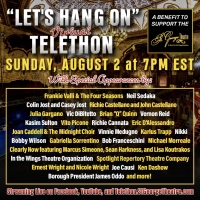 St. George Theatre Presents LET'S HANG ON Virtual Telethon With Colin Jost, Frankie Valli, Neil Sedaka and More
July 20, 2020
On Sunday, August 2 at 7PM EST the St. George Theatre will present the 'Let's Hang On' Virtual Telethon to benefit the theatre's relief fund in the wake of the COVID-19 pandemic.