BWW Preview: SILVIO SANTOS VEM AI!, UMA COMEDIA MUSICAL is on Its Way
Silvio Santos Vem Aí!, Uma Comédia Musical (Here Comes Silvio Santos! - A Musical Comedy) written by Marília Toledo and Emílio Boechat, directed by Fernanda Chamma and Marilia Toledo, presents a small part of the life of the television host and businessman Senor Abravanel (played by actor Velson D'Souza) from his childhood, when he was a street vendor in Rio de Janeiro, until in the 90s, right after the consolidation of SBT television network.
Senor Abravanel, son of Sephardic Jewish immigrants, known professionally as Silvio Santos, is a Brazilian entrepreneur, media tycoon and television host. He is the owner of holdings that include SBT, the second largest television network in the country. His net worth was US$1.3 billion in 2013. He is the presenter of the second oldest Brazilian program: Programa Silvio Santos (1963-present). He is also the only celebrity in the country on the list of billionaires by Forbes magazine. The magazine also states that "there is no one more famous than Silvio Santos in Brazil".
Silvio Santos Vem Aí! Is a Paris Cultural's first theatrical production and opens on March 13 at 033 Rooftop (Teatro Santander) at Complexo JK Iguatemi.
Com texto de Marília Toledo e Emílio Boechat, direção de Fernanda Chamma (que também assina a coreografia) e Marília Toledo, além de direção musical de Marco França, a comédia musical Silvio Santos Vem Aí! estreia dia 13 de março (sexta-feira), no 033 Rooftop (Teatro Santander), no complexo JK Iguatemi, em São Paulo.
O espetáculo faz um recorte na vida do apresentador e empresário Senor Abravanel (vivido pelo ator Velson D'Souza) desde sua infância, quando era camelô no Rio de Janeiro, até a década de 90, logo após a consolidação do SBT. Com personagens icônicos como Gugu Liberato, Hebe, Elke Maravilha, Wagner Montes, Bozo, Pedro de Lara entre outros, a peça promete agradar todas as gerações.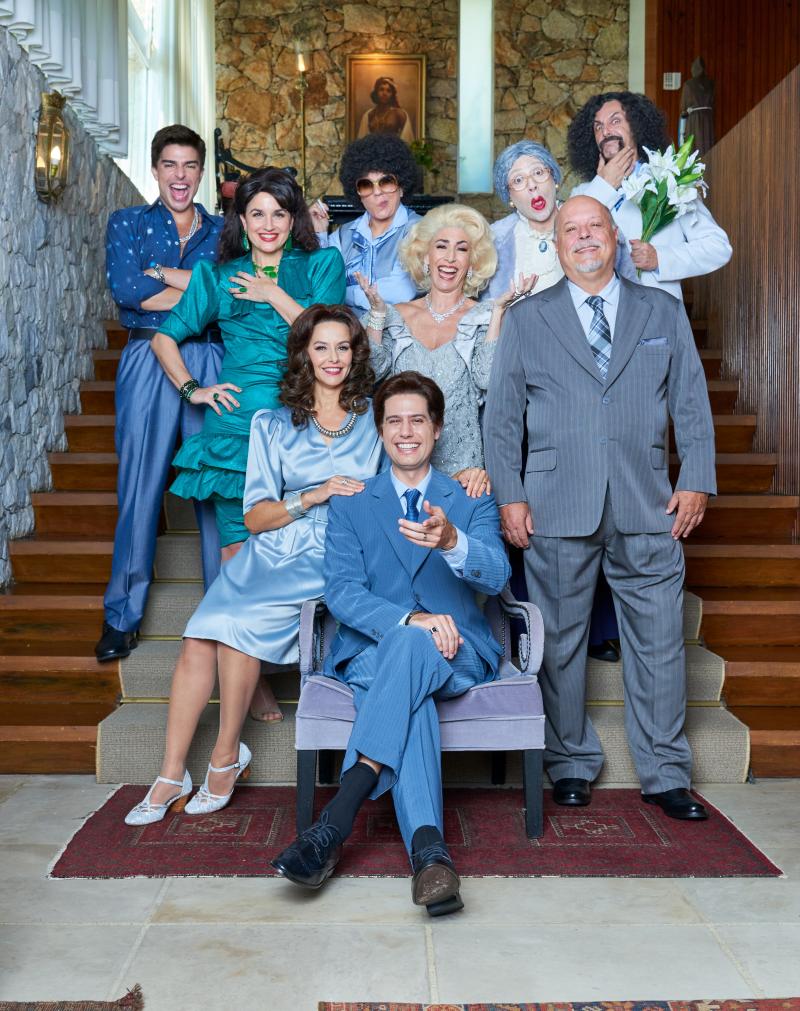 O elenco é formado pelos atores Adriano Tunes (Velha da Praça, Nahim), Andreas Trotta (Leon), Bianca Rinaldi (Íris), Bruno Kimura (Anestesista, Bailarino Russo), Daniela Cury (Rebeca Abravanel, Hebe Camargo), Diego Montez (Wagner Montes, Sidney Magal, Boni), Gigi Debei (Mara Maravilha, Telemoça), Giselle Lima (Sônia Lima, Cidinha), Gustavo Daneluz (Silvio Jovem), Hellen De Castro (Gretchen, Telemoça), Ivan Parente (Pedro de Lara), Ju Romano (Rosana, Telemoça), Juliana Bógus (Aracy de Almeida), Léo Rommano (Atrasildo, Manoel de Nóbrega Alternante), Lucas Colombo (Bozo), Paula Flaibann (Elke Maravilha), Pedro Passari (Swing), Rafael Aragão (Alberto Abravanel, Silvio Alternante), Roney Facchini (Manoel de Nóbrega), Roquildes Junior (Roque), Thiago Garça (Pablo, Bailarino Russo), Velson D'Souza (Silvio Santos), Verônica Goeldi (Boneca, Bolinha de Sabão, Telemoça), Vinícius Loyola (Gugu Liberato, Gilliard, Sérgio Mallandro).
Para Marília Toledo, fazer um musical 100% nacional é um dos principais desafios deste trabalho e também o seu maior orgulho. "Falar de uma figura tão emblemática da nossa cultura popular, usando a música como fio condutor da história, nos permite uma boa liberdade estética. Isso se dá porque conhecemos bem os personagens ligados ao Silvio Santos, além dos ritmos e canções que acompanharam a trajetória do apresentador e empresário desde sua ascensão profissional até a década de 90, que é a linha cronológica da dramaturgia, escrita por mim e pelo Emilio Boechat" comenta Marília.
Já Emilio Boechat conta que a peça foi escrita ao longo de um ano e meio. "Investimos um bom tempo levantando uma timeline de eventos importantes na vida do Silvio. Depois jogamos esses eventos dentro da estrutura clássica de um musical. Foi quando decidimos contar a história do Sílvio por meio de um devaneio, como em 'All That Jazz'. A partir daí, escrevemos poucas cenas juntos. Como era difícil coincidir nossas agendas de trabalho, eu escrevia algumas cenas quando podia e ela idem. Pouco antes do início dos ensaios escrevemos juntos as cenas que faltavam. Mas sabíamos que com a entrada do Marco França muitas cenas com diálogos seriam transformadas em música. Era um desejo dos dois que o espetáculo fosse conduzido pelas canções", comenta.
O ator Velson D'Souza, de 35 anos, foi o escolhido para interpretar Silvio Santos - ele trabalhou no SBT em novelas como 'Cristal', 'Revelação' e 'Vende-se Um Véu de Noiva', e com o próprio apresentador no Programa Sílvio Santos. Para se preparar para esse papel desafiador, ele conta que tem procurado fugir da caricatura do homenageado, que já foi imitado por tantas personalidades.
"Estou tentando partir da desconstrução. Minha abordagem é olhar as situações da vida dele com o máximo de verdade, da maneira mais próxima de mim, do que eu vivi e me colocar no lugar dele. Acho que a convivência com ele ajudou bastante, sobretudo para perceber que ele é daquela forma que conhecemos mesmo quando não está em cena. E trazer um pouco da voz do Silvio, sobretudo do timbre. Não para ficar aquela coisa carregada, mas para termos uma pequena diferenciação de quando é o showman e quando está conversando com outras pessoas fora de cena, como, por exemplo, com Manoel da Nóbrega. O grande lance é não ficar aquela caricatura do Silvio Santos que todo mundo faz. E isso também funciona para o gestual. Tem a questão da mão, que é muito presente, toda aquela postura altiva e elegante do Silvio. Eu acho que temos que entender isso e atravessar. Quando ele era jovem, provavelmente não era igual ao que é hoje. Mas temos que fazer algo que lembre como ele é hoje", revela o ator.
Antes do início do espetáculo, haverá um pré-show com diversas atrações do programa Silvio Santos ao longo de décadas no ar, como a "Porta da Esperança", o "Foguete do sim ou não" e o "Roletrando", além de um bar com comidas típicas do Domingo no Parque, como cachorro-quente, algodão doce, pipoca, entre outros. Outra novidade é que o público que for assistir pode se inscrever para concorrer a uma participação da cena do Show de Calouros, como calouro.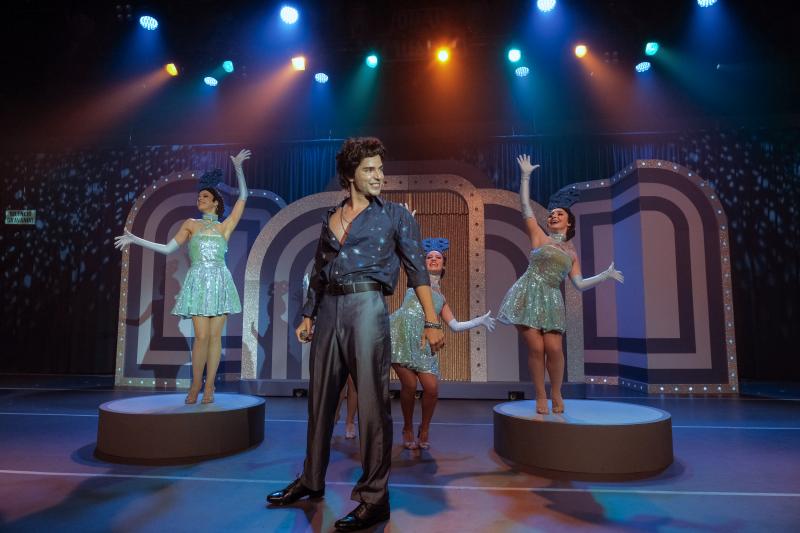 É justamente a novidade e o ineditismo que pautam a direção de Fernanda Chamma. "O processo criativo do musical do Silvio está sendo bem bacana. Fechamos um elenco expressivo do teatro musical, então, estou trabalhando com uma liberdade de criação dos personagens de uma maneira bem inusitada e atemporal. Eu não quero rótulos - mesmo que estejamos trabalhando com personalidades bem conhecidas, acho que tudo o que não é previsível será bem aceito. E acho que estamos fazendo um espetáculo com muito ritmo, diversão e um formato diferente. Sempre quero ser diferente e não parar de criar nunca, pois é uma forma de respeito ao público e ao teatro musical. E o Silvio Santos é isto: uma persona única, jamais existiu e nem existirá outra similar. Acho que tem que ter esse ineditismo, humor, alegria e um estilo SBT de se fazer", explica a diretora.
A trilha sonora é composta por músicas que marcaram a trajetória de Silvio Santos até a década de 1990 e animaram os programas de auditório. "Fazer esse projeto é inevitavelmente olhar para o passado e revisitar minha infância, na qual esse universo não só do programa, mas das músicas - sobretudo da década de 1980 - esteve tão presente. A minha função primeira é ser fiel aos arranjos originais, tentando mudar minimamente, colocando um pouco da minha personalidade, mas sem ferir a identidade dessas canções que estão nesse imaginário e que fizeram parte dessa época. E a outra parte compor canções novas que tenham a ver com a necessidade da dramaturgia. Dentro desse repertório popular que estava presente nas vinhetas do programa do Silvio tem um pouco do jingle publicitário. Para reforçar esse caráter, resolvi trabalhar com o Fernando Suassuna, um grande músico e amigo de infância. Ele escreveu as letras e eu compus todas as canções originais. Acho que todos estão bem felizes com o resultado", acrescenta o diretor musical Marco França.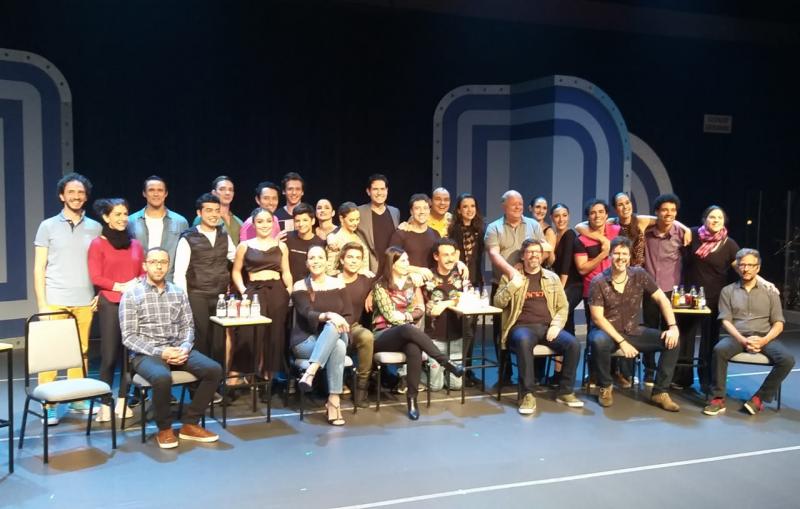 SERVIÇO:
SILVIO SANTOS VEM AÍ!, UMA COMÉDIA MUSICAL
Temporada: 13 de março à 17 de maio
Sessões: sextas-feiras 20h30, sábados 15h30 e 20h30, domingos 15h e 20h
Duração do espetáculo: 2 horas e 15 minutos (com 15 minutos de intervalo)
033 Rooftop: Av. Pres. Juscelino Kubitschek, 2041
Abertura das vendas: 15 de janeiro
Setores e preços: Setor VIP R$180,00 e Setor 2 R$75,00
Link de vendas on-line: www.sympla.com.br
Bilheteria física: das 12h às 20h
Formas de pagamento: Dinheiro, Cartão de débito e Cartão de crédito.
FICHA TÉCNICA
Texto: Marilia Toledo e Emílio Boechat
Direção: Fernanda Chamma e Marilia Toledo
Direção Musical: Marco França
Cenografia: Bruno Anselmo
Realização: Paris Cultural
Patrocínio: Santander
Patrocínio: EMS
Apoio Cultural: Trousseau
Elenco por ordem alfabética:
Adriano Tunes - Velha da Praça, Nahim
Andreas Trotta - Leon
Bianca Rinaldi - Íris
Bruno Kimura - Anestesista, Bailarino Russo
Daniela Cury - Rebeca Abravanel, Hebe Camargo
Diego Montez - Wagner Montes, Sidney Magal, Boni
Gigi Debei - Mara Maravilha, Telemoça
Giselle Lima - Sônia Lima, Cidinha
Gustavo Daneluz - Silvio Jovem
Hellen De Castro - Gretchen, Telemoça
Ivan Parente - Pedro de Lara
Jú Romano - Rosana, Telemoça
Juliana Bógus - Aracy de Almeida
Léo Rommano - Atrasildo, Manoel de Nóbrega Alternante
Lucas Colombo - Bozo
Paula Flaibann - Elke Maravilha
Pedro Passari - Swing
Rafael Aragão - Alberto Abravanel, Silvio Alternante
Roney Facchini - Manoel de Nóbrega
Roquildes Junior - Roque
Thiago Garça - Pablo, Bailarino Russo
Velson D'souza - Silvio Santos
Verônica Goeldi - Boneca, Bolinha de Sabão, Telemoça
Vinícius Loyola - Gugu Liberato, Gilliard, Sérgio Mallandro
Related Articles View More Brazil

Stories

Shows