BWW Review: Celebrating Her 90 Years, Nathalia Timberg Gives Life to Iris Apfel, World Fashion Icon, in ATRAVES DA IRIS (Through the Iris)
Através da Iris (Through the Iris) is a tribute to New Yorker Iris Apfel, world icon of fashion at 97 years. "More is more, less is bore", a joke with the old "less is more," is the motto of Iris Apfel, businesswoman, interior designer, and today one of the world's greatest references in pop art and fashion.
The play by Cacau Hygino, directed by Maria Maya and directed by Bruna Dornellas and Wesley Telles of WB Produções, opens the celebrations for the 90 years of Nathalia Timberg, which will be completed in 2019.
Através da Iris é uma homenagem à novaiorquina Iris Apfel, ícone mundial da moda aos 97 anos. "More is more, less is bore". "Mais é mais, menos é chato", uma brincadeira com o velho "menos é mais", é o lema de Iris Apfel, empresária, designer de interiores, e hoje uma das maiores referências mundiais na arte pop e no mundo fashion.
Inspirado nas ideias arrojadas e do humor algo ácido de Iris Apfel, a peça faz uma imersão no universo desta mulher, que inspira e surpreende artistas e criadores mundo afora com sua autenticidade e pensamento. Suas ousadas misturas ao se vestir, seus acessórios exuberantes, os óculos gigantes e roupas multicoloridas falam sobre a independência e autenticidade. Sobre experimentar - e se experimentar - sem medo do julgamento.
Quando ainda atuava como designer de interiores, Iris, junto ao seu marido, Carl Apfel (morto em 2015, aos 100 anos), viajava o mundo em busca dos tecidos perfeitos para a clientela ilustre que incluía nomes como Estée Lauder, Jacqueline Kennedy Onassis e Greta Garbo. A dupla foi chamada para decorar a Casa Branca por oito administrações: Truman, Eisenhower, Nixon, Kennedy, Johnson, Carter, Reagan e Clinton. Aos 84 anos de idade, a designer foi surpreendida por uma virada em sua vida: passou a ter seu estilo reverenciado pelo mundo todo depois se tornar tema de uma exposição no Metropolitan Museum de Nova York, onde inicialmente seriam apresentados cinco looks seus em uma pequena galeria, mas o evento se transformou numa exposição inteira com mais de 80 looks e cerca de 150 mil visitantes.
"Uma das maiores surpresas que tive ao escrever o espetáculo, foi ter encontrado uma segunda personagem, dentro da nossa 'Estrela Geriátrica'. Não são apenas, moda, estilo, frases ácidas e divertidas que permeiam seu universo. Descobri uma mulher de vida colorida - ela mesma fala que as cores ressuscitam os mortos - com uma larga experiência, movida pela vivacidade, bom humor e coragem. Encontrei uma Iris que serve de exemplo pra todos aqueles que desistiram da vida. Lembrem-se de que ela tem 97 anos e uma imensa alegria de viver!", comenta o autor Cacau Hygino.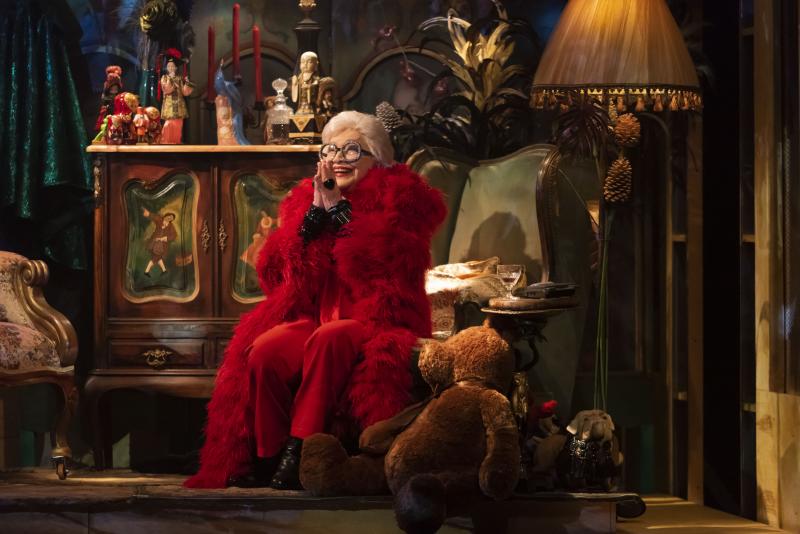 SINOPSE
Nathalia Timberg está em cena como Iris Apfel dando uma entrevista - ela abre sua casa e divide, com uma suposta equipe jornalística, suas histórias e opiniões sobre os mais variados assuntos, sem papas na língua.
A MONTAGEM
Nas palavras da diretora: "O que mais me interessa durante o processo de construção teatral é a possibilidade de se estabelecer inúmeros pontos de vista sobre a mesma obra ou, no nosso caso, sobre a mesma pessoa. Quando me deparei com essa figura excêntrica, icônica que é Iris Apfel, eu, de imediato, fiz a minha escolha. Transpor para cena não aquela mulher com todos seus acessórios e marcas. Mas sim me apropriar do ser humano que estava por trás disto, aproximando o espectador deste universo, que para mim não era somente estético. Estabeleci minha encenação por vias do teatro documental, na tentativa de ultrapassar essa linha tênue entre realidade e ficção. Onde as questões abordadas são pertinentes a qualquer geração, em qualquer tempo, afirmando verticalmente um pacto com o real."
A diretora Maria Maya, em parceria com o autor Cacau Hygino, concebeu o espetáculo como um documentário cênico. Os depoimentos da atriz no palco se misturam às suas aparições em vídeos projetados no cenário. As ações presenciais dialogam com as ações virtuais, numa interação em tempo real.
O cenário de Ronald Teixeira é uma grande caixa vazada por grandes janelas, por onde vemos o interior da casa de Iris, com sua exuberância e barroquismo - objetos multicoloridos que vão, desde velas e obras de arte, a bichos de pelúcia e flores, além de duas coloridas poltronas bergère. Ao longo da ação, vamos compreendendo que se trata de um estúdio de gravação, mais uma vez borrando os limites entre realidade e ficção.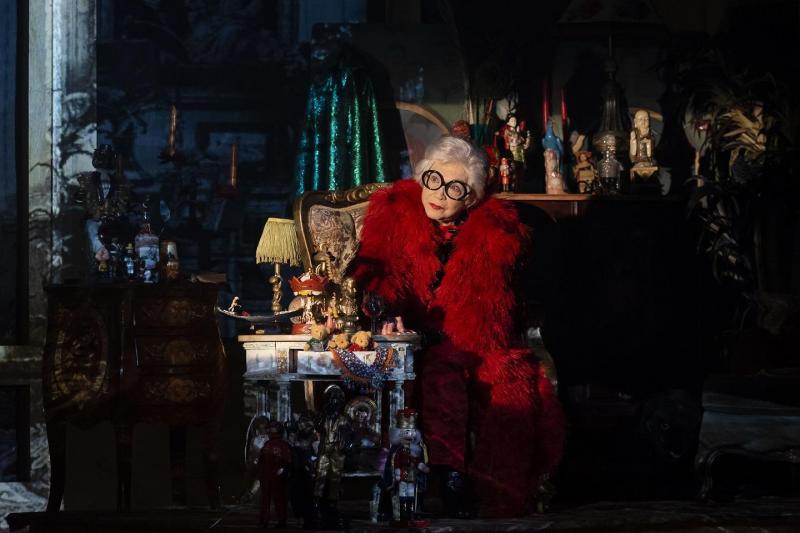 Iris Apfel
Aos 97 anos e, hoje, mais pop do que nunca, a designer de interiores nova-iorquina não foi e nem é estilista, modelo ou editora de moda - isso, porém, não a impediu de se tornar um ícone de estilo, dialogando com o mundo através de seu look, em que não economiza na exuberância e na riqueza de detalhes.
Empresária, designer de interiores e, a partir de então, genuíno ícone da moda, a norte americana, foi uma das primeiras mulheres a usar calças jeans nos EUA, ganhou espaço sob os holofotes na última década graças à sua autenticidade e ao seu inconfundível estilo colorido e exuberante. Segundo a própria, os acessórios são itens obrigatórios na composição do look, o que torna qualquer um mais elegante.
Entre 2005 e 2006, Iris foi tema da exposição "RaRa Avis: Selections from the Iris Barrel Apfel Collection", que aconteceu no Metropolitan Museum (NY); em 2007, apresentou peças de seu guarda-roupas para o livro "Rare Bird of Fashion: The Irreverent Iris Apfel"; em 2011, no auge de seu reconhecimento, fechou parceria com famosa empresa de maquiagem para lançar uma coleção exclusiva.
"Envelhecer graciosamente é não usar maquiagem pesada e não tentar parecer mais nova. Eu acredito que foi Chanel quem disse 'Nada faz uma mulher parecer tão velha quanto tentar desesperadamente parecer jovem'. Acho que você pode ser atraente em qualquer idade. Nunca tive muitos mentores ou ícones nem nada, eu simplesmente fui indo. Não estou fazendo nada violentamente diferente do que eu fazia há 50 anos. Meu marido e eu ríamos disso o tempo todo porque pensamos 'Meu Deus', essas garotas dizem que eu sou 'cool', ou 'hot', ou qualquer que seja a expressão, e eu não estou fazendo nada diferente do que fazia há muito tempo. É engraçado. Não posso dizer que não gosto, é muito lisonjeiro! Quando você é velho, começa a desmoronar - e precisa fazer o melhor possível para se manter firme. Acho que fazer coisas e se manter ativo é muito importante. Graças a Deus eu amo fazer coisas. Eu me sinto abençoada por ter todas essas oportunidades nessa fase da vida." - Iris Apfel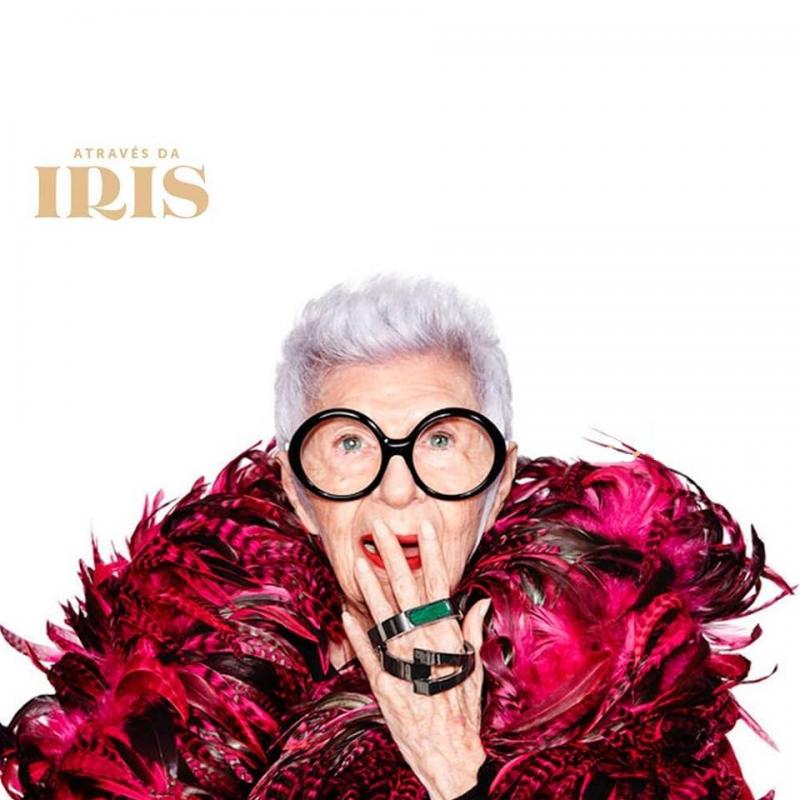 FICHA TÉCNICA
Texto: Cacau Hygino
Direção: Maria Maya
Elenco: Nathalia Timberg
Diretor Assistente: Michel Blois
Diretores de Produção: Bruna Dornellas e Wesley Telles
Produtor Executivo e Social Media: Deivid Andrade
Produtor Executivo EUA: Victor Barroco
Figurinista: Tati Brescia
Assistente Figurino: Wercisley Neto
Modelagem: Emilia Reily
Confecção e Costura: Ateliê ControlIU
Croquis: Allan Azevedo
Cenografia e Direção de Arte: Ronald Teixeira e Guilherme Reis
Assistente de Direção de Arte: Caroline Amaral
Cenotécnico: Humberto Júnior e equipe
Aderecista e Pintor de Arte: Gabriel Barros
Projeções Cênicas: Rico Vilarouca e Renato Vilarouca
Desenho de Luz: Adriana Ortiz
Assistente de Luz: André Martins
Trilha Sonora: Marcello H
Fotos: Rodrigo Lopes
Videomaker TV: Johnny Luz
Visagismo: Vavá Torres
Criação da Arte: TeTo Cultura
Operador de Luz: Paulo Moreira
Operador de Som: Bernardo Aragão
Operador de Vídeo: André Boneco
Contrarregras: Davidson Carvalho e Felipe Andrade
Camareira: Silvia Siqueira
Designer Gráfico: Ellen Trevizan
Assistente de Produção: Aline Gabetto
Coordenação Administrativa: Letícia Napole
Assessoria Jurídica: Luana Petry e Priscila Benincá
Assessoria Contábil: Leucimar Martins
Marketing Cultural e Assessoria em Mídia: Rodrigo Medeiros
Realização: WB Produções
Patrocínio: Renner
Assessoria de Imprensa: Pombo Correio
SERVIÇO
Teatro Faap - Rua Alagoas, 903 - Prédio 1 - Higienópolis.
18 de janeiro a 10 de março.
Horários: sextas e sábados às 21h e domingos às 18h
Preço: R$ 80 (inteira) e R$ 40 (meia)
Vendas: Bilheteria do Teatro ou pela internet no site faap.br/teatro
Funcionamento da Bilheteria: quarta a sábado das 14h às 20h e domingo das 14h às 17h.
Informações: (11) 3662-7233.
Capacidade: 476 poltronas (09 cadeirantes).
Duração: 50 minutos.
Gênero: Documentário Cênico.
Acessibilidade: aos domingos, intérprete de libras.
Estacionamento no local