BWW Review: Celebrating 10 years of its opening in Brazil OS PRODUTORES (The Producers) has a revival in Sao Paulo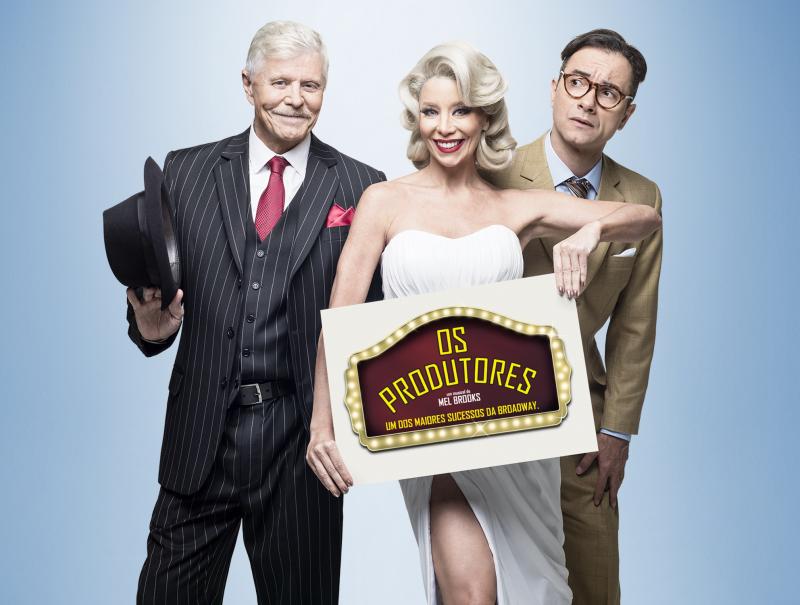 With direction and performance by Miguel Falabella, the revival of The Producers will be in short season at Teatro Procópio Ferreira in São Paulo. Then the production follows to Rio de Janeiro, when it opens on July 13, at Teatro Vivo Rio.
Trinta e três anos após o filme semi-musical Primavera Para Hitler (The Producers, 1967) Mel Brooks e Thomas Meehan (Annie) recriaram a partir dele um musical completo, ainda mais amalucado, e tão bem sucedido que no dia seguinte a sua estreia na Broadway, o ingresso mais caro subiu de $90,00 para $100,00 dólares na Broadway.
A história é sobre Max Bialistock (Nathan Lane) que já foi no passado um grande produtor da Broadway e agora arma um esquema que sai pela culatra ao dar o calote nos investidores de um show que deveria ser um fracasso monumental, mas acaba se tornando um grande sucesso. Os Produtores é um perfeito exemplo do humor judaico, daquilo que os americanos apelidaram de Borscht Belt humor. Max, juntamente com seu contador nerd Leo Blum (Matthew Broderick) descobre que o único modo de ganhar dinheiro como produtores da Broadway é encenando uma produção fadada ao fracasso, com uma equipe de profissionais sem o menor sucesso, vendendo mais que 100% das participações, daí fugir com o dinheiro para o Rio de Janeiro quando o musical sairia de cartaz na noite de estreia, porque nenhum investidor ligaria para o dinheiro, devido ao fracasso. Eles encontram Primavera Para Hitler, uma declaração de amor ao ditador genocida alemão, escrita por Franz Liebkind, morador do Greenwich Village. Max aplica o golpe em senhorinhas de cabelos brancos que patrocinam sua peça com U$ 2 milhões. Infelizmente para eles a produção é um enorme sucesso, Leo foge para o Rio com a grana e Ulla, a sueca sexy que é a secretária deles e membro do elenco do musical. Max é preso e Leo, com peso na consciência retorna a Nova York para defender Max e aceitar sua própria parte da culpa. Ambos são presos, mas logo libertados. Eles voltam a Broadway onde sua produção Prisioneiros do Amor é um sucesso tão grande como foi Os Produtores , de Mel Brooks.
A diretora/coreógrafa Susan Stroman adicionou com sua encenação, ao humor do texto e canções, colocando as velhinhas para sapatear com seus andadores, os dançarinos nazistas (refletidos em um espelho como num número de Busby Berkeley) formando uma suástica, e o personagem de Hitler sentado na beira do palco cantando Springtime for Hitler num momento Judy Garland.
As músicas de Mel Brooks são inteligentes, engraçadas e encantadoramente ofensivas ao mesmo tempo; enquanto que muitas das melodias são autênticos pastiches daqueles standards do Tin Pan Alley elas são fortes o suficiente para progredir no enredo anárquico de forma rápida e eficaz. O musical teve uma excepcional aclamação da crítica e público em sua estreia na Broadway, o que lhe rendeu doze Prêmios Tony, a maior quantidade já ganha por um show até hoje.
Com praticamente o mesmo elenco da Broadway, mais Uma Thurman (Ulla) e Will Ferrell (Franz Liebkind), Os Produtores foi levado às telas em 2005 e em 2007 estrearia no Brasil, tendo como protagonistas Miguel Falabella, Vladmir Brichta e Juliana Paes, passando por cidades como São Paulo, Porto Alegre, Curitiba e Rio de Janeiro, e levando mais de 200 mil pessoas ao teatro. Para a remontagem da versão brasileira em comemoração dos 10 anos de sua estreia em palcos tupiniquins, o musical volta com estrelas de mesma grandeza e terá em cena, além do próprio Falabella (também responsável pela direção geral), Danielle Winits (Ulla) e o comediante e apresentador Marco Luque, no papel de Leo Bloom, fazendo sua estreia no gênero musical.
A reestreia de Os Produtores ficará em curta temporada no Teatro Procópio Ferreira, em São Paulo. A produção segue viagem para o Rio de Janeiro, quando estreia em 13 de julho de 2018, no Vivo Rio.
A superprodução volta repaginada em 2018, com mais de 16 cenários, mais de 350 peças de figurino, 60 perucas, uma orquestra de 11 músicos, equipe técnica e de produção de 100 pessoas e um grande elenco de 25 atores.
A versão atual tem um maior número de cenários, além de mais grandiosos do que a edição de 2007. A cenografia procurou retratar todas as atmosferas que envolvem um espetáculo musical ao recriar ambientes como o espaço de audição, o teatro, além de outros lugares que se passam a história como um tribunal, a casa do diretor, escritório de contabilidade, prisão, tribunal, a cidade. Todos os espaços foram reproduzidos nos mínimos detalhes. A riqueza também está inserida nos figurinos que misturam cores e texturas e se transformam em extensões dos personagens.
FICHA TÉCNICA

Direção Geral - Miguel Falabella
Direção Musical e Vocal - Carlos Bauzys
Coreografia - Fernanda Chamma
Cenografia - Renato Theobaldo
Figurino - Ligia Rocha e Marco Pacheco
Visagismo - Dicko Lorenzo
Design de Som - Gabriel D'Angelo
Design de Luz - Guillermo Herrero
Produção Geral - Sandro Chaim
Assistente de Direção e Diretora Residente -
Dani Calicchio
Direção Musical Associada e Maestro -
Guilherme Terra
Coreografia de Sapateado -
Felipe Galganni
Cenógrafo Associado -
Beto RolnikELENCOMiguel Falabella -
Max Bialystock
Marco Luque -
Leo Bloom
Danielle Winits -
Ulla
Sandro Christopher -
Roger De Bris
Edgar Bustamante -
Franz Liebkind
Mauricio Xavier
- Carmen Ghia
Brenda Nadler
- Ensemble
Carol Costa
- Ensemble
Fefa Moreira
- Ensemble/ Swing
Giovanna Zotti
- Ensemble
Hellen de Castro
- Ensemble
Mariana Belém
- Ensemble
Maysa Mundim
- Ensemble
Renata Vilela
- Ensemble
Talita Real
- Ensemble
Thais Garcia
- Ensemble
Adriano Tunes
- Ensemble
Carlos Leça
- Ensemble
Daniel Caldini
- Ensemble / Swing
Fernando Lourenção
- Ensemble
Gustavo Klein
- Ensemble
Marcel Octavio
- Ensemble
Pedro Paulo Bravo
- Ensemble
Rafael Machado
- Ensemble
Ubiracy Brasil
- Ensemble Realização:
Chaim Entretenimento
e
Ministério da CulturaRedes Sociais:
@osprodutoresbr
Site:
www.osprodutoresomusical.com.br
SERVIÇO:OS PRODUTORESRecomendação: 12 anosDuração: 150min (com intervalo de 20min)SÃO PAULOEstreia em 20 de abrilTeatro Procópio Ferreira (624 lugares)Rua Augusta, 2.823 - Jardins.DIAS E HORÁRIOS DAS APRESENTAÇÕES:
| | |
| --- | --- |
| Dias | Horários |
| Quinta e sextas | 21h |
| Sábados | 17h e 21h |
| Domingos | 15h30 |
INGRESSOS:
| | | |
| --- | --- | --- |
| Setor | Valor | Meia-entrada |
| Setor II* | R$ 50 | R$ 25 |
| Setor I | R$ 220 | R$ 110 |
| Setor Premium | R$ 220 | R$ 110 |

Obs.: Valores válidos para as sessões que acontecem entre 21 e 29 de abril
Dias

Setor

Valor

Meia-entrada

Quintas

Setor II*

R$ 75

R$ 37,50

Setor I

R$ 200

R$ 100

Setor Premium

R$ 220

R$ 110

Sextas

Setor II*

R$ 75

R$ 37,50

Setor I

R$ 210

R$ 105

Setor Premium

R$ 230

R$ 115

Sábados e Domingos

Setor II*

R$ 75

R$ 37,50

Setor I

R$ 220

R$ 110

Setor Premium

R$ 250

R$ 125

Obs.: Valores válidos para as demais sessões *A compra de Setor II poderá ser feita apenas na bilheteria física. O benefício é destinado a 40% dos ingressos disponíveis para venda por apresentação. Veja abaixo quem têm direito a meia-entrada e os tipos de comprovações oficiais em São Paulo:- IDOSOS (com idade igual ou superior a 60 anos) mediante apresentação de documento de identidade oficial com foto.- ESTUDANTES mediante apresentação da Carteira de Identificação Estudantil (CIE) nacionalmente padronizada, em modelo único, emitida pela ANPG, UNE, UBES, entidades estaduais e municipais, Diretórios Centrais dos Estudantes, Centros e Diretórios Acadêmicos. Mais informações: www.documentodoestudante.com.br
- PESSOAS COM DEFICIÊNCIA E ACOMPANHANTES mediante apresentação do cartão de Benefício de Prestação Continuada da Assistência Social da Pessoa com Deficiência ou de documento emitido pelo Instituto Nacional do Seguro Social (INSS), que ateste a aposentadoria de acordo com os critérios estabelecidos na Lei Complementar nº 142, de 8 de maio de 2013. No momento de apresentação, esses documentos deverão estar acompanhados de documento de identidade oficial com foto. - JOVENS PERTENCENTES A FAMÍLIAS DE BAIXA RENDA (com idades entre 15 e 29 anos) mediante apresentação da Carteira de Identidade Jovem que será emitida pela Secretaria Nacional de Juventude a partir de 31 de março de 2016.

Related Articles View More Brazil

Stories

Shows