BWW Review: Addressing Slavery and Prejudice RUA AZUSA - O MUSICAL Opens in February at Teatro Procopio Ferreira
Created by Caíque Oliveira, the show portrays racial segregation in the United States in the early 20th century and brings the story of William Seymour played by a great gospel music cast.
After the season with sold-out sessions, Rua Azusa - O Musical arrives on Saturday, the 8th, at Teatro Procopio Ferreira, with performances on Fridays (8pm), Saturdays (2:30 p.m. and 7:30 p.m.) and Sundays (2:30 p.m.).
Em 1906, em meio ao grande conflito da segregação que dividia os Estados Unidos, um homem negro, filho de escravos, chamado William Joseph Seymour é escolhido para liderar o movimento que quebrou barreiras raciais, criando um espaço onde não existia distinção entre brancos e negros. O movimento na Rua Azusa marcou gerações, e permanece vivo até os dias de hoje.
Essa história centenária serve de inspiração para Elizabeth nos dias de hoje. A jovem sonhadora, impossibilitada de gerar um filho, luta para que seu marido aceite a adoção de Maria, uma criança negra de oito anos que carrega as marcas de uma sociedade preconceituosa em sua história.
Rua Azusa - O Musical tem criação de Caíque Oliveira, que se aprofundou em uma pesquisa sobre a segregação racial da época e no impacto que o movimento pentecostal ocasionou na vida de negros e brancos.
O roteiro começou a ser desenvolvido em outubro de 2018 e em meados de novembro já estava pronto para os ensaios. Para compor o elenco, Caique convidou nomes importantes da música gospel como Soraya Moraes (Laura Smith), vencedora de prêmios Grammy Latino; Adhemar de Campos (William Seymour), que revolucionou o estilo na década de 80; Benner Jacks (Sra. Dalila), que já se apresentou em concertos por toda Europa; e Jéssica Augusto (Miss California), cujo canal no YouTube soma mais de 7 milhões de visualizações.
Com 47 atores dividindo o palco, o musical contou com a atriz da Broadway Patrice Covington , do musical "The Color Purple", como preparadora de elenco. Ela veio dos EUA exclusivamente para ensinar técnicas aos atores de Rua Azusa. A direção geral é de Caíque Oliveira, diretor fundador da Cia. de Artes Nissi. Toda renda do musical, excluindo-se as despesas de produção, é revertida para a Aldeia Nissi.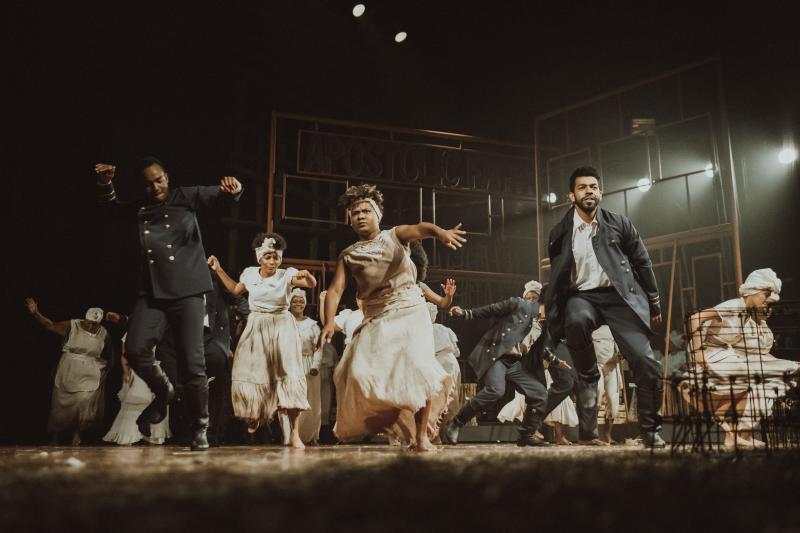 FICHA TÉCNICA
Texto, direção e letras das músicas: Caíque Oliveira
Melodias e direção musical: Paulo Ocanha
Design de Som: Paulo Altafim
Design de luz: Denilson Marques
Produção: Cia de Artes Nissi








ELENCO
Adhemar de Campos, Aline Menezes, Benner Jacks, Fabricio Bittencourt, Jéssica Augusto, Kaiky Mello, Otavio Menezes, Soraya Moraes, Thales César e grande elenco composto por 47 atores.
Para mais informações sobre a Cia de Artes Nissi, visite site.cianissi.com
Acompanhe o musical nas redes sociais: Instagram |Facebook
SERVIÇO
"RUA AZUSA - O MUSICAL"
Teatro Procópio Ferreira
Endereço: Rua Augusta, 2823 - Jardins, São Paulo
Apresentações: Sextas, às 20h | Sábados, às 14h30 e 19h30 | Domingos, às 14h30
Capacidade: 624 lugares
Recomendação: 12 anos
Duração: 180 minutos (com intervalo de 15 minutos)
Ingressos: de R$ 25 a R$ 90
| | | |
| --- | --- | --- |
| SETORES | MEIA-ENTRADA | INTEIRA |
| Premium | R$ 45 | R$ 90 |
| Setor I | R$ 35 | R$ 70 |
| Setor II | R$ 25 | R$ 50 |
* Meia-entrada: informações disponíveis na página da Ingresso Rápido.
VENDA DE INGRESSOS:
- Ingresso Rápido: https://www.ingressorapido.com.br/event/12425/d/54895 (com taxa de conveniência)
- Bilheteria do Teatro Procópio Ferreira (sem taxa de conveniência)
Horário de funcionamento: De terça a quinta, das 14h às 19h; e de sexta a domingo, das 14h até o início do espetáculo (sem taxa de conveniência)