Welcome 2018 with SALUTE TO VIENNA NEW YEAR'S CONCERT at Symphony Hall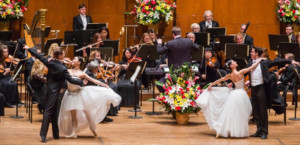 Welcome 2018 in a triumphant celebration with Salute to Vienna New Year's Concert at Symphony Hall.
This holiday season, be enchanted by the spirited romance of operetta and the delicate beauty of ballet. Inspired by Vienna's beloved New Year's Concert, this frothy celebration blends acclaimed European singers and dancers with a full orchestra for a rich cultural experience that will leave your toes tapping.
Fall in love with a musical program that weaves highlights from Merry Widow, Die Fledermaus, and Gypsy Princess with energetic overtures, Strauss waltzes including theBlue Danube, and polkas from Vienna's golden age. Salute to Vienna New Year's Concert delivers a new show every year with a fresh cast and programme, when more than 50,000 concert-goers in 25 North American cities discover the timeless pleasure of Vienna's most beautiful music.
This year, on Wednesday, December 27, join Viennese conductor Michael Zehetner and The Strauss Symphony of America, who will perform with soprano Jennifer Davison, Viennese tenor Matjaž Stopinšek, with members of the Kiev-City Ballet. A Boston tradition for six years, experience Salute to Vienna New Year's Concert: a glorious champagne toast to life itself!
Tickets start at $35 and are on sale at bso.org, or 1.888.266.1200. VIP Tickets Available! For more information, visit salutetovienna.com or call 416.323.1403.
Attila Glatz Concert Productions produces, promotes, and manages classical, jazz, folk, country, movie, and video game music performances worldwide. The company's signature presentation is the beloved Salute to Vienna New Year's Concert, presented annually in more than 20 cities across North America during the holiday season. Salute to Vienna was re-created at Vienna's Konzerthaus for PBS featuring more than 130 performers, and this concert has aired across North America on public television more than 1,000 times.
Other company highlights include the North American tours of the Vienna Mozart Orchestra, and KlangVerwaltung Orchestra, as well as a cinematic concert series with films including Harry Potter, E.T. The Extraterrestrial, Amadeus, and Godfather. For more information, visit glatzconcerts.com.
More Hot Stories For You