Shakespeare & Company Presents THE MERRY WIVES OF WINDSOR in August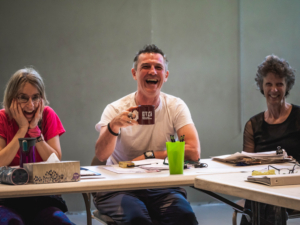 Shakespeare & Company presents William Shakespeare's madcap comedy, The Merry Wives of Windsor directed by founding company member and Director of Education, Kevin G. Coleman, who was Runner-Up for the Tony Award for Excellence in Theatre Education in 2016. The Merry Wives of Windsor runs from August 8 to September 1 outdoors in the Roman Garden Theatre.
"The Merry Wives of Windsor is Shakespeare having fun. Period," said Director Kevin G. Coleman. "No grand themes. No deep waters. No pushing the Renaissance envelope. When Shakespeare is having fun, it runs the gamut from groaningly predictable to surprisingly sophisticated with every stop in between. Shakespeare was masterful at pleasing his audience. Come enjoy the wisdom and wit of these women of Windsor. It's all in fun." The play begins when Sir John Falstaff vastly underestimates the Merry Wives in the town of Windsor, as he hatches a frothy scheme to drain their bank accounts and drive their husbands insane with jealousy. Antics ensue as Falstaff continues to overestimate his own ability to dupe good people and pull off his scheme of deceit. With The Merry Wives of Windsor, Shakespeare once again proves that the best human foibles are the ones we can laugh at. The production is generously sponsored by The Dr. Gerald and Roberta Friedman Foundation, and will feature Martin
Jason Asprey
(Mr.
Frank Ford
),
Steven Barkhimer
(
George Page
), Gregory Boover (Master Fenton), MaConnia Chesser (Meg Page),
Jordan Cobb
(
Anne Page
), Tobias Goodman (Pistol/Simple),
Nigel Gore
(Sir John Falstaff), Cloteal L. Horne (Mistress Quickly), Jennie M. Jadow (
Alice Ford
), Madeleine Rose Maggio (Robert Shallow),
Bella Merlin
(Sir
Hugh Evans
), and
Mary Shalaby
(Nym/Rugby). The creative team includes Kevin G. Coleman (Director), Raz Golden (Assistant Director),
Diane Healy
(Stage Manager), Kathleen Soltan (Assistant Stage Manager), Jim Youngerman (Set Designer),
Kiki Smith
(Costume Designer),
Gwendolyn Schwinke
(Voice Coach),
Kristin Wold
(Movement Director), and Shane Burgett (Associate Technical Director). Tickets for The Merry Wives of Windsor are available online at
shakespeare.org
, or by calling Shakespeare & Company's box office at (413) 637-3353. The show runs from August 8 to September 1. The Roman Garden Theatre is outdoors and wheelchair accessible. Shakespeare & Company is located at 70 Kemble St. in Lenox, Massachusetts.
Join us for a free pre-show talk on August 13 at 3:45 pm for insight into the plot and characters of the play to enhance your experience. Additionally, join Director Kevin G. Coleman and cast members for a Director's Panel on Saturday, August 3 at 11:00 am. Tickets for the Director's Panel are $10 for adults and free for students, and can be purchased at shakespeare.org.
The Company's 2019 Summer Season also includes Shakespeare's Twelfth Night and The Taming of The Shrew, and a special workshop production of Coriolanus; plus Tony nominee The Children by
Lucy Kirkwood
, The Pulitzer Prize-winning Topdog/Underdog by
Suzan-Lori Parks
, and Tony Award nominee, Time Stands Still by
Donald Margulies
. From time to time weather may affect your enjoyment of the performance in The Roman Garden Theatre. Most often the show will go on and depending on the severity of the rain, will be performed as scheduled. If rain is heavy, performance in The Roman Garden Theatre will be moved to the Company's tented Rose Theatre. Located in the beautiful Berkshires of Western Massachusetts, Shakespeare & Company is one of the leading Shakespeare festivals of the world. Founded in 1978, the organization attracts over 40,000 patrons annually. The Company is also home to an internationally renowned Center for Actor Training and award-winning Education Program. More information is available at
www.shakespeare.org
.
Photo Credit: Zachary De Silva