Review Roundup: GYPSY at Lyric Stage Company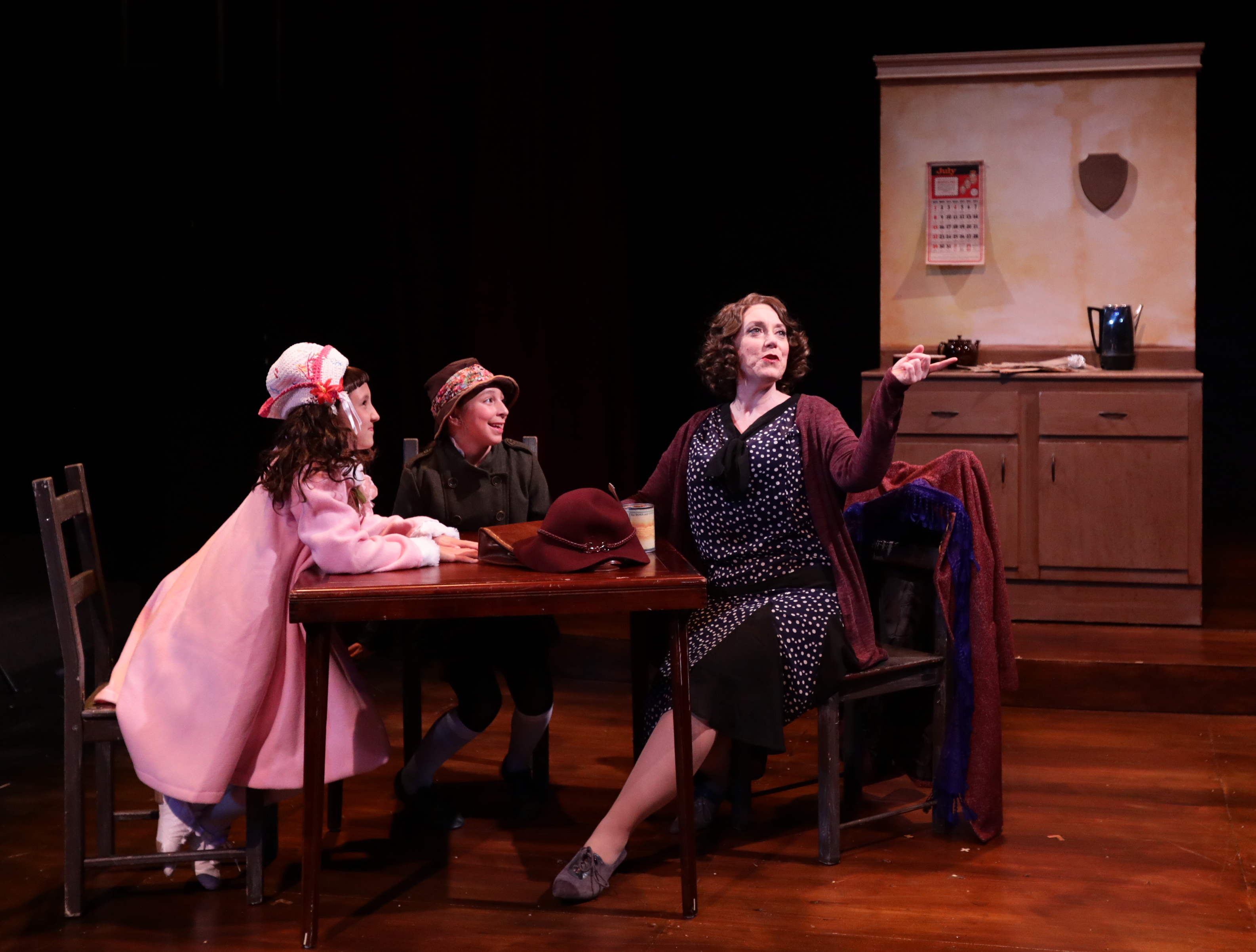 GYPSY will run at the Lyric Stage Company in Boston until October 8. The legendary show is based on the real-life memoirs of burlesque mega-star, Gypsy Rose Lee, and her stage-mother behind the curtain, Mama Rose. It features songs such as "Everything's Coming Up Roses," "Some People," and "Let Me Entertain You."
The cast features Leigh Barrett as Rose, Kirsten Salpini as Louise, Kira Troilo as June, Steven Barkhimer as Herbie, Brady Miller as Tulsa, Margot Anderson-Song as Baby June, and Cate Galante as Young Louise.
The cast also includes David Alea as Yonkers/ Bourgeron-Cochen/Ensemble, Todd Yard as Uncle Jocko/Kringelein/Pastey, Remo Airaldi as Pop/Cigar/Offstage Announcer, Kathy St. George as Mazeppa/Cratchitt, JorDan Clark as Electra/Ensemble, Shannon Lee Jones as Tessie Tura/Ensemble, Anna Chensny as Agnes/Renee/Ensemble, Davron S. Monroe as Georgie/Weber/Goldstone/Cow, Jessica Quaranto as Newsboy/Balloon Girl, and Ben Choi-Harris as Newsboy/ Clarence.
Let's see what the critics had to say!
Don Aucoin, The Boston Globe: Having added luster to many a musical in Boston over the years, Barrett carries this Lyric Stage production - which is sometimes in need of carrying - with the avidity and assurance of a supremely skilled performer who knows she is tackling the role of a lifetime... Barrett brings shattering force to the climactic "Rose's Turn,' providing an emotional bookend to her electric performance of a far more optimistic number, "Everything's Coming Up Roses,' at the end of Act 1. Earlier, the actress half-belts, half-spits out the scornfully defiant "Some People,' in which Rose declares her independence from conventional bourgeois expectations ("Goodbye to blueberry pie') while mapping out a road less taken, but at least potentially more rewarding, for herself: "Some people sit on their butts/ Got the dream - yeah, but not the guts!' That's something Leigh Barrett could never be accused of, and "Gypsy' gives us another reason to be thankful for it.
Nancy Grossman, BroadwayWorld: Friends, let me proclaim, without hyperbole, that the Lyric Stage Company has hit the trifecta with their season opening iconic musical Gypsy, a virtual must see production, thanks to Rachel Bertone's direction and choreography, and Leigh Barrett's tour de force performance as Mama Rose... The Lyric Stage Company production of Gypsy evokes its past while giving it purchase in the present. This is one that will be remembered well into the future.
Killian Melloy, WBUR: The Lyric Stage Company of Boston kicks off its new season with a bracing production of the Jule Styne/Stephen Sondheim musical "Gypsy." The show runs close to three hours, but under the direction of Rachel Bertone, who also choreographs, it rushes by with buoyant energy... The cast are equally creative and committed. Brady Miller's dance prowess is particularly graceful and energetic, and Anderson-Song, a natural for the stage, is perfect as Baby June. Barrett's rich voice fills the theater as forcefully as Mama Rose's outsized personality. Salpini's performance almost sneaks up on the audience; she skillfully enlivens the script's gradual reveal of Louise as more than a long-suffering second banana. She's resourceful, strong, and ultimately self-possessed. Mama Rose might be the star of the piece, but Louise - aka Gypsy - becomes the hero.
Bobby Franklin, Boxing Over Broadway: Spiro has found a great Gypsy, with Barrett, Salpini, Troilo, Barkhimer, and company lighting up the Lyric Stage. If you miss this production you are making a huge mistake. Spiro Veloudos has kicked off his 20th year at the Lyric Stage in great fashion. He has found something very special and is sharing it with all of us. Accept this gift from this wonderful man. He knows how to Light the Lights!
Robert Nesti, Edge Media Network: Leigh Barrett conveys that hunger. Her Rose is steely, to be sure - how can she not be? And she belts some of beltiest songs (by Jule Styne and Stephen Sondheim) ever written for a musical with confident aplomb. But what she does best is expose Rose's soft side. Her romantic scenes with Steven Barkhimer, who plays her romantic interest Herbie, have a lovely authenticity. She brings the role a warmth and charm that brings to mind what Tyne Daley brought to the role in one of the numerous, celebrated revivals of the show over the years... Janie E. Howland's designs, notably her decaying proscenium that frames the stage and her use of curtains, are a model for small productions such as this one - handsome to the eye and nicely scaled to the production's demands. It is augmented by Franklin Meissner, Jr.'s often shadowy lighting and Rafael Jaen's droll period costumes. The able musical direction by Dan Rodriguez captures the score's brassy edge with a small backstage band that sounds twice its size.
Photo: Mark S. Howard
Related Articles View More Boston

Stories

Shows
More Hot Stories For You