Review Roundup: 42ND STREET at North Shore Music Theatre - What Did The Critics Think?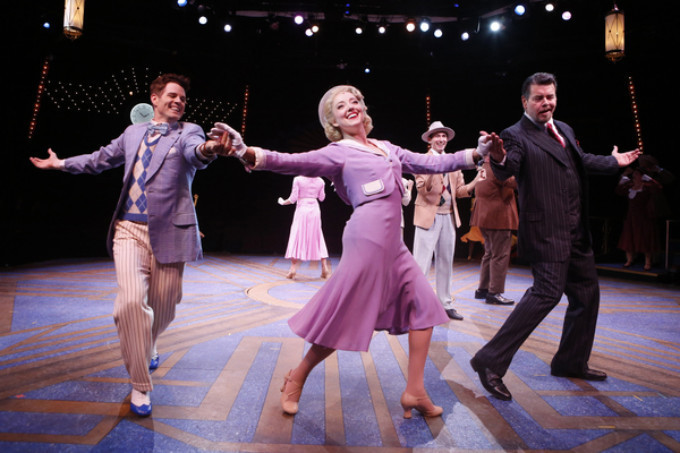 42ND STREET runs at North Shore Music Theatre through November 12. The show has a book by Michael Stewart and Mark Bramble, with music by Harry Warren and lyrics by Al Dubin. It has original direction and dances by Gower Champion.
The stakes are high when a young chorus girl fresh from Allentown, PA, is given the once-in-a-lifetime chance to become a star in musical that recalls both the classic days of Broadway and the golden age of movie musicals. With sensational tap numbers, lavish costumes, and one show-stopping tune after another, you will be thoroughly entertained from the first note to the final tap.
The cast stars Jacob ben Widmar as Billy Lawlor, Tari Kelly as Dorothy Brock, Burke Moses as Julian Marsh, Jessica Wockenfuss as Peggy Sawyer, David Coffee as Bert Barry, Erick Devine as Abner Dillon, Tina Johnson as Maggie Jones, Elise Kinnon as Anytime Annie, Dan Lusardi as Andy Lee/Ensemble, Matthew J. Taylor as Pat Denning, Kahlia Davis as Phyllis/Ensemble, and Brittany Cattaruzza as Diane/Ensemble.
The cast also includes Katie Scarlett Brunson, Mallory Davis, Kaitlyn Frank, Kelly Gleason, Tyler Johnson-Campion, Spencer S. Lawson, Carlos Morales, Rob Ouellette, Christian Probst, Melissa Schott, Sarah Shelton, Robbie Smith, Andrew Winans, and John T. Wolfe.
42ND STREET is directed and choreographed by Kelli Barclay, with original choreography by Randy Skinner, music direction by Milton Granger, scenic design by Kyle Dixon, original costume design by Roger Kirk, costume coordination by Paula Peasley-Ninestein, lighting design by Jose Santiago, and sound design by Don Hanna.
Let's see what the critics had to say!
Bill Brotherton, The Daily Item: The production of "42nd Street" at North Shore Music Theatre through Sunday is one of the finest two hours of entertainment I've seen at the venerable Beverly venue in many a moon. The dancing is spectacular, the costumes are breathtaking and the performances are first-rate. Often when dancers are required to sing and singers are required to dance, the results are less than ideal. No such problem here.
Sally Applegate, Wicked Local: And as the soon-to-be-star Peggy Sawyer, pretty Jessica Wockenfuss is an extraordinary dancer, delightful singer and convincing actress. She is on the move with top-speed difficult tap steps almost all the way through Act II of this extapa-ganza of a show... The dance ensemble is riotously energetic and gifted, and especially on the women, the expressive faces as they lie on the floor facing the audience add a great deal to the mood of the show.
Tony Annicone, Theatre Mirror: Kelly cast all these roles splendidly and brings out the melodramatic moments excellently. Her choreography is breathtaking with many different dance styles include tap, cakewalk, ballet and a June Taylor type dance for the girls to "Keep Young and Beautiful"... Kudos to the entire cast and crew on creating a magnificent musical entertainment that should not be missed. So for a trip back to the carefree days of the 1930's, be sure to catch Billy Hanney's "42nd Street" at North Shore Music Theatre before they dance their way out of town for good.
Rich Fahey, On Boston Stages: Hats off to Music Director Milton Granger and the orchestra for performing the score with the same verve and pizzazz that the dancers are showing onstage. The production numbers are simply sublime and had the audience leaping to their feet; you'll love "Go Into Your Dance" or the dancing dimes in "We're in the Money," Director/Choreographer Kelli Barclay took the original choreography by Randy Skinner and skillfully adapted it to NSMT's in-the-round setup, and the brisk pace promises another show-stopping number just around the corner. So if you're looking for pure escapism, or just a company of hoofers dancing their hearts out, "42nd Street" is where you should head.
Photo: Paul Lyden