Provincetown Dramatic Arts 2016 Hit Production of Eugene O'Neill's ANNA CHRISTIE Returns to the Wharf House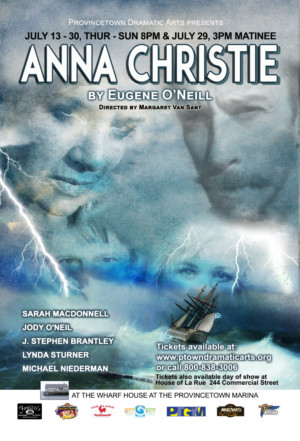 Eugene O'Neill's celebrated Pulitzer Prize winning drama and hit of the 2016 season, is returning to the Wharf House at the Provincetown Marina for 2017. The Provincetown Dramatic Arts production of Anna Christie was selected as one of the Best Plays of 2016 and Sarah MacDonnell was honored as one of the best female performances in her role of Anna (by the Cape Cod Times). The play opens on July 13 and runs Thursday - Sunday until July 30. Margaret Van Sant, Artistic Director of the Provincetown Dramatic Arts, directs.
The play tells the story of Anna Christie, a former prostitute abandoned by her father as a child, who travels to find him on the waterfront, and hiding her past, tries to find a safe harbor with him. The play dramatizes her search for redemption, and the conflict between her tempestuous relationships with her father, Chris, and her lover, ship's stoker Mat Burke.
Set in a waterfront bar, and a barge in Provincetown and Boston harbor, the unique location of the Provincetown harbor is a visual backdrop for this drama of family passion and deeply held secrets. The cast includes Jody O'Neil as Chris Christopherson, Sarah MacDonnell as Anna Christie, J. Stephen Brantley as Mat Burke, Michael Niederman as Johnny the Priest, and Lynda Sturner as Marthy Owen.
"We are delighted that the full cast is returning for the 2017 production, with the addition of actor J. Stephen Brantley in the role of Mat Burke", said director Margaret Van Sant. "We joke we can say we have two "Oscar-award" winning actors in the production, plus an "Oscar-nominated" actor, since both Lynda Sturner and J. Stephen Brantley won the "Oscar" for Best Performances at the Dublin International Theatre Festival and Sarah was a nominee. The Best Performances award is named after Oscar Wilde. Despite the humor, this is an exceptionally talented cast".
Written in Provincetown in 1916, and the winner of the 1922 Pulitzer Prize for Drama, Van Sant chose to stage the production at the Wharf House of the Provincetown Marina because, "the play takes place in Boston and Provincetown Harbor, and one of the set pieces is Long Point Light, so it will be wonderful to look out the doors of the Wharf House and actually see Long Point Light - it is the perfect location."
"ANNA CHRISTIE is a gritty and provocative play that holds you in suspense as Anna tries to navigate the hold that both her father and her lover have on her. And the sexual politics in the play not only offers a clear look at the life of women in the early 1900's, but also feels very contemporary," stated Van Sant.
The Wharf House is located at the end of the Provincetown Marina (at the end of Ryder Street) and it is the beautiful building with the large photographs of the Portuguese fishing wives looking out to sea. "Anna Christie" is the premiere production of the renamed company's 2016 season.
Tickets are $28 for students/seniors, $35 for general admission, $45 for VIP, and may be purchased at www.provincetownannachristie.brownpapertickets.com or by calling 800-838-3006. Tickets are also available the day of the show at: House of LaRue, 244 Commercial Street. Performances take place at The Wharf House, 9 Ryder Street Extension, Provincetown, MA 02657. (At the end of the Provincetown Marina - at the end of Ryder Street)
Show dates:Thursday, July 13 @ 8:00 pmFriday, July 14 @ 8:00 pmSaturday, July 15 @ 8:00 pmSunday, July 16 @ 8:00 pmThursday, July 20 @ 8:00 pmFriday, July 21 @ 8:00 pmSaturday, July 22 @ 8:00 pmSunday, July 23 @ 8:00 pmThursday, July 27 @ 8:00 pmFriday, July 28 @ 8:00 pmSaturday, July 29 @ 8:00 pmSunday, July 30 @ 8:00 pm
PROVINCETOWN DRAMATIC ARTS (formerly CTEK Arts) has been a member of the community since 2004. The company was established to celebrate the rich theatrical heritage of Provincetown and Cape Cod, to contribute to the artistic future by developing new scripts and interdisciplinary performances, and to support the economic vitality of our community through education in the arts. Provincetown Dramatic Arts presents original and classic scripts, with a special focus on the stories of female artists and on community based play development. www.ptowndramaticarts.org
MARGARET VAN SANT (Director) is a playwright, theater director, festival organizer, educator, and the Artistic Director of Provincetown Dramatic Arts. She has directed classic and contemporary theater, but has a special focus on the development of new scripts. She recently directed Jim Dalglish and Lynda Sturner's SUPER-LUBRICATED at the International Dublin Gay Theatre Festival. Van Sant organized the Centennial Celebration of The Provincetown Players, THEN AND NOW, for the Provincetown Theater and also directed their Rat Pack Lounge New Year's Gala. She directed Venus in Fur by David Ives at the Provincetown Theater and in 2014 Charles Busch's The Tale of the Allergist's Wife. She also directed The Ballad of the Sad Café at the Arena Stage Edward Albee Festival. Margaret produces the WOMEN'S INTERNATION¬AL THEATER FESTIVAL every fall in Provincetown. She is a proud member of the Stage Di¬rectors and Choreographers Society, the Playwright's Forum in Washington, DC, the Provincetown Playwright's Lab, and has an MFA in Interdisciplinary Arts from Goddard College.
J. Stephen Brantley Off-Broadway: Mope (Ensemble Studio Theatre), Murder In The First (59E59), Pirira (Theatre 167). Regional: The Night Alive( Guild Hall), Of Mice And Men (Bay Street), and Romeo And Juliet with its zombie sequel R & J & Z at Stonington Opera House. TV: "The Blacklist" (NBC), "Neon Joe, Werewolf Hunter" (Adult Swim), "Difficult People" (Hulu). Previous P-town appearances include Slap & Tickle at Provincetown Theater and Chicken-Fried Ciccone at the 2014 Afterglow Festival. Brantley is an eight-time New York Innovative Theatre Award nominee and winner of the Micheál MacLiammóir Award for Best Actor at the 2013 Dublin International Gay Theatre Festival.
Sarah MacDONNELL TV includes guest stars on FRIENDS, ER, STAR TREK DS9, DREAM ON and MURDER SHE WROTE. Stage credits include Off Broadway at The Irish Arts Center, The Beckett and First Look Theatre Company. L.A. Stage includes premieres at the Tiffany, Celtic Art Center, Theater 40 and a Dramalogue award for Titania in The Old Globe's A MIDSUMMER NIGHTS DREAM; Regional work includes the premieres SYBIL:THE MUSICAL, ROSETTA (Provincetown Theater), and BACK TO NATURE (Wellfleet Preservation Hall). She recently appeared in SMALL CRAFT WARNINGS (Tennessee Williams Festival) 'MacDonnell is desperately moving" (Charles Isherwood NY Times). Dublin Ireland: Cobalt Theatre, Sean O'Casey Theatre. Her latest film is "A Murder in Cape Cod" is premiering this summer. Bard College and London Academy of Music and Dramatic Art. Dramalogue and Eva Gore Booth Best Actress award winner, she is a director, dramaturge, theatre reviewer and member of the band Sarah Mac and the Rodeo Drive Bys.
MICHAEL NIEDERMAN has been coming to The Cape since before he was born, and is excited to be making his Provincetown stage debut! He is a New York City-based playwright and educator with an MFA from Columbia University. Michael is the author of Everyman (Winner, Samuel French Play Festival) He is the author of the plays Freshman Fifteen (NYC Actors Studio), The Riverside Symphony (Planet Connections Theater Festivity), The Kuptferberg Family Tragedy (New York Stage and Film), To Barcelona! (Ignited States), Chelsea, Alaska (Lion Theater), and his newest work, Untitled First Draft (Developed at Primary Stages), loosely based on the life of Norman Mailer. His plays have been published by Samuel French, the New York Theater Review, and he is a regular contributing theater reviewer and interviewer at http://newyorktheatrereview.blogspot.com - His many short plays have been produced by Blue Box Productions, Brain Melt Consortium, Crosstown Playwrights, New York Madness, and he was a contributing member of the New York Actors Studio. When Michael isn't writing plays, screenplays, or theater criticism, he is a private tutor in New York City.
JODY O'NEIL is pleased to reprise his role in Provincetown Dramatic Arts' Wharf House production of ANNA CHRISTIE. This spring, he appeared opposite Erica Morris in Steven Ross's staging of EDUCATING RITA at Eventide Theater Co. in Dennis. Other recent roles include, for Provincetown Theater: Claire in THE MAIDS, directed by James P. Bryne and Harry Evans in THE VERGE, directed by Nathan Butera; Tyrone, Jr. in A MOON FOR THE MISBEGOTTEN and Gerry Evans in DANCING AT LUGHNASA, both directed by Steve Reynolds for Eventide. He can be seen as Ivan Zamir in the 14-part TV series, OFFSEASON, currently streaming on Amazon Prime. Jody is the founder and Artistic Director of Sailor Beware, a Cape Cod theater coalition of Actors' Equity Association Members.
Lynda Sturner is thrilled to be back playing Marthy in Anna Christie. Broadway: Oliver! ; The Effects of Gamma Rays on Man-In-the-Moon Marigolds, Off Broadway and years later in Provincetown: The Food Chain; A Perfect Ganesh; The Allergist's Wife; Wit; Ryan Landry's The Gulls and 8 plays by Meryl Cohn including Insatiable Hunger and Sophie Comes Too. Best Actress Award at the Dublin International Gay Theater Festival for her play Super-Lubricated written with Jim Dalglish. Artistic Director of Playwright's Forum, member of the Actor's Studio Playwright's Unit, The Woman's Project, was co-president of The League Of Professional Theatre Women. Journalist: The Provincetown Banner, NiteLife Exchange and Theater Mania.
| | | |
| --- | --- | --- |
| | Donations | Arts Orgs |
Related Articles View More Boston

Stories

Shows
More Hot Stories For You