Photo Coverage: "Capitol Steps" Highlight BCT Benefit
Some very adult humor spiced a very youthful cause on Saturday, June 21, as the sassy, brassy political satirists, the Capitol Steps, entertained a sold-out audience at Boston's Emerson Majestic Theater on Tremont Street. Boston City Councilor John Tobin, whose Theatre District Productions presented the performance, also hosted a special fund-raising benefit for the Boston Children's Theatre (BCT) in conjunction with the event.
Prior to the performance BCT patrons and guests attended a cocktail party at Jacob Wirth's Restaurant on Stuart Street. The reception featured select beers and wines, hot and cold hors d'oeuvres, and a raffle and silent auction. Special honoree was outgoing BCT Executive Director Patricia Gleeson, retiring after 19 years of dedicated service to the 58-year-old organization that provides year-round opportunities for both inner city and suburban kids ages eight to 18 to present "live theatre for children by children." Boston's oldest continually operating theater company, BCT each year works with nearly 500 young artists and presents more than 100 performances that reach an annual audience of 12,000.
During the entertainment portion of the evening, the Capitol Steps – Brian Ash, Tracey Stephens, Morgan Duncan, and Kevin and Jenny Corbett – took hilarious shots at Obama, Hillary, McCain, Al Gore, the Middle East, aging Supreme Court Justices, an indiscreet senator and governor, and a president prone to embarrassing malapropisms. They also took on our pharmaceutical culture, gas-guzzling motor vehicles (and their owners), delegates vs. super-delegates, North Korea, the economy, the scientific community that in its infinite wisdom (and at no small expense) declassified Pluto as a planet, and the superstar media personalities Rush Limbaugh and Anne Coulter of the fundamental Christian Right.
All is done using clever song parodies – the Forbidden Broadway of politics, if you will. Tony Orlando's "Knock Three Times" becomes "Tap Three Times," airport bathroom code for a "confused" Larry Craig. Kermit the Frog's "Rainbow Connection" becomes President Bush's "Brain-Mouth Connection," and attempts at détente between Israeli and Palestinian Prime Ministers Olmert and Haniya translate into a groan-inducing "Embraceable Jew." As Capitol Step member Brian Ash described backstage before the performance, "We're equal opportunity offenders."
Two of the funniest and most challenging segments are Tracey Stephens' bipolar send-up of prescription drug side effects, "10 Pills and You're Fine" sung to "The Windmills of Your Mind," and Kevin Corbett's tongue-twisting Spoonerisms in which he switches the first letters of adjoining words to make biting commentaries out of seemingly nonsensical but always decipherable phrases. For example, Bill Clinton becomes Clill Binton, Donald Trump becomes Tronald Dump. My personal favorite was one he left up to the audience: Shiloh Pitt becomes…well, you get the idea.
Proceeds from the BCT Capitol Steps Benefit will support performance, outreach, and educational initiatives including an annual five-show main stage season, the summer Stagemobile Tour Company, and the Milestone Moments Playwriting Contest. BCT alumni include Julie Taymor, Tony Award-winning director of The Lion King; Susan Batson, acting coach for stars such as Sean Combs and Nicole Kidman and president and founder of Black Nexxus, Inc.; and Kasi Lemmons, actress and award-winning director of Talk to Me with Don Cheadle, writer/director of Eve's Bayou with Samuel L. Jackson, and director of The Caveman's Valentine, also with Jackson. Her latest film, The Jailhouse Lawyer, is scheduled for release in November 2008.
For more information about the Boston Children's Theatre, or to make donations, visit www.bostonchildrenstheatre.org. BCT is a 501c3 non-profit organization, and all contributions are tax deductible.

Board member and parent Vivian Shoolman and Varda Shaked of Brookline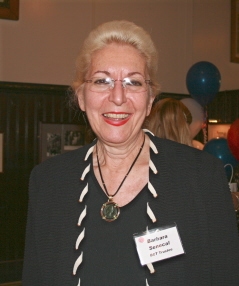 Board member Barbara Senecal of Brookline

Brian Ash of the Capitol Steps, relaxing backstage before the show

Carol Lukas of Cambridge

Harvey Brock, alumni guild and former board member, and Elenore Parker, alumna, former president, and vp of pr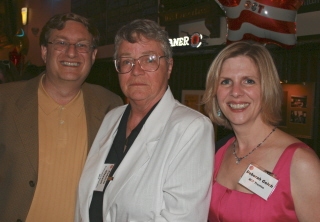 Hugh and Deborah Gelch of Newton flank retiring Executive Director Pat Gleeson

Capitol Steps member Jenny Corbett, checking her email in the green room before the show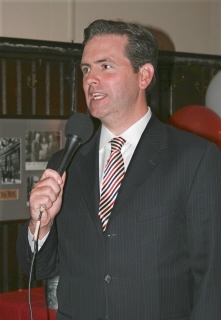 Boston City Councilor and BCT board member John Tobin

Kevin Corbett of the Capitol Steps brushing up on his William Shatner before the show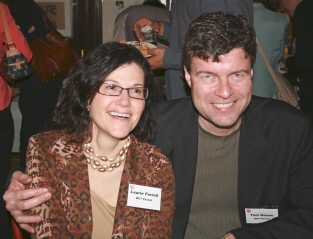 Laurie Farrell and Boston Globe columnist Tom Keane, parents and former board members

Capitol Steps pianist Marc Irwin getting the scoop on Boston politics backstage before the show

Marcie Slovin, Dr. Leslie Selbovitz, Jennifer Graffman and Peter Graffman, parents and BCT board member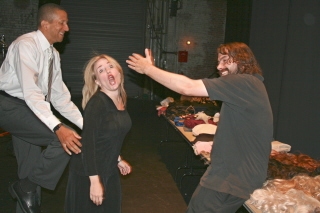 Capitol Steps castmates Morgan Duncan and Tracey Stephens getting into character backstage with the help of tech Jon Simler

Pat Gleeson, retiring BCT executive director and the evening's honoree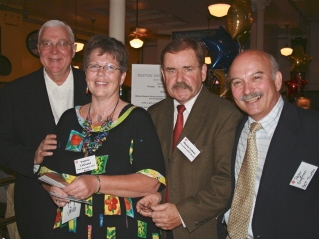 Paul Senecal of Brookline, raffle organizer; Valerie LaCount of Chelsea, past president, alumna and parent; Henry Lukas of Cambridge, incoming president; and Peter Graffman, event chair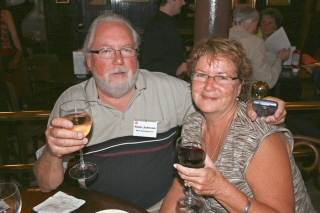 Peter and Meredith Johnson, parents of Valerie LaCount and grandparents of BCT students Brannigan and Dakota LaCount

Board member Phyllis Adelson and husband David of Boston

Friends of BCT Renate and Edward Clasby of Canton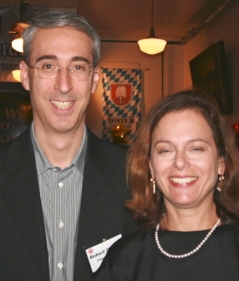 Friends of BCT Robert and Martha Gordon of Wayland

Friends of BCT Rubin and Kate Leewuens of Jamaica Plain

Valerie LaCount with Vivian Shoolman and alumna Tracy Keegan of Wayland