Maurice Emmanuel Parent to Star in MAN OF LA MANCHA at New Repertory Theatre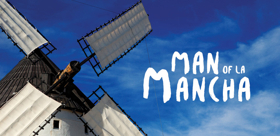 New Repertory Theatre presents Man of La Mancha, December 1-24, 2017 in the MainStage Theater at the Mosesian Center for the Arts, 321 Arsenal Street, Watertown, MA. The press opening will be on Monday, December 4 at 7:30pm.
Tickets are $22-$72 and may be purchased by calling the New Rep Box Office at 617-923-8487 or visiting newrep.org. Student, senior, and group discounts are available. Subscription packages that include Man of La Mancha are also available.
"It has become a New Rep tradition during the holiday season to present a play that invites audiences of all ages to revel in this celebratory time of year," says Artistic Director Jim Petosa. "This year we dream the impossible dream as we present the Tony-award winning musical Man of La Mancha. This classic musical adventure recounts the boundlessly idealistic tale of Don Quixote, epitomizing our season's theme of resilience. We're thrilled to bring this spirited revival to New Rep this winter."
"New Rep is pleased to welcome so many new faces to our stage for our holiday production of Man of La Mancha,"says Managing Director Harriet Sheets. "Besides those joining us for the first time, we welcome back director Antonio Ocampo-Guzman and long-time collaborator Maurice Emmanuel Parent in the role of Don Quixote. Maurice's presence on our stage over the years has been a highlight of many seasons, so we're excited that he's able to join us once again in this starring role."
An energetic revival of the Tony-award winning musical, Man of La Mancha features Boston-area favorite Maurice Emmanuel Parent as the eponymous knight errant, Don Quixote, on his quest to dream the impossible dream. Journey along with us and experience this classic musical adventure this holiday season.
ABOUT THE ARTISTS:
UTE GFRERER (Aldonza) makes her New Repertory Theatre debut. Having given her American theater debut with Virginia Opera in a production of the "Seven Deadly Sins" last season, Austrian soprano Ute Gfrerer is considered to be one of the best interpreters of Kurt Weill's music. She has sung and recorded many of his works, including The Threepenny Opera, One Touch of Venus, Lady in the Dark, Marie Galante, and The Seven Deadly Sins. After studying voice and acting in Los Angeles, she has been a successful international soloist for the past three decades. Her career has brought her to major musical centers around the world including the Zurich Opera, the Vienna Volksoper, the Barbican Hall in London, the NHK Hall in Tokio, the Teatro National in Guatemala City, the Alte Oper Frankfurt, the Cologne Philharmonie, and the Herkulessaal in Munich, working under the direction of Nikolaus Harnoncourt, Franz Welser-Moest, HK Gruber, and Thomas Hengelbrock. Ute's extensive repertory ranges from opera (Susanna in Le Nozze di Figaro, Donna Elvira in Don Giovanni) to operetta (Adele in Die Fledermaus and Valencienne in The Merry Widow), musicals (Jesus Christ Superstar, M. Fair Lady) as well as chansons and lieder. She is also known for her solo shows and cabaret programs where she channels stars like Marlene Dietrich or Edith Piaf. ute-gfrerer.com
Maurice Emmanuel Parent* (Cervantes/Don Quixote) returns to New Repertory Theatre after performing in The Gift Horse, The Snow Queen, Camelot, Rent, Passing Strange, Cabaret, The Wild Party, and Ragtime. Most recently he played the title character in Edward II with Actors' Shakespeare Project where he is a resident acting company member and Co-Acting Artistic Director. Other credits include work with SpeakEasy Stage Company, Off the Grid Theatre, Underground Railway Theater, Commonwealth Shakespeare Company, Wheelock Family Theatre, Lyric Stage Company, Boston Theatre Works, Huntington Theatre Company, Cape Playhouse, and Barrington Stage. He received a 2016 IRNE Award for The Snow Queen (New Repertory Theatre), the 2015 IRNE Award for The Color Purple (SpeakEasy Stage Company), and a 2008 Elliot Norton Award for Some Men (SpeakEasy Stage Company), Angels in America (Boston Theatre Works), and The Wild Party (New Repertory Theatre). Maurice is an adjunct faculty member at Boston University and resides in Roxbury. mauriceparent.com
JUDITH CHAFFEE (Movement Director) returns to New Repertory Theatre after performing in Good and having previously choreographed Assassins. She appeared in Good at Boston Center for American Performance and again for the Potomac Theatre Project in NYC. Other credits include An American Dream (Colorado Arts Festival); Benjamin Britten's A Midsummer Night's Dream, House of Bernarda Alba, and Agnes of God (Boston University), and had a recent film role in The Inhabitants. She has two CDs on Period Styles through Insight Media, and co-edited, with Olly Crick, The Routledge Companion to Commedia dell'Arte. She is Associate Professor Emerita at Boston University, where she was awarded the 2011 Metcalf Cup and Prize for Teaching, and was head of movement for theatre and opera before retiring in 2015.
ANTONIO OCAMPO-GUZMAN (Stage Director) returns to New Repertory Theatre after directing Masterclass, 'Art' and Frankie & Johnnie in the Clair de Lune. Most recently, he staged L'Elisir d'amore for Boston Midsummer Opera, where he has also directed Il Campanello, L'amico Fritz, The Bartered Bride and The Merry Wives of Windsor. As an actor, he trained with Teatro Libre in his native Bogotá, Colombia, and with Shakespeare & Company in Lenox, MA. He received an MFA in Directing, as well as a Graduate Diploma in Voice, from York University, Toronto and has directed over 50 productions in several countries. In the Boston area, he has worked with New Repertory Theatre, Actors' Shakespeare Project, The Nora Theatre, among others. He is a Designated Linklater Master Voice Teacher and is the author of La Liberación de la Voz Natural: El Método Linklater (UNAM, 2010). Next summer, Antonio will direct Il Barbiere di Siviglia for BMO. He is an Associate Professor of Theatre at Northeastern University, where he teaches all levels of acting, improv and voice, and resides in Jamaica Plain.
DAVID REIFFEL (Music Director) returns to New Repertory Theatre after creating music and sound for Blackberry Winter, The Elephant Man, Master Class, Marry Me a Little, Chesapeake (IRNE Nominee), and Collected Stories, among others. Local credits include A Beautiful Day In November... and Stupid F***ing Bird (Elliot Norton Award, Outstanding Production ) (Apollinaire Theater Company); A Disappearing Number (Underground Railway Theatre, IRNE Nominee); Othello, Measure for Measure, As You Like It, and Middletown (Actors' Shakespeare Project); Big Fish, Carrie, and The Color Purple (SpeakEasy Stage Company); Luna Gale and Doubt (Greater Boston Stage Company); Gloucester Blue (Gloucester Stage Company, Brandeis Theater Company, The Boston Conservatory); and The Rag Doll (Blue Spruce, IRNE Nominee). National credits include Twelfth Night, Romeo and Juliet (Oregon Shakespeare Festival). He wrote scores and designed sound for five years on the road as a founding member and resident composer with the nationally-acclaimed Cornerstone Theater Company. davidreiffel.com
Man of La Mancha also features STEFAN BARNER, Shonna Cirone, CHRISTINA ENGLISH, Brandon Grimes, NILE HAWVER, RICARDO D. HOLGUÍN, Paul James LANG, Michael Levesque, CRISTHIAN MANCINAS GARCÍA, Davron S. Monroe, IVY RYAN, NICOLE VANDER LAAN, and Todd Yard.
New Repertory Theatre is the award-winning, professional theatre company in residence at the Mosesian Center for the Arts in Watertown, MA. For over 30 years, New Rep has been a leader of self-produced theatre in greater Boston, producing contemporary and classic dramas, comedies, and musicals in both the 340-seat MainStage Theater and the 90-seat BlackBox Theater. Annually, New Rep serves over 40,000 patrons, including 2,000 season subscribers. In addition to its mainstage productions, New Rep produces Next Voices, a program dedicated to developing new plays with playwrights through staged readings and world premiere production. Under its Lifelong Enrichment Arts Programs (LEAP), New Rep also produces its Classic Repertory Company, Page To Stage, Insider Experiences, and Spotlight Symposium Series.
New Rep's Mission:
New Repertory Theatre produces plays that speak powerfully to the vital ideas of our time.
What we do:
Through the passion and electricity of live theater performed to the highest standards of excellence, New Rep seeks to spark community conversations on crucial contemporary issues.
Our work expands and challenges the human spirit of both artists and audiences. We present world premieres, contemporary plays and classic works in several intimate settings. Our productions are designed to be accessible to all. We are committed to education and enrichment for learners of all ages, with a special dedication to the creation of innovative in-school programming and outreach to underserved audiences. We embrace theater as the basis for enduring connections with our community and as a springboard for meaningful civic engagement.
New Rep is an active advocate for the arts and a major voice in the national dialogue defining the role of theater in our culture.
Related Articles View More Boston

Stories

Shows
More Hot Stories For You