Huntington Theatre Company Presents Pop-Centric ROMEO AND JULIET

William Shakespeare's enduring romantic tragedy, Romeo and Juliet comes to the Huntington Theatre Company as a thrillingly modern event helmed by Artistic Director Peter DuBois. Performances begin March 1 at the Avenue of the Arts / Huntington Avenue Theatre (264 Huntington Avenue, Boston) and will run through March 31. Tickets are now on sale to the general public.
Impassioned young lovers are caught between the violence and intolerance of their feuding families in one of Shakespeare's most famous plays, Romeo and Juliet. This innocent pair's affections for one another are only matched in passion and decadence by the unbridled rivalry between their kin. A tale that shifts blame between fate and collective responsibility, Romeo and Juliet illuminates the consequences of reckless love and reckless hate in this pop-centric, contemporary production that pairs Shakespearean verse with modern design, themes, fashion, and music. DuBois' vision nods to the political fractures of our current era, the cultural differences that pull us apart, and the enduring power of passion that makes the possibility of young love real at any risk.
In helming the first Shakespeare play produced by the Huntington in eight years, Huntington Artistic Director Peter DuBois brings an exhilarating and modern sensibility to this timeless classic about the intensity of first love and attraction amid a dangerously divided community. "Looking at the world around us, we see people living with ferocious loyalty to their causes, unyielding in their principles," says DuBois. "That is the connection that inspired me to revisit this work. Instead of theoretical foes, audiences may recognize members of both houses Montague and Capulet. They are our idols, our neighbors, civil servants, and the media. Shakespeare explores the peril of a society possessed by blind tribalism set against a love story that has a boundless sense of joy and abandon."
Newcomers George Hampe (Regrets at Manhattan Theatre Club) and Lily Santiago (A Doll's House, Part 2 at George Street Playhouse; Othello at The Public Theater) make their Huntington Theatre Company debuts as Romeo and Juliet. Joining them is a cast of familiar local natives and Huntington favorites including Elliot Norton Award winners Marianna Bassham (I Was Most Alive with You, Becoming Cuba at the Huntington) as Lady Capulet; Nancy E. Carroll (A Doll's House, Part 2; Ripcord at the Huntington) as the Nurse; Matthew J. Harris (Tartuffe, Topdog/Underdog at the Huntington) as Mercutio; Will Lyman (Guess Who's Coming to Dinner, All My Sons at the Huntington) as Friar Laurence; Nael Nacer (A Doll's House, Bedroom Farce at the Huntington) as Lord Montague, and Maurice Emmanuel Parent (Skeleton Crew, Merrily We Roll Along at the Huntington) as Lord Capulet.
The cast of Romeo and Juliet also includes Matthew Bretschneider as Paris (Tartuffe, Dead End at the Huntington); Ed Hoopman (A Civil War Christmas at the Huntington) as the Prince; Celeste Oliva (Sheer Madness at the Charles Playhouse) as Lady Montague; Omar Robinson (Tartuffe at the Huntington) as Benvolio; and John Zdrojeski (Huntington debut) as Tybalt. Rounding out the ensemble are Margaret Clark, Zaven Ovian, Dale Place, Khyati Sehgal, and Kai Tshikosi.
Romeo and Juliet will include scenic design by Wilson Chin (Skeleton Crew and Tiger Style! at the Huntington; Next Fall on Broadway), costume design by Ilona Somogyi (Fall, Disgraced, and Good People at the Huntington, Clybourne Park on Broadway), lighting design by Russell H. Champa (A Guide for the Homesick, Now or Later and Captors at the Huntington), with sound design and original music by Obadiah Eaves (Shining City at the Huntington; extensive Broadway credits include Saint Joan, The Country House, The Assembled Parties, Harvey). Production stage manager is Emily F. McMullen and stage manager is Kevin Schlagle.
The Huntington Theatre Company is Boston's leading professional theatre and one of the region's premier cultural assets since its founding in 1982. Recipient of the 2013 Regional Theatre Tony Award, the Huntington brings together superb local and national talent and produces a mix of groundbreaking new works and classics made current to create award-winning productions. The Huntington runs nationally renowned programs in education and new play development and serves the local theatre community through its operation of the Calderwood Pavilion at the BCA. The Huntington has long been an anchor cultural institution of Huntington Avenue, the Avenue of the Arts, and will remain so on a permanent basis with plans to convert the Huntington Avenue Theatre into a first-rate, modern venue with expanded services to audiences, artists, and the community. Under the direction of Artistic Director Peter DuBois and Managing Director Michael Maso, the Huntington cultivates, celebrates, and champions theatre as an art form. For more information, visit huntingtontheatre.org.
More Hot Stories For You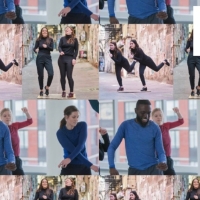 SYREN Modern Dance Announce 20-City Tour For 20th Anniversary

November 30, 2022

SYREN Modern Dance, New York City based company co-founded by Lynn Peterson and Kate Sutter, will share a split bill with kamrDANCE on December 2, 2022 at 6:30pm & 8:30pm at Arts on Site, Studio 3R, 12 St. Mark's Place, NYC.
---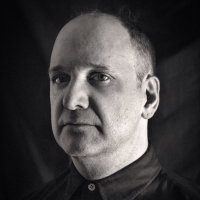 Woodwindist/Composer Josh Sinton Embarks On 10-City Tour This December

November 29, 2022

​​​​​​​Woodwindist, composer and creative musician Josh Sinton caps off an extraordinarily productive and busy year with a 10-city tour, Thursday, December 1 – Sunday, December 18. Performances include stops in New York City; Baltimore, MD; Cary, NC; Richmond, VA; Knoxville, TN; Athens, GA; Pittsburgh, PA; Bloomington, IN; Kansas City, MO; and Chicago, IL.
---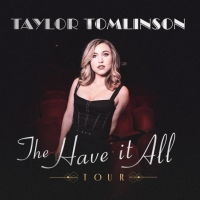 Taylor Tomlinson Adds Third Boston Show To THE HAVE IT ALL TOUR, February 1

November 29, 2022

Taylor Tomlinson has added a third show in Boston at the historic Boch Center Wang Theatre after the first two shows sold out. The new show for "The Have it All Tour" will be Wednesday, February 1st.
---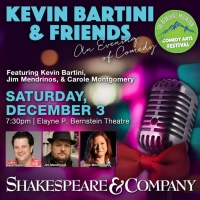 KEVIN BARTINI & FRIENDS, AN EVENING OF COMEDY At Shakespeare & Company, December 3

November 29, 2022

Shakespeare & Company and the Berkshire Mountain Comedy Arts Festival present Kevin Bartini & Friends, an evening of comedy featuring Bartini as Master of Ceremonies and two other headlining acts: comedians Jim Mendrinos and Carole Montgomery.
---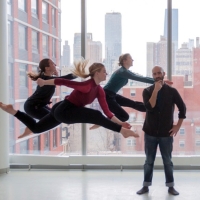 SYREN Modern Dance to Present Collaborative Piece TICKTOCK at Stony Brook University's Staller Center

November 29, 2022

SYREN Modern Dance, New York City based company co-founded by Lynn Peterson and Kate Sutter, will present a performance of Ticktock on November 30, 2022 at 7:30pm at Stony Brook University's Staller Center.
---