Guerilla Opera Appoints New Artistic Directors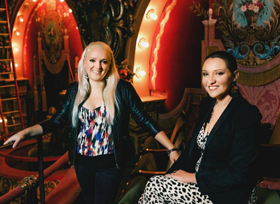 In their twelfth season, Guerilla Opera's board of directors appoints Aliana de la Guardia and Julia Noulin-Mérat as co-artistic directors. De la Guardia and Noulin-Mérat have been working together to produce the experimental company's world premiere operas and productions since 2009. Together, now they will serve as the faces of the company.

Aliana de la Guardia is a classical singer, actor, and producer hailed by The Boston Globe as "vocally fearless" and "fizzing with theatrical commitment." The Cuban-American performer is an avid performer of new music, appearing with on programs from the Boston Conservatory New Music Festival, Boston Modern Orchestra Project, Beth Morrison Projects, Center for Contemporary Opera, Firebird Ensemble, Harvard Group for New Music, I/O Ensemble, Ludovico Ensemble, New Gallery Concert Series, and the PARMA Festival. She has performed in over twenty new operas and as a co-founding artist and general manager of Guerilla Opera, she has co-produced and premiered fifteen new operas with roles written specifically for her. She has been twice nominated as Best Actress in an Opera by ArtsImpulse for roles premiered with Guerilla Opera. De la Guardia comments:
This role is distinctly different from my last one, focusing much more on the artistic side of Guerilla Opera and how we engage with the community. I'm excited to continue our outreach regarding accessibility and well as continuing the several projects we have in development. Julia and I have been working together for this company for a long time. This is a great pairing and I'm excited at the possibilities.

In addition to her work as Director of Design and Production for Guerilla Opera, Noulin-Mérat is an international production designer and the founder of Noulin-Mérat Studio, an intrepid NYC production design firm that specializes in Theater, Film & TV, with an emphasis in Opera and immersive site specific theatre. She has designed over 350 opera, theater and television productions, including 15 world premiere operas and 22 new plays and produced 50 shows. The long-time producer comments:
I have been the head of production with Guerilla Opera for 10 years now and I am thrilled to embark on this new era with the perfect co-artistic directing partner. I look forward to getting to know our audience better and helping create more exciting new works and projects to the American repertoire.

When the company was founded, percussionist Mike Williams and composer Rudolf Rojahn acted as co-artistic directors, partners who were equally responsible for shaping the artistic vision of the group. In 2016 Rojahn relocated with his family and Mike Williams upheld the artistic directorship. He notes:
After 11 years as the artistic director of Guerilla Opera I am thrilled to pass on this leadership to the two brilliant women with whom I have worked so closely during that time. Aliana and Julia have been instrumental in everything we have accomplished and I know that they have progressive ideas which will invigorate our programming and move Guerilla Opera forward.

Williams will still serve Guerilla Opera as a producer and on the board of directors. As a performing member of the ensemble, audiences can still expect to see his virtuosic playing featured in future operas.

The company also welcomes new board members Andrea Laws, a financial professional from the Moody Street Group, David Frank, Vice President of Design and Innovation at C Space, as well as from the Boston Conservatory at Berklee Nathan Troup, Associate Professor of Opera, and Jonathan Bailey Holland, Chair of Composition, Contemporary Music, and Core Studies.

For more information visit Guerilla Opera online at www.guerillaopera.org, follow them on social media at @guerillaopera and join the conversation using #Rumpelstiltskin and #GOSeason12.
Photo Credit: Timothy Gurczak
More Hot Stories For You