BWW Reviews: Hub Theatre Company Puts Its Money on LOOT to Start Season Three
Loot
Written by Joe Orton, Directed by Daniel Bourque, Produced by Lauren Elias; Stage Manager, Robert Orzalli; Assistant Stage Manager, Rebecca Miller; Set/Prop Design, Mark Ewart; Lighting Design, Evan DelGaudio; Sound Design, Elizabeth Havenor; Costume Design, Erica Desautels; Dialect Coach, Meredith Stypinski; Fight Choreography, Johnnie McQuarley; Poster Image, Cristhian Mancinas Garcia
CAST (in order of appearance): Thomas Grenon, Meredith Stypinski, C.J. David, Kevin Paquette, John Geoffrion, Sean Cooper
Performances through April 12 by Hub Theatre Company of Boston at First Church in Boston, 66 Marlborough Street, Boston, MA; Tickets www.hubtheatreboston.org
Hub Theatre Company of Boston starts its third season with Loot, an irreverent, dark comedy by British playwright Joe Orton (What the Butler Saw, Entertaining Mr. Sloane) at the First Church in Boston. With a coffin as the centerpiece of Mark Ewart's set, death takes no holiday in this tale of mourners, murderers, cops, and robbers. Daniel Bourque directs a cast of six live actors and one dormant dummy that is handled with reckless abandon. Part detective story, part farce, Loot is reminiscent of plays staged by high school drama clubs in the 1960s, giving everyone a chance to chew lots of scenery.
At the top of the food chain is Hub's Artistic Director and IRNE Award-winner John Geoffrion as Truscott, an investigator purportedly from the metropolitan water board, who continuously and annoyingly oversteps his authority. Wearing a trench coat and a fake mustache, asking probing questions and scribbling in his little notebook, Truscott is a cross between Detective Columbo and Inspector Clouseau. Geoffrion maintains a clipped British accent, a high level of energy, and never wavers in his portrayal of the zealous (and deceitful) gumshoe. Thomas Grenon as McLeavy, the master of the house mourning his recently-departed wife, is respectful of the inspector until he grows suspicious of him. Manipulated at every turn by his late wife's nurse Fay (Meredith Stypinski), McLeavy alternates between letting life happen to him and trying to take the bull by the horns. Grenon's spluttering is spot on when things start to spiral out of his control.
For her part, Fay is a femme fatale in a white uniform who sets her nurse's cap for McLeavy to become husband number eight. As a seven-time widow, she draws the interest of Truscott, although he is also investigating McLeavy's son Hal (C.J. David) and his "friend," the undertaker Dennis (Kevin Paquette), as suspects in a bank robbery. You can virtually see the wheels turning in Stypinski's head as Fay tries to stay one step ahead of everyone else. The boys are no match for her, as the bumbling burglars soon discover when she cuts herself in on their cache. Alliances are formed out of necessity, with everyone banding together to keep Truscott off-balance, but the tangled webs do not always deceive as much as they confuse.
Under Bourque's direction, the ensemble works well together and keeps all the moving parts moving with few breakdowns. However, the pacing is uneven, making the play feel longer than it is, and the three-sided seating arrangement makes it difficult to hear lines when spoken by anyone who has their back to part of the audience. Seamless performances by Geoffrion, Grenon, and Stypinski are in contrast to the overmatched David, who lacks subtlety. Paquette fares better, and Sean Cooper (Meadows) barely registers as a uniformed cop who makes a brief appearance near the end of the play. Whodunnit atmosphere is enhanced by Evan DelGaudio's lighting design and somber music courtesy of sound designer Elizabeth Havenor. Erica Desautels is the costume designer whose highest achievement is giving Fay that black widow look. Stypinski also serves as dialect coach and succeeds in making everyone sound like a Brit.
Loot was written in 1967, inspired by the trial of an infamous, unscrupulous police detective. Orton takes on law enforcement and the Roman Catholic Church, and basically implies that run-of-the-mill thieves, grave robbers, and murderers are really no worse than the authorities of church and state. With the criminal element, at least you know what to expect. Orton seems to be saying that it is no different with the ruling class. It will be up to you to decide if Loot is still on the money half a century later.
Photo credit: Hub Theatre Company (John Geoffrion)
| | |
| --- | --- |
| Vote Now for the 2022 BroadwayWorld Boston Awards | |
| voting ends in | |
From producing and starring in family holiday pageants as a child, to avid member of Broadway Across America and Show of the Month Club, Nancy has cultivated her love of the art and respect for the... (read more about this author)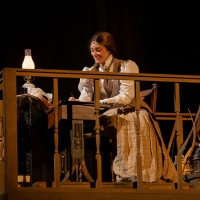 LITTLE WOMEN: THE BROADWAY MUSICAL

December 1, 2022

Have there ever been such devoted sisters as the four March girls, birthed by Louisa May Alcott in her postbellum semi-autobiographical novel LITTLE WOMEN? Director Ilyse Robbins shows her abiding affection for the story with her devotion to its heart and soul on display in the production of the 2005 Broadway Musical at Greater Boston Stage Company.
---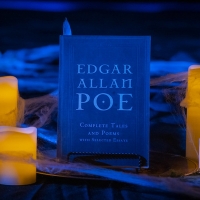 REVIEW: THE EDGAR ALLAN POE DOUBLEHEADER

October 28, 2022

If you have yet to reach your fright limit for the Halloween season, you still have two chances to experience chills of the dramatic variety at THT Rep at the BrickBox Theater in Worcester. Reprising the production she created for small, socially-distanced audiences of 20 in the early days of the pandemic, Artistic Director Livy Scanlon is performing THE EDGAR ALLAN POE DOUBLEHEADER in front of 290 stadium-style seats.
---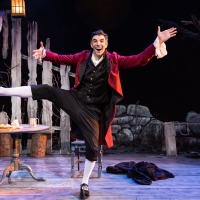 REVIEW: THE LEGEND OF SLEEPY HOLLOW

October 26, 2022

Two hundred years after Washington Irving introduced the little hamlet of Sleepy Hollow and its superstitious denizens to the canon of American literature, the legend remains among the most enduring of stories that capture the imagination of adults and children alike, inspire questions about the supernatural realm, and scare the bejesus out of its audience.
---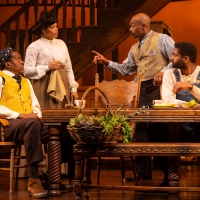 Review: AUGUST WILSON'S JOE TURNER'S COME AND GONE

October 22, 2022

JOE TURNER'S COME AND GONE was the first Wilson play produced at the Huntington in 1986, the beginning of a 19-year relationship that saw all ten of his American Century Cycle plays chronicling the African American experience in the 20th century performed on the local stage.
---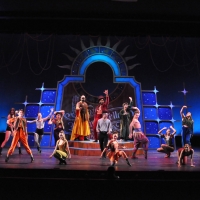 Review: PIPPIN: Growing Up Is Hard To Do

August 8, 2022

The second and final production of Reagle Music Theatre of Greater Boston's 2022 season is Stephen Schwartz's PIPPIN, originally produced on the Broadway stage in 1972 with direction and choreography by Bob Fosse, and revived/reimagined in 2013 by Diane Paulus at the American Repertory Theater before going to Broadway. Undaunted by following in those two very large sets of footsteps, RMT Artistic Director Rachel Bertone forges her own path to stage a version that leads with an enlarged heart and a healthy helping of fun and whimsy.
---