BWW Review: World Premiere of FLIGHT OF THE MONARCH at Gloucester Stage Company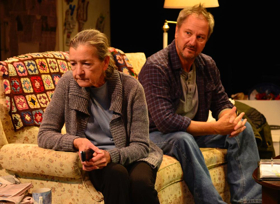 Flight of the Monarch
Written by Jim Frangione, Directed by Jeff Zinn; Set Design, Cristina Todesco; Lighting Design, John Malinowski; Costume Design, Miranda Kau Giurleo; Composer/Sound Design, Dewey Dellay; Properties Design, Jenna Worden; Stage Manager, Marsha Smith
CAST (in alphabetical order): Nancy E. Carroll, J. Tucker Smith
Performances through September 30 at Gloucester Stage, 267 East Main Street, Gloucester, MA; Box Office 978-281-4433 or www.gloucesterstage.com
The Monarch Butterfly is rapidly diminishing in number and is on the verge of extinction. The same might be said of the Callaghan family, a trio of middle-aged siblings whose lives intersect out of proximity and necessity, more often than out of inclination or enthusiasm. Born and raised and still living in a small New England fishing town, each maintains a simple existence that revolves around caring for their property, propagating a garden that can attract the Monarchs, and dealing with the demons from their dysfunctional upbringing. Gloucester Stage Company presents the world premiere of playwright Jim Frangione's Flight of the Monarch following an overwhelming audience response to a reading of the play during last fall's NeverDark series.
Gloucester Stage Managing Director Jeff Zinn, who has piloted the play through a series of workshops and has known Frangione since their early acting days, is at the controls of the production. He couldn't have a finer pair of collaborators than Rockport resident Nancy E. Carroll (Sheila) and J. Tucker Smith (Thomas), an accomplished New York and regional actor, as the two Callaghan siblings we get to meet (sister Lacey is unseen as the other half of a telephone conversation, as well as a "presence" in the family dynamics). Carroll and Smith have established an easy camaraderie that makes their relationship on stage appear genuine and infuses their conversations with a natural ebb and flow.
There is little action or activity in the play, the first act taking place in Sheila's hospital room and the second act set in her living room, but Monarch gets off the ground because of Frangione's particular ability to craft a dialogue specific to his characters. Their words tell us who they are and what they've been through, and the shadings of their personalities are colored by the nuanced brushstrokes of Carroll and Smith. The Callaghan siblings are very familiar to those of us with our own New England roots, yet they are not stereotypical in the least. Sheila is a tough bird, set in her ways and unlikely to suffer fools. Tom is a go-with-the-flow kind of guy who has been buffeted by the tides of his life, landing on the rocks more than once. However, he has a good heart and a moral compass that guides him to try to do the right thing.
It is clear from the outset that Sheila and Tom rely on each other as ports in the storm of life in the Callaghan family. That doesn't mean that their relationship is warm and fuzzy or without challenges, but Carroll and Smith convey that love is the strong foundation that helps them withstand those challenges. Their world views are different, shaped by their reactions to a family tragedy decades ago, but they remain fiercely protective of one another. When Sheila Explains the progressive nature of her illness to Tom and informs him that she needs his help, he sees it as an opportunity to reconnect with another family member whose presence could be life-changing.
The contributions of the design team to our understanding of these characters and how they live ranges from the subtlety of how they are dressed by costume designer Miranda Kau Giurleo, to the drab clutter of Sheila's well-worn home, as imagined by set designer Cristina Todesco and properties designer Jenna Worden. Lighting designer John Malinowski segregates areas of the hospital room with bright focus on Sheila on her bed, Tom in the shadowy background, and dim amber lighting to create an aura of a flashback. Dewey Dellay provides evocative sounds of the sea and mellow original music in the background.
Flight of the Monarch achieves a fine balance of comedy and drama, both of which arise naturally from the situation at hand. Frangione's dialogue echoes real conversations, and his characters behave in realistic ways. The performances of Carroll and Smith elevate the work so that the audience can readily suspend disbelief and become absorbed into the world of the play. Even though their flaws are in full view, those Callaghans might be nice to know.
Photo credit: Gary Ng (Nancy E. Carroll, J. Tucker Smith)