BWW Review: SpeakEasy Stage's FUN HOME: It's To Die For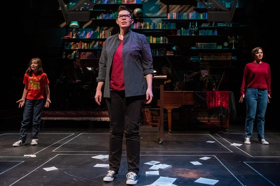 Fun Home
Music by Jeanine Tesori, Book and Lyrics by Lisa Kron, Based on the Graphic Novel by Alison Bechdel, Directed by Paul Daigneault, Music Direction by Matthew Stern, Choreography by Sarah Crane; Scenic Design, Cristina Todesco; Costume Design, Charles Schoonmaker; Lighting Design, Karen Perlow; Sound Design, Andrew Duncan Will; Props Design, Jennifer Butler; Production Stage Manager, Rachel Sturm; Assistant Stage Manager, John Meredith
CAST (in order of appearance): Amy Jo Jackson, Marissa Simeqi, Todd Yard, Ellie van Amerongen, Laura Marie Duncan, Cameron Levesque, Tyler Simahk, Desiré Graham; understudy, Madi Shaer
Performances through November 24 by SpeakEasy Stage Company at The Roberts Studio Theatre in the Calderwood Pavilion at the Boston Center for the Arts, 527 Tremont Street, Boston, MA; Box Office 617-933-8600 or www.SpeakEasyStage.com
Fun Home is a true story about real people, and Producing Artistic Director Paul Daigneault's production at SpeakEasy Stage Company, the Boston regional premiere of the 2015 Tony Award-winning musical, will make a believer out of anyone who sets foot in the Roberts Studio Theatre. Based on Alison Bechdel's memoir/graphic novel of the same name, the groundbreaking musical tells the story of the cartoonist's complicated family, looking back at her childhood and adolescence with Alison at three different ages as our guide. It is a memory play, a coming out story, a tragedy, and a comedy. Above all else, it is one of the highest points in a Boston theater season that has already had some very high points.
I know I've said this before, but the truth is that Daigneault and SpeakEasy have crafted a specialty of adapting Broadway shows to not only fit, but to shine in the smaller venue that they call home. With a capacity ranging between 157 and 250 seats, the action on the Roberts stage is never far away. For Fun Home, configured with seating on three sides, the intimate arrangement allows the audience the opportunity to observe the characters three-dimensionally, seeing aspects of them that they cannot see in themselves. Although there are times when an actor has his or her back facing in your direction, the blocking and movement feel organic and equitable. At other times, you might catch an expression or a moment that is visible only to your immediate seat grouping (case in point, the look of abject fear on the face of Small Alison when her father commands her help in the embalming room). Cristina Todesco is the set designer, and Karen Perlow's lighting brings each area of the stage into focus as scene changes require.
On the fourth side of the stage, at the end opposite the entrance, Music Director Matt Stern and half a dozen musicians are seated on a raised platform at the base of a wall of bookshelves anchoring the Bechdel's parlor. The music is such an integral part of telling the story that it is fitting that the band is in view and appears as an extension of the ensemble. Stern plays piano, and the mix of violin, cello, reeds (especially oboe), guitar, drums, and bass perfectly convey the sounds of Jeanine Tesori's original score. Stern's direction of the vocalists, in tandem with their natural talents, results in some incredibly powerful musical numbers. All three of the Alisons have amazing voices and make their signature songs stand out. Amy Jo Jackson (Alison, 43) goes deep into her character reliving an experience with her father ("Telephone Wire"); Ellie van Amerongen (Medium Alison, 19) sings with joy and exuberance about coming out ("Changing My Major"); and Marissa Simeqi (Small Alison, 9) performs above and beyond her years with an authentic sense of wonder and discovery when she notices an "old-school butch" for the first time ("Ring of Keys").
Broadway veteran Laura Marie Duncan (Helen) gives a sympathetic portrayal as Alison's mother, a woman who has done what was expected of her, while living in denial of her husband's proclivities. The character is somewhat in the background, playing second fiddle to everyone else's needs, until a switch is flipped when Medium Alison comes out. That is the watershed moment for her father Bruce, as well, as his carefully projected family portrait dissolves. Todd Yard (Bruce) fully inhabits the character struggling with the dual nature of his personality, often changing moods on a dime and infusing his songs with a range of emotion, most devastatingly when he comes undone ("Edges of the World").
Ample support comes from Tyler Simahk in a quartet of roles, including a couple of young men of interest to Bruce, and Desiré Graham (Joan) as Medium Alison's patient and caring new love. Alison's younger brothers Christian (Cameron Levesque) and John (Luke Gold) are like real life boys, rambunctious and mischievous. They are naturals on stage and, along with Simeqi, are a hoot in their group number ("Come to the Fun Home"), an imaginative commercial for the Bechdel Funeral Home. Lisa Kron's lyrics are, unfortunately, difficult to discern in that song, but they are clever. Kron wrote both the book and lyrics, her first attempt at a musical, and she and Tesori both took home Tony Awards for their achievements.
Fun Home won five Tony Awards and made history as the first Broadway show written exclusively by women to take home the top prize, as well as for featuring a lesbian protagonist. Its unique structure and the nonlinear story are part of what makes it special, but the main attraction is the relatability of Alison and her journey. By revisiting her childhood, she is able to discover things through her adult eyes that were not visible to her at the time. Her quest was to understand her father and, by deduction, herself. Jackson observes the goings on with intense focus and fascination, merging recall with imagination, until her "aha" moment. Alison may never have all of her questions answered, but she finally achieves integration with the fragments of herself.
Photo credit: Nile Scott Studios (Marissa Simeqi, Amy Jo Jackson, Ellie van Amerongen)