BWW Review: Roscoe 'Fatty' Arbuckle Brings Laughter and Sorrow to Merrimack Rep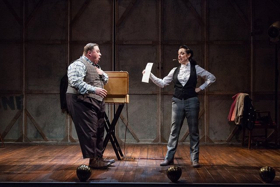 Lost Laughs: The Slapstick Tragedy of Fatty Arbuckle
Written by Andy Bayiates and Aaron Muñoz, Directed by Nathan Keepers; Scenic Designer, Meredith Ries; Costume Designer, Alison Siple; Lighting Designer, D.M. Wood; Sound Designer, Stowe Nelson; Producer, Peter Crewe; Stage Manager, Dom Ruggiero
CAST (in alphabetical order): Kristen Mengelkoch, Aaron Muñoz
Performances through March 11 at Merrimack Repertory Theatre, 50 E. Merrimack Street, Lowell, MA; Box Office 978-654-4678 or www.mrt.org
Peek behind the facade of many a famous comedian and there will likely be a backstory of sadness or despair. The examples of class clowns seeking attention who grew up to be performers are legion. Onstage now at Merrimack Repertory Theatre is the world premiere of Lost Laughs: The Slapstick Tragedy of Fatty Arbuckle, bringing to life the story of one of the great comics of silent films, whose fall from favor may be remembered more than the milestones he achieved as Hollywood's first million-dollar man. Combining elements of vaudeville and silent film, with more than a little shtick, the play is both an introduction to the man and a look back to the early days of celebrity worship and destruction.
After a difficult early family life, Roscoe "Fatty" Arbuckle became a performer at the age of eight, first on the vaudeville stage, and entered the world of film when Mack Sennett hired him to work at his Keystone studio in 1913. He worked with both Charlie Chaplin and Buster Keaton, and loved to make people laugh. The prolific actor was in 153 movies in eleven years and was at the top of his game in 1921 when disaster struck. A friend planned a big party to celebrate his success over Labor Day weekend at the St. Francis Hotel in San Francisco, but the wild party got out of control. Arbuckle ended up being charged with the murder of a 25-year-old actresss named Virginia Rappe who was found dead in his suite.
Co-writers Andy Bayiates and Aaron Muñoz (who also plays Arbuckle) lay the groundwork by showcasing Arbuckle's stage persona and comedy talents, entertaining us while his career ascends. Kristen Mengelkoch, called "Will" to simplify matters, plays a multitude of characters who interact with Fatty, including fawning celebrity hounds, friends, hangers-on, his wives, cops, and lawyers. She is perhaps at her most affecting when she takes on the role of Rappe and tells her side of the story, but Mengelkoch shows great range and a flair for physical comedy, sometimes differentiating between two characters merely by the placement of a scarf. Arbuckle is the engine that drives the play, but Mengelkoch's menagerie stokes the fire for that engine.
Muñoz plays Arbuckle with style, grace, and nuance. He is very good when emulating the character's shtick, showing his aplomb with hat tricks, flops, and a myriad of facial expressions. Although they say that comedy is hard work, methinks that shifting gears from the funny stuff to the deeper emotional shadings required once tragedy strikes Arbuckle isn't easy, and Muñoz makes a seamless transition. While his character becomes less likable, the actor's increased gravitas elicits understanding for the challenges Arbuckle faced and how difficult, if not impossible, it was for him to find redemption.
Director Nathan Keepers makes sure that Arbuckle's flaws, as well as his genius, come through in Muñoz's performance. Some of Mengelkoch's characters are like a Greek chorus, raising the questions, if not always answering them, about Arbuckle's character and behavior. It may be easy to judge him by today's standards, but he lived in a very different era. Nearly a hundred years before our #MeToo movement, was he a monster, or did he deserve better than to be chewed up and spit out by the celebrity machine? Lost Laughs: The Slapstick Tragedy of Fatty Arbuckle is not a very long play (about 75 minutes), but it will give you much to consider after you leave the theater.
Photo credit: Meghan Moore (Aaron Muñoz, Kristen Mengelkoch)
Related Articles View More Boston

Stories

Shows