Review: JEKYLL & HYDE at North Shore Music Theatre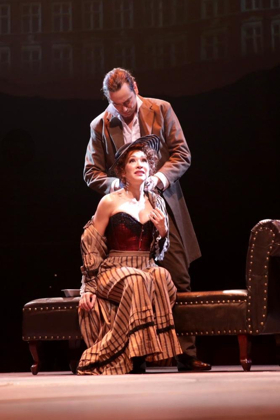 Jekyll & Hyde opened last night at North Shore Music theatre (NSMT) to yet another standing ovation and thunderous applause. Overall the evening was a winner.
Broadway's Gothic musical thriller, based on Robert Louis Stevenson's novel of similar name, JEKYLL & HYDE, with music by Frank Wildhorn, conceived for the stage by Frank Wildhorn and Steve Cuden, and Book and Lyrics by Leslie Bricusse, tells the story of London scientist Dr. Henry Jekyll (played by Constantine Maroulis), who accidentally creates a potion that changes him into a murderous alter ego dubbed Edward Hyde. As Hyde's uncontrollable violent rampages continue, Jekyll must figure out a way to stop the transformations before it results in deadly consequences for his fiancée, Emma, and Lucy (played by Diana DeGarmo), a prostitute who has fallen for the doctor. With a book and lyrics by Leslie Bricusse and music by Frank Wildhorn, the soaring score features powerful and romantic songs including "This Is The Moment," "In His Eyes," Someone Like You," and "A New Life."
Undoubtedly Mr. Wildhorn is one of the most prolific creators of musicals in the last 20 years. While none of his Broadway productions made money during their Broadway runs, (in fairness few do these days), he has created a niche market for himself, especially with Jekyll & Hyde and the rabid fans called "Jekkies", who much like the fans of the cult classic film Rocky Horror Picture Show follow every reincarnation of this musical. Since its debut at The Alley Theatre in Houston in 1990, there have been numerous productions including: several national tours and Broadway versions, with songs being changed and exchanged with some frequency. The strength of the musical is in the power ballads, and the weakness is in the book and lyrics by Leslie Bricusse. For instance in the song "Murder Murder" a sample of the lyrics are:
Murder, murder -
Makes your heart thump!
Murder, murder -
Makes your nerves jump!
Look at this, another murder,
Just like the other murder!
However, in this production, successfully directed by Robert Cuccioli the original Jekyll/Hyde actor, there are many positives. The stars, both, Broadway veterans, recording artists and American Idol finalists, bring a welcome rock vibe to the production that hopefully will draw a younger audience for this NSMT run. Tony nominee, Constantine Maroulis (Dr. Henry Jekyll/Edward Hyde) is simply amazing. His performance is incredibly complex and nuanced, and his vocal range and control is incredible. Likewise, Diana DeGarmo (Lucy Harris) created a sympathetic, fragile, and three dimensional character that she surpurbly brought to life. Her range is also amazing and she brings a nice rock vocal edge to her role without overpowering her overall performance.
Other stand outs in the cast were Tom Galantich (John Utterson), and Tess Primack (Emma Carew). The scenic and lighting design by Jack Mehler was outstanding, and wigs and hair by Gerard Kelly were exceptional. The orchestra under the direction of Milton Granger was excellent and perfectly complimented the strong performances.
Along with Constantine Maroulis (Dr. Henry Jekyll/Edward Hyde) and Diana DeGarmo (Lucy Harris), the cast of JEKYLL & HYDE features Jim Brochu (Sir Danvers Carew), Alison England (Lady Beconsfield, Nellie), Michael Padgett (Lord Savage, The Spider), , and Raymond Jaramillo McLeod (Simon Stride).
The cast also includes
Ashley Chasteen, Sean Mitchell Crosley, Elizabeth Flanagan, Kendall Hope, Rebecca Kuznick, Ryan Lambert, Amanda Lopez, Casey Manning, Jesse Michels, William Mulligan, Lottie Mae Prenevost, Andy Tighe, Jeff Williams, and Branch Woodman.
The creative team for JEKYLL & HYDE also includes Kelli Barclay (Choreographer), Milton Granger (Music Director), Jack Mehler (Scenic & Lighting Design), Kelly Baker (Costume Coordination), Daryl Bornstein (Sound Design), Gerard Kelly (Wig and Hair Design), Natalie A. Lynch (Production Stage Manager), Dakotah Wiley Horan (Assistant Stage Manager), and Robert L. Rucinski (Assistant Music Director). JEKYLL & HYDE is produced for North Shore Music Theatre by Bill Hanney (Owner/Producer), Kevin P. Hill (Producing Artistic Director), and Matthew Chappell (Associate Producer, Casting Director).
Tickets for JEKYLL & HYDE are priced starting from $59 - $84. Performances are September 25 - October 7, Tue - Thurs at 7:30 pm, Fri & Sat at 8 pm, matinees Wed, Sat and Sun at 2 pm. For tickets and information call (978) 232-7200, visit nsmt.org, or visit the box office at 62 Dunham Rd., Beverly, MA.

Additional Free Audience Enrichment events: Meet the Theatre: post-show audience discussion with the artists on October 2 after the 7:30 pm performance and October 6 after the 2 pm performance; OUT at the North Shore, an evening for the Gay and Lesbian Community with a post-show reception (sponsored in part by Ryan & Wood Inc.) on October 4 after the 7:30 pm performance.

North Shore Music Theatre will continue the 2018 season with Hairspray (October 30 - November 11), and the 28th annual production of A Christmas Carol starring David Coffee (December 7 - 23).