BWW Review: GERTRUDE AND CLAUDIUS Impresses at Barrington Stage Company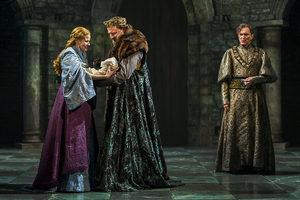 In one of Shakespeare's best known plays, Hamlet, Prince of Denmark, returns home from school to mourn the death of his father, King Hamlet. Prince Hamlet is disgusted by the marriage of his newly widowed mother, Queen Gertrude, to his Uncle, King Hamlet's brother, Claudius, who now holds the throne.
William Shakespeare wrote Hamlet around 1600. In 2000, John Updike's GERTRUDE AND CLAUDIUS, a novel, written as a prequel to Hamlet using the known sources of Shakespeare was published. Playwright, Mark St. Germain, a founding board member of Barrington Stage Company, adapted the novel and the play had its world premiere about a year ago.
The King of Denmark, Rorik, decides that his daughter should marry Amleth, a great warrior, a fine man and ruler of a nearby country. Gertrude protests but eventually obeys her loving father who tells her in time she will fall in love with Amleth. When her father dies, Amleth becomes King, Gertrude Queen and she bears Amleth a son, Hamlet. She is a gracious and dutiful Queen and tries to love her husband and son, who both seem remote.
At the time of her marriage Gertrude met Claudius, Amleth's brother, whom she had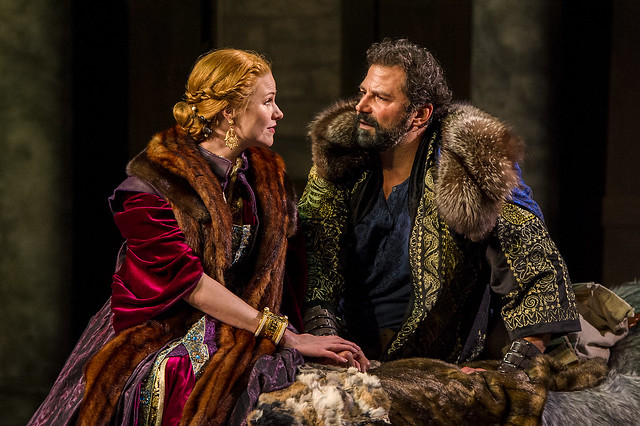 an immediate attraction to but Claudius, a world traveler and adventurer, goes off seeking new adventures. After many years, Claudius returns and their love blooms and takes hold. They fall madly in love. Knowing that this relationship is off-limits, Claudius dutifully leaves again and vows never to return. But their passionate, undying love brings him home again (at Gertrude's request). They are both swept away by their passion and Gertrude feels that she is for once in her life a fulfilled woman charting her own destiny. But Amleth, the ever patient and loyal husband, finds out about it and the actions that lead to Shakespeare's Hamlet are set into play.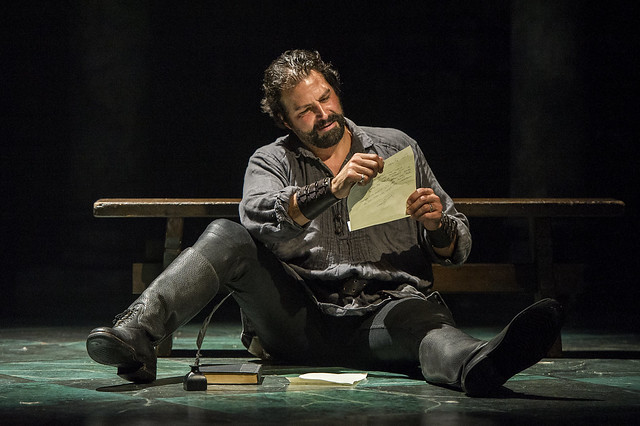 BSC Artistic Director, Julieanne Boyd, directed the ambitious endeavor. This play represents quite an undertaking on many levels and on most them, this production succeeds. The language is more contemporary than Shakespearean making it rather easy for the audience to understand and follow. The set designed by Lee Savage is impressive and everything a medieval castle should be. The lighting designed by David Lander compliments the handsome set extremely well. The costumes designed by Sara Jean Tosetti are beautiful, lavish, and finely detailed. There is a unique special effect that can't really be described but is noteworthy and gets audience members talking.
The cast are all well suited for their roles and each delivers strong performances.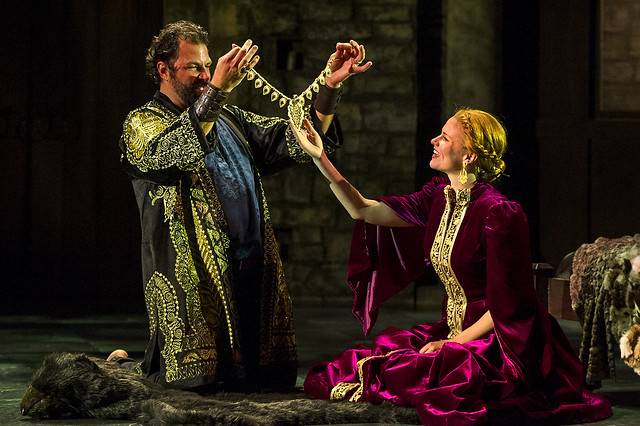 Elijah Alexander is formidable and charismatic as Claudius. Kate MacGluggage is a beautiful, powerful and wise Gertrude. Much like Kathryn from Shakespeare's Taming of the Shrew, she seems to have desires similar to a "liberated woman" or "feminist" but the play is set in medieval times not the present and so, she is duty bound and behaves accordingly. Rocco Sisto plays Polonious brilliantly. Aligning himself with any / everybody that suits his needs and serves his benefit.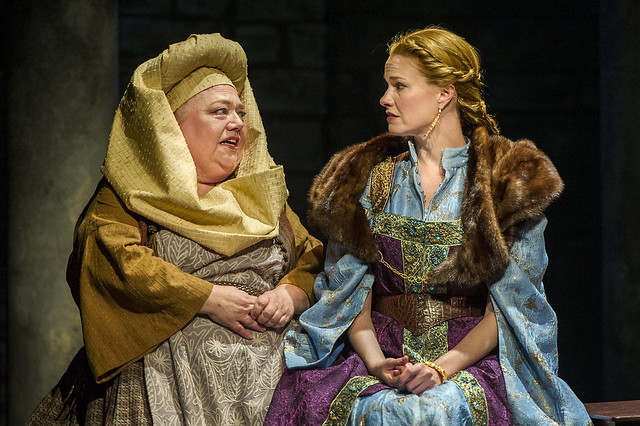 Mary Stout is wonderful as Herda, steadfastly devout and dutiful handmaiden to Gertrude. She adeptly delivers many moments of comic relief carefully placed within the larger volume of drama and romance, sometimes with a simple look.
Overall, this production of GERTRUDE AND CLAUDIUS is a success. That said, for me it lacks something. There is no big moment. No spark, pizazz, or wow. Imagine Game Of Thrones without the sex, violence, and dragons. Worth watching, but would it have lasted 73 episodes?
Related Articles View More Boston

Stories

Shows