Review: EMERSON STRING QUARTET AND SHAI WOSNER at Alice Tully Hall At Lincoln Center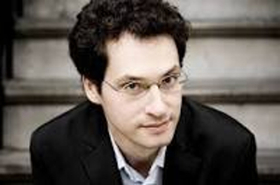 From the magisterial opening chords of Wolfgang Amadeus Mozart's Piano Quartet in E flat major (K.493, 1786) to the intricate, exciting Quintet No.1 for Piano, Two Violins, Viola, and Cello of William Bolcom (2000), and concluding with the charming, folk music-influenced Quartet in G major for Strings by Antonin Dvorak Op.106 (1895), the Emerson String Quartet's concert on Sunday, October 21, 2018 was a rich and satisfying chamber music feast.
Israeli-born pianist Shai Wosner joined the Emerson for the first half of the concert. This Mozart piano quartet, the second of two, gives all four players a chance to shine, which they certainly did. Mr. Wosner's clean articulation of rapid runs, unblurred by the pedal, was a delight to hear. Although his attacks were at times a little on the overly-bright, even somewhat harsh side, his releases were gentle and elegant. He proved a worthy partner to the string players, responding to them and leading them when the music demanded. The four players made sparklers out of Mozart's musical thoughts.
William Bolcom's Piano Quintet No.1 was originally written to showcase the exceptional talents of violinist Isaac Stern. Mr. Stern premiered the work in 2001, the last year of his life, with three players of the Emerson String Quartet. Sunday's performance of this work was the first time it was performed at the Chamber Music Society and included two participants in the original premiere, violinist Philip Setzer and violist Lawrence Dutton. The opening "Sonata Movement" used a four note theme which brought to mind Robert Schumann's "Fugue on B-A-C-H". Indeed, Mr. Bolcom considers Schumann and Johannes Brahms his spiritual models. Although written in a thoroughly modern idiom, the influence of both composers manages to peek through here and there throughout the piece. It is not the subtlest of compositions, nor is it the easiest to musically navigate, but it certainly sounded as though it was fun to play. Mr. Wosner handled the fiendishly difficult piano part with finesse, and cellist Paul Watkins could be seen smiling from time to time.
The concert concluded with Dvorak's sunny Quartet in G major for Strings op.106. Written at a time of Dvorak's life when he was happy to be back home in Bohemia after a three year sojourn in New York City, and after a long period of compositional rest, the quartet gives ample opportunity for the two violinists (Philip Setzer and Eugene Drucker) to sing in tandem. The adagio (ma non troppo) movement was ravishingly beautiful, with passionate playing by the violins and viola over a gentle pizzicato heartbeat for the cello. It is the most folk influenced section of the work, although it's fair to say that Czech folk music plays a major role in much of Dvorak's oeuvre. The muscular and breathless third movement led to an exciting finale, which provided a thrilling end to this lovely afternoon of music-making.
A New Jersey native and East Brunswick resident, Joanna holds a Bachelor of Music degree from the Crane School of Music, SUNY College at Potsdam, and a Master of Music degree from Ithaca College. S... (read more about this author)
Review: CARMEN (in English Translation) Rose Hall, Jazz At Lincoln Center

November 5, 2022

If you were under the impression that the term 'Opéra Comique' meant a 'comic opera', you might be literally correct, but truthfully the joke would be on you. What does it really mean? Opéra Comique is a genre of French opera first developed in the eighteenth century.
---
Previews: PARK AVENUE CHAMBER SYMPHONY AND MAHLER'S FIFTH recorded at DiMenna Center

October 25, 2022

There are those out in the ether who, upon hearing the name Gustav Mahler (1860-1911) on the radio will immediately switch the station. Mahler is boring. Mahler is long-winded. Mahler tunes wander all over the place. While these things can subjectively be true, given half a chance Mahler's music is none of those things.
---
Review: 'CLASSICAL JOURNEY' at DiMenna Center

October 10, 2022

While wearing a shirt inside out could earn some curious stares, attending a classical music concert with the words "Inside Out" in the title could earn some out and out confusion.  How can music, or an orchestra producing such music, be "inside out"?
---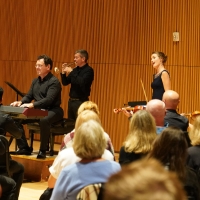 Review: PARK AVENUE CHAMBER SYMPHONY OPENING NIGHT at DIMenna Center

October 9, 2022

Chris Martin, principal trumpet of the New York Philharmonic, and Kate Fruchterman of NYCO dazzled the audience.
---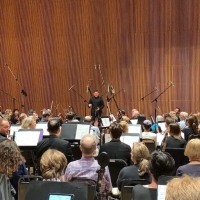 BWW Review: PARK AVENUE CHAMBER SYMPHONY's Mahler's Fifth at DiMenna Center

May 23, 2022

When some people hear the word 'community' before the word(s) chorus, theater, band, or orchestra, they really hear 'amateur.' Although amateur means to do something for the love of it, the word also seems to have a negative connotation when it comes to quality. After all, if there's no money involved, how can it be good? Doesn't money equal quality? So goes that reasoning. However, not all community performing arts groups are created equal. Some groups accept all comers. Some accept members strictly by audition, some by recommendation. But no matter how they are chosen, every single person no matter their ability level has in common with the rest; a love of the art they share.
---