BWW Review: DAMES AT SEA: Bon Voyage!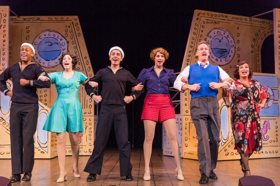 Dames At Sea
Book and Lyrics by George Haimsohn and Robin Miller, Music by Jim Wise, Directed and Choreographed by Ilyse Robbins; Music Direction, Steven Ladd Jones; Scenic Design, Eric Levenson; Costume Design, Emily Taradash; Lighting Design, Chris Fournier; Sound Design, John Stone; Assistant Director, Daniel Begin; Production Stage Manager, Rachel Sturm
CAST (in alphabetical order): Ephie Aardema, Sara Coombs, Shana Dirik, Taavon Gamble, Russell Garrett, Michael Seltzer; Orchestra: Steven Ladd Jones, Bethany Aiken
Performances through September 24 at Greater Boston Stage Company, 395 Main Street, Stoneham, MA; Box Office 781-279-or www.greaterbostonstage.org
Stop me if you've heard this one before. Naive girl from the midwest arrives in New York City with only a pair of tap shoes and her dreams in a suitcase, but instantly falls in love, gets a role in a Broadway show, and becomes an overnight success when she goes on in place of the ailing star. No matter how many times you may have heard it, this quintessential show biz story is a winner, especially when accompanied by a tuneful score and the pitter patter of dancing feet. First staged Off-Broadway in 1968, Dames at Sea was written as a loving tribute to 1930s movie musicals, but its simple, nostalgic theme attracted audiences who may not have been quite ready for the cultural and political upheaval of the moment.
Under the marquee of its freshly-minted new name, Greater Boston Stage Company (formerly Stoneham Theatre) opens its 18th season with the happy, sappy Dames at Sea, a welcome escape from our own upheaval moment, if only for a couple of hours. Wearing both the director's hat and the choreographer's character shoes, Associate Artistic Director Ilyse Robbins puts her traditional feel-good imprint on the show. With Music Director Steven Ladd Jones and Bethany Aiken flanking the stage on duetting pianos, the musical numbers get the attention they deserve as they enliven and punctuate the stereotypical plot.
The six-member cast shines with an abundance of smiles, vocal belts, and tap routines that they make look easy. Ephie Aardema, who has previously made a few splashes on this stage (How to Succeed in Business, Thoroughly Modern Millie, 42nd Street), is back after a stint on Broadway to play Ruby, that starstruck girl based on the lead character in 42nd Street. She is a delight, projecting both innocence and grit as she learns the lessons of show business and finds her sea legs in the turbulent game of love. It doesn't appear to be a fair fight when Ruby has to compete with the diva Mona Kent (Shana Dirik, GBSC debut) for the affections of her sailor suitor Dick (Taavon Gamble), but we all know the formula (girl gets boy, girl loses boy, girl gets boy).
If Aardema is the sweetheart of Dames, Dirik is the sea monster who not only chews the scenery, but spits it back out. She is in rare form and steals nearly every scene she's in, whether through her powerful singing, her comedic expressions, or her natural ability to rock every costume they give her. As much as she is the villain of the company, Mona is not entirely unsympathetic as she turns out to be a team player at the most important times, and Dirik never loses the twinkle in her eye, even when she is at her naughtiest. Russell Garrett (Hennessey/The Captain) in dual roles reminds us that he is also a triple threat, and his pas de deux with Dirik ("The Beguine") and a pair of maracas is truly the comedy highlight of Dames at Sea.
Gamble is a charming and smooth leading man, guilelessly juggling the two women who take turns at his side. His voice is sweet and rich, beautiful on its own or in harmony with Aardema, and he taps like the best of the dancers in those 30s musicals. When Dick and his sidekick Lucky (Michael Seltzer, GBSC debut) do a routine with a pair of mops on their ship, it evokes visions of Gene Kelly and Frank Sinatra in Anchors Aweigh. Seltzer is a recent graduate of The Boston Conservatory, but this young guy is a master of old school tap. He captures the boyish, gee whiz quality of his character and has great chemistry with Sara Coombs (Joan), the wise-cracking, good-hearted chorus girl who takes Ruby under her wing. Coombs is a commanding presence on the stage and makes her character somebody you'd want to have on your side.
The world of the play is crafted by a couple of cartoonish (in a good way) sets by designer Eric Levenson, lighting designer Chris Fournier focusing the spotlight on individual performers, and effective sound design by John Stone. Costume designer Emily Taradash has a field day with Mona's lavish wardrobe, shows off Coombs' leggy physique with the shortest of shorts, dresses the sailors in authentic-looking uniforms, and comes up with some creative ideas for the novelty numbers. Robbins channels her inner Busby Berkeley ("Raining in My Heart"), but also makes good use of the stairs and platforms on the set to vary the dance routines and keep them interesting.
Dames at Sea is probably less well known than the movies it lovingly parodies, but the original production was the beginning of Bernadette Peters' illustrious stage career. She was the only principal member of the cast to go on to greater success, but other notable names who have played Ruby include Bonnie Franklin, Barbara Sharma, and, in the television version, Ann-Margret. It remains to be seen where Ephie Aardema will go from here, but she's been crafting a pretty good resumé on the stage so far. As for the GBSC production, Dames at Sea is a bon voyage. Book your passage before the last ship sails on September 24th.
Photo credit: Nile Hawver/Nile Scott Shots (Taavon Gamble, Ephie Aardema, Michael Seltzer, Sara Coombs, Russell Garrett, Shana Dirik)