Photos: Stocking Productions' INTO THE WOODS
Stocking Productions presented its first Frederick production in the spring of 2009 when it presented The Rocky Horror Show at The Way Off Broadway Dinner Theatre. This year, Stocking Productions will bring a new staging of Stephen Sondheim's Into the Woods to the Performing Arts Factory in Frederick.
Auditions for Stocking's production of Into the Woods have been set for Wednesday, February 27th beginning at 7:00 p.m. at the Performing Arts Factory, located at 244 South Jefferson Street, Frederick, Maryland.
Into the Woods brings together storybook characters that have been an integral part of our culture and weaves all of their stories together into one classic musical. An ambivalent Cinderella. A blood-thirsty Little Red Ridinghood. A Prince Charming with a roving eye. A Witch . . . who raps' They're all among the cockeyed characters in James Lapine and Stephen Sondheim's fractured fairy tale. When a Baker and his Wife learn they've been cursed with childlessness by the Witch next door, they embark on a quest for the special objects required to break the spell, swindling, lying to and stealing from Cinderella, Little Red, Rapunzel and Jack (the one who climbed the beanstalk). Everyone's wish is granted at the end of Act One, but the consequences of their actions return to haunt them later, with disastrous results. What begins a lively irreverent fantasy in the style of "The Princess Bride" becomes a moving lesson about community responsibility and the stories we tell our children.
Stocking Productions' Into the Woods will be play the Performing Arts Factory May 27th, 28th, and 29th. Rehearsals will begin in mid-March.


Jordan B. Stocksdale as The Baker and Taylor Whidden as The Baker's Wife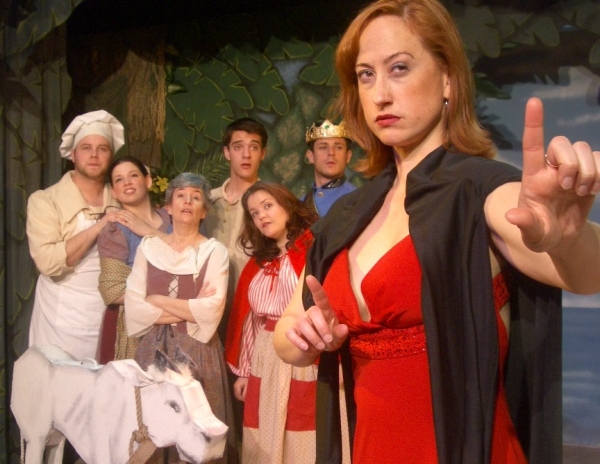 Jordan B. Stocksdale as The Baker, Taylor Whidden as The Baker's Wife, Susan Thornton as Jack's Mother, Thomas Evich as Jack, Alexandra Guyker as Little Red, Chase Maggiano as Prince Charming, and Sarah Melinda as The Witch

Alexandra Guyker as Little Red and Chase Maggiano as Cinderella's Prince