Photo Flash: Meet the Cast of Red Branch Theatre Company's LYSISTRATA JONES
Red Branch Theatre Company (RBTC) continues its 2017 season entitled Mad About You with Lysistrata Jones, a musical about hoops, hope, and love. Casting has been completed and rehearsals are underway for the production that will run at Drama Learning Center, where Red Branch is the professional theatre in residence, from August 4-26. BroadwayWorld has a sneak peek at the cast below!
Travel from Ancient Greece to present day Athens University in this updated retelling of the classic Greek play. Featuring a new, infectious score, Lysistrata Jones follows "Lyssie J," a spunky transfer student. She and her brigade of sisters keep their physical affections under lock and key until their basketball player boyfriends start winning games, learning an important life lesson: absence might make the heart grow fonder, but abstinence makes the heart grow fondest. See what happens when women take fate into their own hands when the men around them refuse in this musical re-boot of Aristophanes' bawdy ancient comedy.
Several special events will be held in conjunction with the run of the production. A champagne reception follows the opening night performance. A post-show talkback with the cast and dramaturg follows the 3 pm matinee on Sunday, August 13th. Red Branch will also welcome local theatre artist Grace Anastasiadis following the 3 pm matinee on Sunday, August 20th for Greek Time with Grace-an opportunity to learn about Greek culture and language. Thirsty Thursdays are an opportunity for patrons to enjoy an adult beverage or two in the rehearsal studio adjacent to the theatre starting an hour before Thursday evening performances. Red Branch will also introduce Food Truck Fridays for this production. A different area food truck will be stationed outside of the theatre the hour before Friday evening performances (excluding August 4th) for patrons to enjoy dinner or a snack prior to the show. Red Branch Theatre Company also continues its partnership with The Iron Bridge Wine Co. Every patron who attends a performance of Lysistrata Jones will receive a free dining certificate to the restaurant.
In the cast are: Lysistrata Jones: Hailey Ibberson; Hetaira: Taylor Washington; Robin: Alexandra Levenson; Myrrhine: Victoria Meyers; Cleonice: Tiara Whaley; Lampito: Angeleaza Anderson; Xander: Taylor Witt; Mick: Patrick Campbell; 'Uardo: Diego Esmolo; Tyllis: Jason Quackenbush; Harold: Elad Ness; and Cinesias: Andrew Overton, with Flora Aubin, Sarah Luckadoo, Conner Gilbert and Ashley Zielinski in the ensemble.
The creative team includes Stage Direction by Stephanie Lynn Williams, Music Direction by Dustin Merrell, Choreography by Brandon Glass, Stage Manager Sarah Thompson, Production Manager Melody Easton, Assistant Stage Manager Molly Mayne, Lighting Designer Lynn Joslin, Costume Designer Stefany Thomas, Scenic Designer Bill Brown, Properties Designer Dana Fleischer, Assistant Director Jamie Pasquinelli, Assistant Choreographer and Dance Captain Karen Shantz, and Assistant Music Director Rachel Sandler
Individual tickets ($24-$35) available for purchase online at www.redbranchtheatrecompany.com or by calling the box office at (410) 997-9352. All performances play the Drama Learning Center, 9130-I Red Branch Road, Columbia, MD 21045.
Lysistrata Jones is presented with permission through special arrangement with Tams Witmark.


Patrick Campbell as Mick and Hailey Ibberson as Lysistrata. Photo courtesy of Bruce F Press Photography.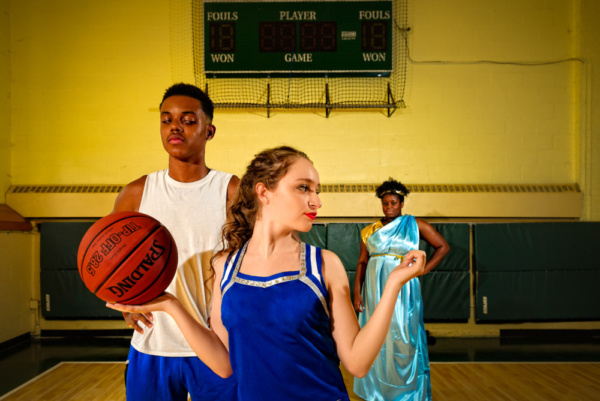 Patrick Campbell as Mick, Hailey Ibberson as Lysistrata, and Taylor Washington as Hetaira. Photo courtesy of Bruce F Press Photography.

Taylor Washington as Hetaira and Hailey Ibberson as Lysistrata. Photo courtesy of Bruce F Press Photography.
Hailey Ibberson as Lysistrata, Patrick Campbell as Mick, Victoria Meyers as Myrrhine, Angeleaza Anderson as Lampito, and Tiara Whaley as Cleonice. Photo courtesy of Bruce F Press Photography.
More Hot Stories For You