Photos: Meet the Cast of Disney's ALICE IN WONDERLAND at Way Off Broadway
Way Off Broadway's guests will join Alice's madcap adventures in Wonderland as she chases the White Rabbit, races the Dodo Bird, gets tied up with the Tweedles, raps with a bubble-blowing Caterpillar, and beats the Queen of Hearts at her own game! BroadwayWorld has a first look at the ALICE IN WONDERLAND cast below!
Alice in Wonderland is a fast-paced stage adaptation of the timeless film, featuring classic Disney songs like "I'm Late," "The Un-birthday Song," and "Zip-A-Dee-Doo-Dah." This fall, audiences will travel down the rabbit hole with Alice to this unbelievable land where anything can happen.
Way Off Broadway's production will be led by Mary Ellen Cameron as Alice with Bill Kiska as Tweedle Dum and the March Hare, Matt Rothenberg as the Mad Hatter and Tweedle Dee, Jordan B. Stocksdale as the Cheshire Cat and the Catepillar, Tori Weaver as the White Rabbit, and Melissa Ann Martin as the Queen of Hearts. Rounding out the cast as the various other charactersAlice meets on her journey as Caitlin Barnes, Matthew Ciazza, Annie Moreno, and Luke Szukalski.
The show runs through November 8th, with performances every Saturday afternoon and the 2nd and 4th Sunday of each month, as well as select added weekday performances throughout the year. Tickets are $17 per person with birthday party packages also available. To learn about all of Way Off Broadway's productions, visit the theatre's website at www.wayoffbroadway.com or call the Box Office at (301) 662-6600.

Tori Weaver as the Queen of Hearts, Jordan B. Stocksdale as The Cheshire Cat, Matt Rothenberg as the Mad Hatter, and Mary Ellen Cameron as Alice

Bill Kiska as Tweedle Dum, Mary Ellen Cameron as Alice, and Matt Rothenberg as Tweedle Dee

Bill Kiska as the March Hare, Matt Rothenberg as the Mad Hatter, and Mary Ellen Cameron as Alice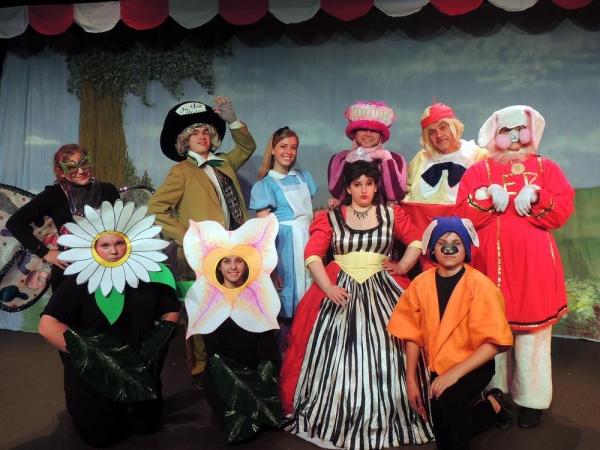 The Cast of Way Off Broadway''s production of Disney''s ALICE IN WONDERLAND