Review: NEWSIES Are Front Page Headlines At Toby's In Columbia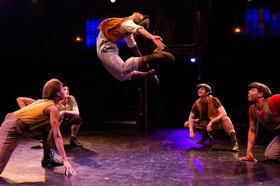 NEWSIES Are Front Page Headlines At Toby's In Columbia
Extra! Extra! Handsome young dancers invade Toby's Dinner Theatre; threaten Columbia with merriment!
Have a hankering for history, classic "fuggeddaboudid" New York-ish accents, a charming child actor, romance, bylines and plenty of song and dance? Hoof it on over to see Disney's NEWSIES, at Toby's now through June 10th.
The parking is plentiful and free, and there's a pull-up area for mobility-impaired folk, or the family of a smoker. Toby's, operating in Columbia for 55 years, seats 300 in multi-tiered seating around the stage / buffet floor, and the in-the round setup assures every seat a good view. It's snug-ish; leave unnecessaries at home or in the vehicle. The buffet offers variety to please everyone, a sturdy salad bar, shrimp cocktail and a basket of fresh bread. Do arrive promptly: dinner begins at 6:30.
Everything is well prepared, seasoned nicely but not heavily. The buffet offerings tonight include Chicken Burgundy and rice, and a broccoli medley that features what appears to be purple cauliflower. Tonight's special drink, "The Bottom Line," has black-and-white Oreo cookies in it; consider yourself warned.
In the audience are the usual birthday and anniversary celebrants, plus a few bus tour groups, in town for Spring Break sightseeing or as part of the March For Our Lives event in Washington, DC. We are treated to a pre-show a cappella song by a high-school choir group.
Loosely based on the Newsboys' Strike of 1899, Disney's 1992 NEWSIES film, written by Bob Tzudiker and Noni White, was a theatrical flop, but garnered a cultish following who dubbed themselves "Fansies," and was resurrected as a Broadway musical in 2012. I reviewed a production of NEWSIES on national tour, and found "book problems:" the show opens with a ballad between two characters who are not in a romantic relationship, and there is a sidebar fixation with a faraway city, not even developed enough to be a real subplot, just a distraction. There is but one leading role for a woman in the show, and one minor one. Other females are largely scenic dressing.
I'd concluded that NEWSIES was a poorly written script, but I've reconsidered: there's a great deal of NEWSIES that is wonderfully written. I find it poorly constructed, containing superfluous characters, musical numbers that don't move the plot, and that distractive fantasy city callback. There is, however, snappy dialogue, rousing songs and disturbing, complicated ethical issues packed into this show.
The NEWSIES stage musical features music by Alan Menken, lyrics by Jack Feldman, and book (dialogue) by Harvey Fierstein, which explains how so much of it is witty and charming. (Fierstein, not Weinstein. Two different Harveys.)
It's unusual for Disney to base any show (theme park, toy) on reality, so they're entitled to some wiggle room for the inevitable Disnification. The historical leader of the 1899 Newsboys' Strike, Louis Baletti, called "Kid Blink" due to being blind in one eye, though quite the character, notably pressworthy and Italian, has been replaced by Disney et. al. for the purposes of NEWSIES with Jack Kelly, a charismatic untrained artist, fully sighted, presumably Irish, who naturally develops a relationship with the ingenue.
Capable co-directors Toby Orenstein & Mark Minnick gather 30 delightfully talented performers, nearly a third of them fresh faces for this mostly male production. As Jack Kelly, local up-and-coming actor Matt Hirsh nails the nuances of a conflicted leader, torn between personal goals and his quest for Greater Good. "Owah cause iz nobul," Kid Blink purportedly said, and Hirsh brings comedic effect with a bit of Brooklyn in his performance. Singing, he nails the vocals, and is an asset in each musical number.
The archetypical characters of this story have been well cast. Russell Sunday, portraying antagonist Joseph Pulitzer with slimy charm and smooth menace, is every inch the Evil Baron of Modern Industry required for this top dog/underdog story; Toby's newcomer Taylor Witt as Crutchie is as comical and pathetic a sidekick character as he needs to be; Toby's veteran MaryKate Brouillet is earnest and hopeful as the well-off, well-meaning spunky girl reporter, and really shines in her solo Watch What Happens.
Kadejah One, bringing maternal protectiveness to the role of Medda Larkin, is fascinatingly watchable, her solo That's Rich particularly impressive, and I hope to see her featured as lead in an upcoming production. As green newsboy Davey, Harrison Smith's tone of educated encouragement drives much of the action, and young Tyler Smallwood, one of two small adorable children playing the designated wiseass baby brother Les, is small, adorable and has really excellent timing and delivery.
NEWSIES' choreographer Ilona Kessell does a swell job showcasing this exuberant cast, and the dances are not only athletic and acrobatic but also seem naturalistic and organic, rather than contrived. Gregory Banks, who plays Specs, is always a treat to watch, and his gymnastic performance in this dance-heavy show is remarkable.
The musical direction and orchestrations of Ross Scott Rawlings highlight the drama of the scenes, and the live mini-orchestra has excellent melodic chops. Auditorily, there's a lot going on in this production, which is potentially either enriching or overwhelming.
Sound designer Mark Smedley's balance needs adjustment: the instrumentals overpower the vocals- just a little- which makes understanding the lyrics more difficult, given the stylistic layering and lyrical overlap of many numbers. Some of the body mics also hinder audibility. Toby's is normally so careful with its sound quality that tonight's murkiness is a surprise. The projections and other lighting features, however, which usually are solid and effective, go beyond those into near brilliance. The only critique I have of Lynn Joslin and David Hopkins' otherwise excellent lighting design is that Jack looks slightly green in the opening sequence.
Set design by David A. Hopkins is spare but illustrative, particularly the contrast between Pulitzer's posh habitat and the shabby, rickety appearance of the scaffolding that serves as the majority of the Newsies' environments. Actors moving furniture can be risky, so I admire the perfectly choreographed removal of the Jacobi's Deli set, in which two groups of young actors backing offstage with tables and benches do not even glance at one another as they exit. This evening's run crew handles non-actor propelled set changes swiftly, silently, and charmingly costumed as more newsboys.
As expected, the line for the Women's room at intermission is dauntingly long. Toby's bathrooms, however, are kept tidy by the consideration of theatregoers for one another and attentive staff members. The line moves briskly, and I'm sure someone monitors its progress, as I've never known Act 2 to resume before all guests ere re-seated.
Though the script of NEWSIES has issues, most theatregoers will be unbothered, as this production of NEWSIES at Toby's Dinner Theatre in Columbia is full of headline-worthy theatrics, from the above-the-fold performance of the romantic protaganists, the sports section dancing, the still-relevant lead story struggle of small and humble against rich and powerful, to the society page villains, the saucy entertainment of Medda and her dance hall girls and Teddy Roosevelt's editorial remarks. Catch this issue before it's yesterday's news.
If you're keen to see Disney's NEWSIES, Toby's Dinner Theatre in Columbia, Maryland, is easily accessed from Maryland 175 or 29 Southbound, with plenty of free parking all around the building.
Toby's Dinner Theatre of Columbia
5900 Symphony Woods Road
Columbia, MD 21044
For additional information including pricing, buffet menu and directions, visit www.tobysdinnertheatre.com.
For tickets, phone the box office at 410-730-8311, 301-596-6161 or 1-800-88-TOBYS 10 am - 9 pm. Doors open at 6pm Tuesday through Saturday evenings, with dinner from 6:30-7:20 for an 8 pm showtime. Wednesday and Sunday Matinees, the buffet is 10:30-11:50 am for a 12:30 pm show. Sunday evening supper is at 5:30 pm, with a 7 pm showtime. The show runs about one and a half hours, including a 20 minute intermission.
NEWSIES runs through June 10th, 2018. Following NEWSIES is MAMMA MIA, June 15th - September 9th, then AIN'T MISBEHAVIN' September 14th -November 4th. Their holiday offering this year is Disney's THE LITTLE MERMAID, November 9th through January 13th, 2019.
Toby's Dinner Theatre of Columbia • 5900 Symphony Woods Road • Columbia, MD 21044 Box Office (410) 730-8311 • (301) 596-6161 • (410) 995-1969 www.tobysdinnertheatre.com
Fog, haze & strobe effects are used in this performance.
Photo: Gregory Banks as Specs and other Newsies.
Photo credit: JeriTidwell Photography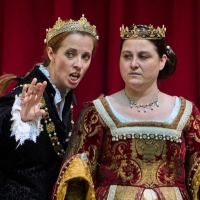 Review: Shakespeare's Tricky Dick RICHARD III Proves A Crooked Villain at The Strand

November 12, 2022

The Maryland Renaissance Festival and The Strand partner to present a one-weekend encore of the acclaimed RICHARD III by The Company Of Women. The Company are a force of craftswomanship the likes of which have not before been seen in Baltimore theater, and display a strong likelihood of becoming a major theatrical presence in the community.
---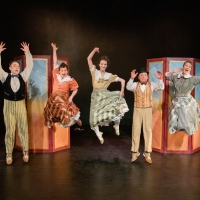 Review: Happenstance Theater's POCKET MOXIE at Theater Project

November 3, 2022

In a tribute to Vaudeville, Happenstance Theater presents POCKET MOXIE. Structured as a Vaudeville show, it's also a show about Vaudevillians, a secret peek into their lives, and the arcs of their days. Infused with music and humor, artistic creativity and a dash of pathos, it's visually sumptuous, stylistically consistent and imminently watchable.
---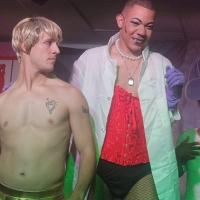 Stand Up, Dress Up And Show Up For THE ROCKY HORROR SHOW At DoodleHATCH in Columbia

October 27, 2022

THE ROCKY HORROR SHOW, book, lyrics and music by Richard O'Brien, is his homage to B movies of horror and science fiction. This fantastical romp of a musical is packed with archetypal characters, hackneyed tropes and references that should have no resonance with contemporary youth. It's been a cult favorite for its entire half-century existence.
---
Review: VARIATIONS, a Baltimore Constant, Ponders CHANGE in 2022

October 3, 2022

VARIATIONS ON CHANGE, the 2022 iteration of the longtime Baltimore VARIATIONS project, demonstrates diversity and inclusion in subject matter, participation, cast and production folx at Motor House in Baltimore's Station North Arts District. Audiences choose by vote the 2023 theme of VARIATIONS.
---
Review: Suspend Your Disbelief: See GHOST THE MUSICAL At Toby's In Columbia

September 26, 2022

GHOST THE MUSICAL at Toby's Dinner Theater in Columbia, based 1990's movie Ghost, starring Demi Moore and Patrick Swayze, offers romance, drama and retro vibes. The 1955 tune "Unchained Melody" strings the whole thing together. Cast and orchestra are harmonic and wonderfully watchable. Production values are excellent and dinner is delicious.
---