BWW Review: CHRISTINA BIANCO: WOMAN OF A THOUSAND VOICES at Baltimore Symphony SuperPops - What a Delight!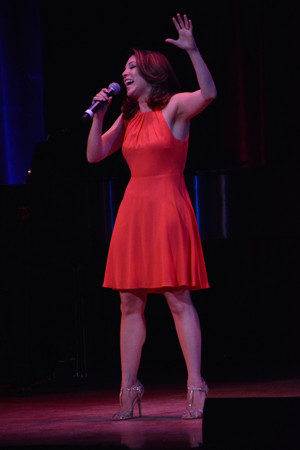 When I saw the Baltimore Symphony SuperPops would be featuring vocalist Christina Bianco I had no idea what she would be like. Then I started to hear from people who actually have seen her in concert and raved about her. It became quite clear it would be necessary for me to see this musician for myself.
And what a treat my wife and I had attending her concert held last week-end at the Meyerhoff Symphony Hall.
The evening started with Principal Pops Conductor Jack Everly presenting a mini-concert of Broadway overtures. The brisk thirty minutes featured the works of Jules Styne. Initially, we heard the overture to FUNNY GIRL followed by PETER PAN.
Everly commented on one of the greatest overtures was from GYPSY. He mentioned every song deals with Mamma Rose, originally sung by Ethel Merman. I noticed Everly not once looked at the sheet music.
Lerner and Lowe were then featured. Everly spoke about a 19-year-old soprano was first seen by Rex Harrison in THE BOYFRIEND. This led to the hiring of Julie Andrews for MY FAIR LADY. Everly mentioned Andrews was not invited to participate in the film but instead the film makers chose Audrey Hepburn (but Marni Nixon did the actual singing).
Everly dedicated the overture to the film score of MY FAIR LADY to Andre Previn who just passed away this week. Previn conducted the orchestra for the film.
My favorite overture finished this part of the program...Leonard Bernstein's Overture to CANDIDE. The show opened in 1956 and starred Barbara Cook but only lasted 7 weeks. Thanks to CBS records' Goddard Lieberson, a recording was made of the show even though it was a flop. Lieberson knew the music had to be preserved over the objections of the producers. Everly's tempo was played in "warp speed". It was terrific.
After a prolonged intermission, the BSO performed "Hooray for Hollywood" arranged by John Williams.
Then Bianco entered the hall to a lovely ovation. She admitted she was a "diva-holic".
Bianco went on to perform the leading number from CABARET as if it was sung by Barbra Streisand, Bernadette Peters, Judy Garland, Patti LuPone, Julie Andrews and Celine Dion.
Then two singers joined Bianco on stage to perform the hilarious "Getting Married Today" from Stephen Sondheim's COMPANY (orchestration by Jonathan Tunick). The two fabulous vocalists were Colleen Daly and Ross Tamaccio. Bianco's three musicians included Brad Simmons on piano, Steve Hanna on drums, and Alec Hiller on bass.
Everly introduced "If You Walked into My Life" from MAME by special permission of composer Jerry Herman. Eydie Gorme received a Grammy Award for her rendition.
Can you imagine the great French singer Edith Piaf singing "The Winner Takes It All" from MAMMA MIA!? Hilarious!
How about "On My Own" from LES MISERABLES sung by Reba McEntire and her southern accent.
Then Barbara Walters and Nora Jones sang from CAROUSEL "When You Walk through a Storm".
Next was Liza Minelli singing "Can't Take My Eyes Off of You" from JERSEY BOYS.
HAMILTON was included with Julie Andrews singing "Take My Shot".
Barbara Cook then performed "Till There was You" from THE MUSIC MAN. This was a delight. Surprising that this number is on the Beatles' first album, "Meet the Beatles."
Did you know Judy Garland was 4'11" just like Bianco? Next was Garland's rendition of "The Man That Got Away".
A huge ovation went up for "Let It Go" from FROZEN, followed by "A Spoonful of Sugar" from MARY POPPINS, and "Your My Hero".
Streisand did "The Way We Were", Shirley Bassey did "Goldfinger" and "Diamonds are Forever."
A highlight was "I'll Always Love You" by Whitney Houston followed by "Titanic" by Celine Dion.
Bianco went serious with "Magic in the Mirror" from SUNSET BOULEVARD and it was goose-bump city. She got a rousing ovation.
Bianco is a consummate performer. I bought her CD after the show and I highly recommend it. If you get a chance to see her perform, do not miss her.
See my interview with her at /washington-dc/article/BWW-Interview-Christina-Bianco-Performs-her-Woman-of-a-Thousand-Voices-with-the-Baltimore-Symphony-SuperPops-228-31-20190226
Coming to the BSO for ONE NIGHT ONLY is the Tony-winner for HAMILTON, Leslie Odom, Jr., Friday night, April 26, 2019 at 8 p.m. Tickets start at $45. For tickets, call 410-783-8000 or visit www.BSOMUSIC.org.
cgshubow@broadwayworld.com