Kelly Luck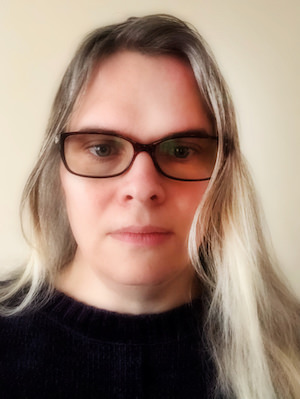 Kelly has been writing for theatre since she first came to Kansas City in 2011. She's a lifelong theater lover, and has written for several local and online publications. She still lives in Kansas City with a cat and a several rooms full of books.
---
BWW Review: THE (R)EVOLUTION OF STEVE JOBS at Lyric Opera

March 12, 2022

Mason Bates' modern score underlies this unflinching look at controversial Apple co-founder.
---
BWW Review: DRACULA at KC Ballet

February 19, 2022

Pink and Feeney's production, first performed in Kansas City in 2014, makes is return to the Kauffman stage
---
BWW Review: THE NUTCRACKER at KC Ballet

December 4, 2021

Devon Carney's Christmas fantasy is all the more fantastic in today's worldAfter riding the tempest of the last few years, we seem to crave nothing so much as a return to 'normal'. Nebulous word, normal, but if nothing else, the ability to gather together and enjoy our traditions without being overshadowed by fear is a fundamental aspect.
---
BWW Review: AMAHL AND THE NIGHT VISITORS at Lyric Opera

December 4, 2021

The Lyric's Amahl, created last year as an online-only performance due to Covid, makes its live stage premiere.
---
BWW Review: PIPELINE at Unicorn

October 25, 2021

Unicorn's production of PIPELINE an unflinching look at race, education, and privilege
---
BWW Review: CELTS at KC Ballet

October 17, 2021

The KC Ballet's return to the Kauffman center is a high-energy trio of performances
---
BWW Review: MA RAINEY'S BLACK BOTTOM at Black Repertory Theatre

October 3, 2021

August Wilson's 'Bottom' packs an impactful and much-needed punch
---
BWW Review: GHOST LIGHT at KCRep

October 2, 2021

The KCRep brings back Ghost Light for the second year, with more spooky songs and stories from a variety of KC-area voices
---
BWW Review: THE BOMB-ITTY OF ERRORS at Fishtank

September 19, 2021

Fishtank Theatre gives a light take on Shakespeare at the Black Box
---
BWW Review: KC Ballet at the Starlight

May 22, 2021

In a not-quite-post-Covid world, the resilience of the performing arts is on display at the Starlight.
---
BWW Review: LUCIA DI LAMMERMOOR at KC Lyric Opera

March 8, 2020

KC Lyric's production a bel canto treat
---
BWW Review: SWAN LAKE at KC Ballet

February 15, 2020

Carney returns SWAN LAKE with a few new touches of his own.
---
BWW Review: WHEN THERE ARE NINE at KC Lyric Opera

January 20, 2020

'And Still We Dream' song cycle carries most of the weight of this rather thin production.
---
BWW Review: LA BOHÈME at KC Lyric Opera

November 10, 2019

KC Lyric's La Bohème revives the 2014 production with a lighter tone.
---
BWW Review: FOR COLORED GIRLS WHO HAVE CONSIDERED SUICIDE / WHEN THE RAINBOW IS ENUF at KC Rep

October 27, 2019

Powerful words, bravely spoken, make for a superb production.
---
BWW Review: CARMINA BURANA at KC Ballet

October 12, 2019

KC Ballet's 2019-20 season premiere features humor, color, and magical images
---
BWW Review: NEW DANCE PARTNERS at Carlsen Center

September 28, 2019

Four works comissioned by JCCC's Carlsen Center present very different ideas of dance.
---
BWW Review: HELLO, DOLLY at Starlight Theatre

September 27, 2019

Carolee Carmello becomes the latest to headilne in touring company of Hello, Dolly revival
---
Carol Vaness to Hold Free Masterclass at KC Lyric Opera, October 5th

September 27, 2019

Soprano Carol Vaness to have free masterclass at KC Lyric Opera on October 5th
---