Karis Rogerson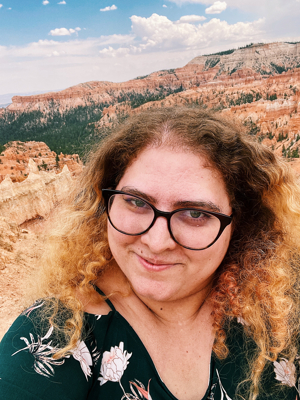 Karis Rogerson is a writer and blogger with a passion for telling stories about art and those who make it. She writes novels, poems, essays, and articles for various online magazines.
MOST POPULAR ARTICLES
LAST 30 DAYS
LAST 365 DAYS
BWW Review: Megan Hilty Sparkles in DIAMOND SERIES: MEGAN HILTY at Feinstein's/54 Below

November 3, 2021

The stunning show runs through Sunday, Nov. 7
---
BWW Feature: Jennica McCleary is the Swiss Army Knife of Performers

October 31, 2021

The Bette Midler tribute artist returns to NYC with Winnie's Rock Cauldron Cabaret
---
BWW Review: Natalie Douglas Defies Explanation in BEST OF TRIBUTES: THE WOMEN at Birdland Theater

October 5, 2021

Natalie Douglas was excited to be on stage. She was returning to Birdland Theater on Oct. 1, 2021 in 'Best of Tributes: The Women', with a show that sampled songs from tribute shows she had previously created for Dolly Parton, Nina Simone, and Roberta Flack. The award-winning performer was in excellent spirits as she came onto the stage and greeted the audience. Missing a cue at the beginning of the first song, she laughed it off, restarted, and dove into Dolly Parton's '9 to 5,' which was a perfectly exuberant and jaunty song to kick off the evening.
---
BWW Review: Stacey Kent is Transportive in SONGS FROM OTHER PLACES at Birdland Jazz Club

October 2, 2021

Staey Kent's voice teleports listeners to a different era
---
BWW Feature: Will Nolan Returns With LEOLA'S LADY LAND LOUNGE at The Green Room 42

September 30, 2021

I could introduce Will as the creator of Leola, a 'senior citizen redneck diva' who wows audiences with her sketch comedies. I could talk about how he dreamed up Leola as the complete opposite of his own great-aunt Leola - his character is a 70-year-old Southern lesbian who just 'wants to save the whole world.'
---
BWW Review: Bonnie Milligan and Natalie Walker Are Crazy Good in BONNIE MILLIGAN AND NATALIE WALKER CELEBRATE FIFTY YEARS OF FRIENDSHIP at Feinstein's/54 Below

September 26, 2021

The two friends fill the stage with antics and belt their way through a delightful show
---
BWW Review: Jeremy Stolle Brings the Laughs During NO MORE TALK OF DARKNESS at Birdland Theater

September 25, 2021

Along with several collaborators, Jeremy Stolle showcases his talent and humor in a two-night show.
---
BWW Review: Susan Mack Celebrates the MUSIC IN THE AIR at Birdland Theater

September 20, 2021

Surrounded by the modern design sensibilities of the Birdland Theater, Susan Mack spent a Sunday night taking the audience back in time. With a 16-song setlist comprised of jazz classics from the early-to-mid 20th century (with a few more modern songs up to the 1980s), Mack's 'Music in the Air' was meant to be a celebration of the impact of music as it surrounds us in our day-to-day lives. At one point joking that, with everything else that's been in the air of late, music is a good thing to be touched by, Mack interlaced the songs with some explanations and a few hints at her life behind the curtain.
---
BWW Feature: Hannah Jane Talks The Magic of Performing and Her Upcoming Show at The Green Room 42

September 16, 2021

'It's in my DNA,' Hannah Jane (HJ) said, describing her childhood filled with music. With a mother who'd been in band and show choir in high school, it seems only natural that HJ herself grew up to be a singer. But it's the joy it brings her that compels her to continue singing even in adulthood.
---
BWW Feature: Jaime Lozano Discusses The Power of Music and His Upcoming Show with The Familia at Feinstein's/54 Below

September 13, 2021

Now a musical theater composer praised by the likes of superstar Lin-Manuel Miranda, Jaime Lozano originally meant to study criminology. The change came despite his lack of experience in music.
---
BWW Review: Ellen Marlow Stuns in SILVER LININGS at The Green Room 42

August 28, 2021

In a dark, mauve-curtained room, on the fourth floor of a hotel, around 7:15 p.m. on August 26th, the lights began to dim, and a scattered audience of socially distanced cabaret goers erupted into cheers and applause as Ellen Marlow bounded onto the stage. Marlow was at The Green Room 42 performing 'Silver Linings'.
---
BWW Feature: Popular YouTuber Robyn Adele Anderson To Debut at The Green Room 42

February 28, 2020

Robyn Adele Anderson, who makes her debut at The Green Room 42 this Saturday, is a performer who takes modern songs and covers them in a jazz style. Her YouTube channel, where she posts videos like her swing cover of a?oeSweetnessa?? by Jimmy Eat World, has more than 59 million views and 569,000 subscribers. 
---
BWW Review: Wendy Scherl is Stunning in TOWN AND COUNTRY at the Laurie Beechman Theatre

January 28, 2020

Wendy Scherl's TOWN AND COUNTRY continues to wow audiences around the New York City area, as she brings her unique and lovely style to this much-praised cabaret show.
---
BWW Review: Gloria Swansong is Mesmerizing in JUDY AT CARNEGIE HALL at Stonewall Inn

January 15, 2020

Watching Gloria Swansong lip-sync Judy Garland's Carnegie Hall was like performance-inception: somehow, we were experiencing Judy Garland's 1961 performance in most of its glory (recordings are not the same as being there in the flesh, after all), while also delighting in Gloria's impeccable artistry as well.
---
BWW Review: DARRIAN FORD Is A Joyful Entertainer At Birdland Theater

November 14, 2019

When Darrian Ford performs, it's a party. He's a great performer who plays to the crowd, capitalizing on what they enjoy and delivering song after song that are just pure enjoyment.
---
BWW Review: Carole J. Bufford is Exquisite in COME TOGETHER—THE MUSIC OF THE 1960S AND 1970S at Feinstein's/54 Below

November 4, 2019

Bufford is a natural performer, confident and comfortable on stage in a way that makes it seem like she was born to entertain; when she speaks, it feels like she's speaking directly to you, and only you, even though the very vocal crowd would beg to burst that illusion.
---
BWW Review: KT Sullivan's 1919: IT WAS A VERY GOOD YEAR Entertains at Birdland Theater

November 2, 2019

This is the 12th year Sullivan has held a celebration of artists born in a 20th century year, 100 years after their birth; many of the songs were originally composed by Ervin Drake, though the show also hosted tributes to Liberace, Nat King Cole, and Tennessee Ernie Ford.
---
BWW Review: Julie Reyburn Is Magic in ANYWHERE WE ARE at Don't Tell Mama

October 14, 2019

At the very back of a dimly lit dinner club with live music, is a little brick room. It's in this intimate space that Julie Reyburn alternately amazed the audience with her singing prowess and entertained them, thanks to her sharp wit and incisive social commentary.
---
BWW Feature: Vivian Reed Combines Lena Horne's Class And Feistiness With Her Own In Her Feinstein's/54 Below Tribute Show

February 6, 2018

Vivian Reed is a performer, through and through, a fact clear from the moment her feet hit the stage (and even before that if she has to saunter through the room first to get there). Even over the phone, her voice brims with confidence and joy as she talks about her current series at Feinstein's/54 Below called VIVIAN REED SINGS LENA HORNE, a tribute she began in honor of Horne's centennial birthday last June.
---
BWW Feature: What Being Green for A Year Meant to WICKED'S Jessica Vosk And How She's Channeling That Into Her New Show At Feinstein's/54 Below

January 30, 2018

Life on the road can be grueling, especially if you're a performer belting "Defying Gravity" several times a week for over a year, as actor/singer Jessica Vosk did from September 2016 to 2017. Now that she has her feet planted firmly back in New York, she's detailing her experience with BEING GREEN, her new show at Feinstein's/54 Below premiering this week.
---