BWW Review: Bryan Batt Gives Heavenly Performance in AN ACT OF GOD at Le Petit Theatre du Vieux Carre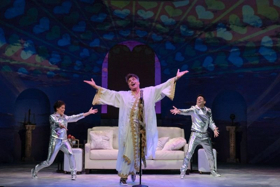 There are funny shows, there are even hilarious shows; but then, there's AN ACT OF GOD. This show is in a category all of its own. First appearing on Broadway in 2015 starring The Big Bang Theory actor Jim Parsons, AN ACT OF GOD gives quite a twist to religion as we know it. God decides to set the record straight and tell us what he really thinks about the 10 commandments, and gives us a few... we'll call them "edits." Apparently, us humans have distorted what God actually meant when he originally wrote his top 10, and he feels the need at this time in history to explain to clear some things up and tell us what he really expects of us.
The show is a 90 minute, one act play that will keep you giggling from start to finish. Let me set the scene for you... God (Bryan Batt) lounges on a white couch in the middle of the stage while his angel Michael (Leon Contavesprie) fields questions from the audience and his angel Gabriel (Wendy Miklovic) reads aloud each commandment from a podium. Each commandment is displayed on a screen upstage and added to those infamous tablets as we go along.
In only the way Bryan Batt can, he speaks to his audience frankly in a wonderfully witty tone, engaging us and making us feel as though we were having an intimate conversation. Dry sarcasm and sharp lines included. I mean this in the absolute best way possible when I say that - for my fellow 30 Rock fans out there - I felt like Jack Donaghy was schooling me in the ways of the Lord. If you can even imagine that! This was really an outstanding performance.
I would also like to comment that, although we have the angels in our presence to assist God in getting his point across, this really does feel like a one-man show. Batt had an extraordinary task in carrying this entire show and he did so with seemingly little effort and quite flawlessly. Bravo!
Coming up next at Le Petit is CROWNS, opening on June 15. Get your tickets and other information at http://www.lepetittheatre.com