BWW Interview: John Adkison brings Walter Hobbs to life in ELF THE MUSICAL Coming to New Orleans Tonight!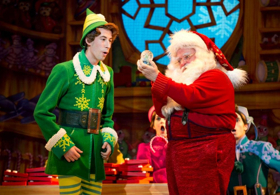 Grab your candy, candy canes, candy corns, and syrup! Buddy the Elf is coming to New Orleans and he's bringing all of his friends and family with him! ELF THE MUSICAL, based off of the beloved Christmas movie Elf starring Will Ferrell, has been turned into a musical and it's headed to the Big Easy this week. ELF tells the story of Buddy, a human baby who sneaks into Santa's sack one night and is raised by the elves at the North Pole. When it becomes obvious to Buddy that he doesn't belong, Santa decides it's time for Buddy to journey to New York City to find his biological father, Walter Hobbs, and to get to know his family. Hilarity and Christmas cheer ensues, of course.
John Adkison who plays Buddy's dad, Walter, took some time out to chat with me about his journey to becoming a musical theatre professional and what makes the story of ELF so endearing. He also let me in on some secrets about the music and what we can expect out of the costumes and set for this show. It's something out of a storybook! Keep on reading to find out more about John and what ELF THE MUSICAL has in store for us this week.
To get us started, I've read about the show, but I'd love to know a little about your journey with musical theatre and how you got started in this industry.
Well, like a lot of people you start in school, of course, in school plays and musicals. I did a little bit of that, and my senior year I auditioned for MY FAIR LADY, and expected to get Freddy Eynsford-Hill, and I got Henry Higgins, and I thought oh well maybe there's something to this. It was my minor in college, theatre and doing shows. I had some friends that had done Summer Stock and Michigan, and they encouraged me to audition for The Barn, and I did, and the next thing I know I'm at The Barn and getting roles, and I begin to think oh hey there's some legs to this. I grew up in New Hampshire, so I moved to New York because it's a close big city. I eventually found myself getting hired at a theatre in California, and I thought wow California what have I been doing in February in New York? Forget this! So I moved to California and, you know, work begets work, and it's been pretty steady for the last twenty something years.
What are some of your favorite roles that you've gotten to play over the years?
For sure Harold Hill in THE MUSIC MAN, which I did a few times, most recently on the 2011 national tour. It's such a well-written show. Let's see, what else would be a favorite for me? I had the chance to play Mr. Applegate, the devil, in DAMN YANKEES. That was a fun role. I've been twice in SWEENY TODD, not as the title character. Once in the ensemble, once as Pirelli, and I just think that's so well written, too. That's been a standout for sure.
Well, it sounds like you've gotten to do not only a lot of theatre over the years, but there's also a lot of variety of the types of shows you've been in. Is there a certain genre that you prefer, or do you like having that variety?
I do enjoy the variety. Of course, who doesn't like to make people laugh? I did few farces here and there and comedies and all that sort of stuff. Those are fun. And, musical comedy certainly has its share of laughs. Somebody said I'm not sure that it's easier for a comedic actor to do drama than it is for the dramatic actor to do comedy. I think that's true. There's a lot of laughs in ELF, and it's fun to make 1,500 people that don't know you laugh.
So many people know the story because the movie is so wildly popular, but this is the first movie I remember my younger brother really enjoying. He just belly laughed the whole time. It's great! It's a heartwarming story, but it's also really funny. For our friends out there who may not know it, can you give me the rundown on what the story is about?
Sure! The basic elevator speech is that a baby in an orphanage crawls into Santa's bag one Christmas night, and Santa accidentally brings him back to the North Pole where he is raised by elves. When he's 6 foot, 3 inches tall and towering over the elves, finally Santa decides it's time for him to go back and meet his biological father, which is the character I play, Walter Hobbs. That's sort of how the story unfolds. Buddy's journey to not only find his dad, but also soften his dad enough to accept him. And, if anybody's a fan of the movie... you don't need to have seen the movie to enjoy the musical for sure... but, if anyone is a fan of the film, all of your favorite moments are there sometimes line for line. But, there's a few twists and turns in the plot here and there to keep it fresh, and of course there's Broadway dance numbers and musical songs which there aren't in the movie. So, yeah, that's the short version of it.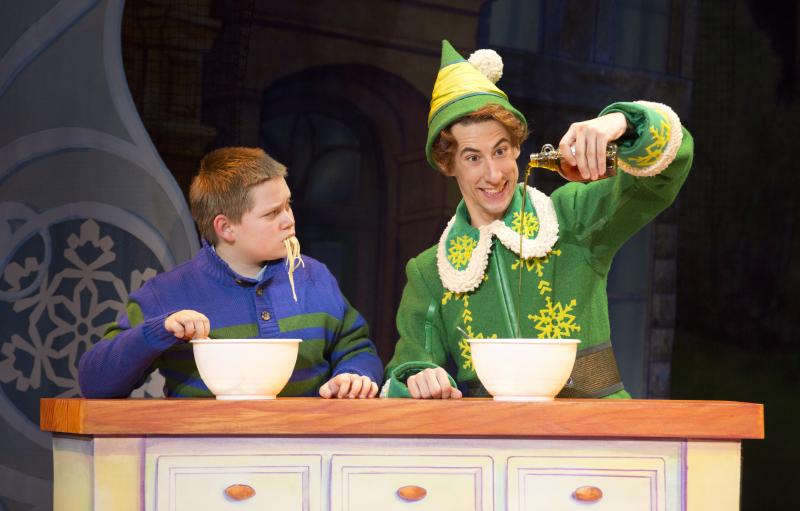 Tell me a little more about your character and where he comes into play in the story.
I know that I come in between 17 and 20 minutes into the show depending on when we start. In the film, James Caan was sort of... how do I say this kindly... one-dimensional. He was mean and greedy. In the play, in the musical, he's overworked. He's not necessarily mean or greedy, but he's stressed out, he's overworked, and the last thing he has room for in his life is his elf son. When I auditioned for the role, I was sort of more trying to do the James Caan thing, and the director gave me a note saying do the scene again and try to handle Buddy the Elf like he's fragile glass and you have to keep him safe. I did it and made the adjustment, and he's right because there's a lot more comedy to play in that than there is just sort of being mean and gruff.
I love that because I feel like... I mean the whole story is very far-fetched, but within it you have very real situations that people go through, and one of those is a lot of people really are overworked and then having something throw a wrench in your life that's already super busy. It leaves room for more story telling.
And, it's easier to play a reality, as far fetched as it is, to play the honest reality of I don't have time ahhhh... it's funny for the audience to watch somebody's life fall apart. It's never funny to the person that it's happening to, but for us watching it's hilarious!
I want to go back to something you said earlier. Of course this is a musical, and the movie is not. What kind of music is in the show? Is it classic Christmas songs, or are there new songs that were written just for the show?
The music is written specifically for the show, and it's got a great jazzy Broadway sound to it. Also a big band sound to it. We've got a 10 piece orchestra that comes with us, and they're totally on fire. There's really good songs. You'll definitely leave the theatre... I won't tell you the one... but, you'll leave the theatre humming one of them.
I love that. I know this show has been out for a little while, but I think it's the first time it has come to New Orleans, so I love that we'll get to hear something new.
I would say, too, that the story lends itself to places where it's appropriate to have a song. When Buddy first starts his journey to come to New York and find his dad, there's a song there. When he meets Jovie for the first time or when they have their first kiss... you know, the story lends itself to music numbers for sure.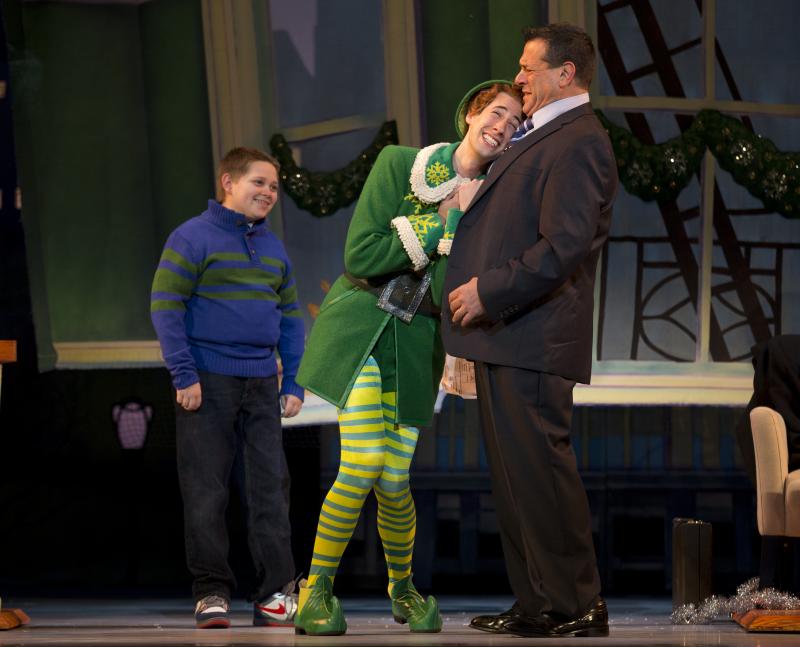 What is the visual aspect of this show like? How are the costumes and sets? What can we expect to see?
It's Broadway caliber costumes, sets, and props. My costume that I wear at the end for the finale when everyone's dressed as an elf still has the man's name label in it who originated the role in New York on Broadway. And, with four semi tractor-trailers, we essentially bring Christmas in New York... the Empire State Building and Rockefeller Center and apartments... around the country, so it's totally legit in that way. I would describe it as sort of a pop up storybook. In fact Santa, at the beginning, when he... Santa is the narrator... it's not, remember Bob Newhart was Papa Elf, in the movie... it's not Papa Elf, it's Santa and he decides to read a Christmas story to the audience, and he takes out a book and it's a pop up book. The whole show sort of has that feel with color and sort of a little bit larger than life, kind of cartoon-ish, but still grounded in a reality. It's definitely legit.
Now, this is generally a seasonal tour, right?
It is. I mean, it's hard to market it in July. And New Orleans is really getting it... I mean, this is my second year out with it, and it's always well received; however, that week before Christmas is really... I mean that's like the golden week for people to see it for sure.
What are your audiences typically like? Is it a lot of kids? Adults? Mixed crowds?
I would say it's everybody. It really is a family show. If there's anything that would be sort of skewed for an adult, it would go over the head of anybody that was young. I do hear children laughing. Every once in a while, I think we do one in New Orleans, we do a 10:00 AM matinee, and that's sort of got more children in the audience. It's not a kids' show per se. It would be a great show to take a child to if they've never been in a theatre before.
That's the cool thing about kid-friendly shows. I went and saw SPONGEBOB SQUAREPANTS: THE BROADWAY MUSICAL last year, and, again, it's not necessarily a kids' show, but with shows that are more kid-friendly if that's what gets you to get your kid into a theatre and expose them to this art I think it's awesome.
And it's so important. It's so important. As young people look more and more at their devices, it's so important to get younger people in the theatre to get accustomed and cultured to ok we sit quietly and watch, and now it's our turn to laugh, and now we applaud. The audience is another character. You can rehearse the show 'til you're blue in the face, but if you forget that they're gonna laugh there, that laugh is a line. You gotta wait. You gotta wait.
I never thought about that, that's so true, because you don't want to be talking over your audience. Comedy in general is all about timing, too, so that makes sense.
And, they're the key to timing. Now, if they're not laughing you pick it up, but if they're laughing... and, you know... I'm one that if they're laughing, I will wait. You guys take your time. You take your time, I'll stand here all day 'til you're finished and then we'll go on.
That's awesome. Well, I guess just to wrap us up, what's your favorite moment, or a moment in the show that you are just so excited for your audience to see when you do the show every night?
Oh gosh well... I mean... the finale just because it's so colorful. Everybody's dressed as an elf and it's such a good feeling. But, for me personally, it's those moments when I hear, especially children, react to... for instance, there's a thing where Buddy takes a document and shreds it, and sometimes you can hear a kid out there say noooo Buddy! Or you hear them laugh. I can't really see the audience because of the lights. At curtain call I can sometimes see the audience and I'll look down and there's some kid just living their best life, they're so excited. We did an autism-friendly performance in Durham, North Carolina where the house lights were up a little bit so we could definitely see the audience, and there were just so many kids that were so excited and so happy. The audience will like the finale, it's fun, but for me it's hearing them react, especially the kids and seeing them jumping up and down in their seat or hearing them laugh and being so involved in the sotry that they can't help but shout out nooooo Buddy don't do it!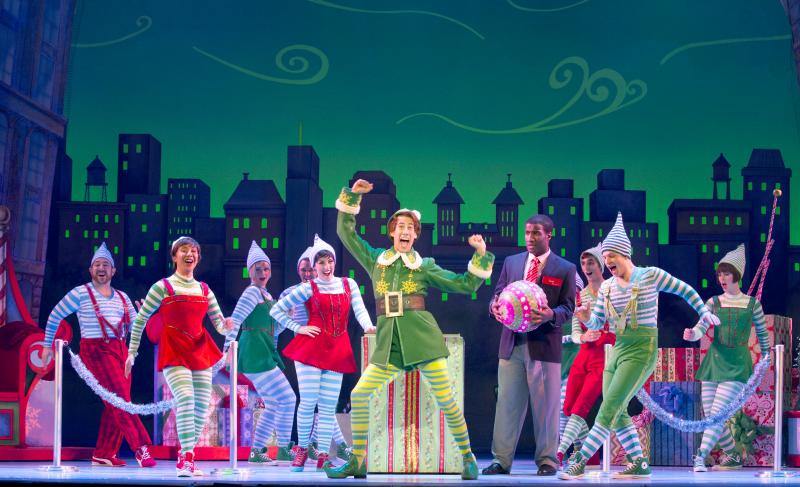 There's just something about kids in the audience! I went and saw a production of PETER PAN a few years ago and that's another one people bring kids to a lot, and it just makes the whole theatre so joyful to have their reactions. I love that!
There's definitely times where a kid will laugh loud and hard at something, which then makes the rest of the audience laugh. They're not laughing at us, they're just laughing because the kid is having such a good time, which is, again, fine. I'll wait, you take your time!
I can't wait to laugh and be merry watching John and the cast of ELF THE MUSICAL tonight at the Saenger Theatre! Bring the kids, bring your mom, bring the neighbors, bring the cat (no, don't actually bring your cat), bring anyone who you'd love to share some holiday cheer with to see this funny and heartwarming story beginning tonight through Sunday, December 23. ELF THE MUSICAL is appropriate for all ages, and is sure to bring a smile to your face. Visit www.saengernola.com for tickets and more information. I'll see you there!