Cary Ginell

Cary Ginell has been writing theater reviews in Ventura County since 1996. He joined the staff of the Ventura County Acorn in 2007 and since then, has written over 500 reviews. In 2013, he started his own theater arts blog, VC On Stage (www.vconstage.com), which includes reviews of musicals and plays from Calabasas to Ojai. From 2005 to 2010, Cary was Broadway project manager for Alfred Publishing, producing all of the publisher's piano/vocal songbooks. He is the author of 9 books on music, including "Broadway Musicals: Show By Show," published by Applause Books.
MOST POPULAR ARTICLES
LAST 30 DAYS
LAST 365 DAYS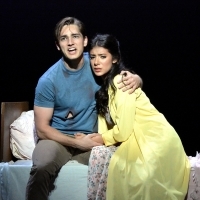 BWW Review: WEST SIDE STORY at 5-Star Theatricals
Posted: Jul. 27, 2019



BWW Review: 1776 at La Mirada Theatre For The Performing Arts
Posted: Jan. 31, 2019



BWW Review: RAGTIME at Pasadena Playhouse
Posted: Feb. 20, 2019



BWW Interview: Jonathan Sharp, Jack Stewart, Luna Montana Hoetzel of CAMELOT at Pacific Festival Ballet
Posted: May. 14, 2019



BWW Review: THE KING AND I at Fred Kavli Theatre
Posted: Dec. 28, 2018



BWW Review: SOUTH PACIFIC at Rubicon Theatre Company
Posted: Dec. 21, 2018



BWW Feature: THE KING AND I at Fred Kavli Theatre, Thousand Oaks
Posted: Dec. 23, 2018


BWW Review: FIFTEEN MEN IN A SMOKE-FILLED ROOM at Elite Theatre Company

September 11, 2018

A dark horse candidate with little political acumen lacking in smarts is battling to become the Republican candidate for president, while keeping silent one in a series of illicit affairs. Sound familiar? In 'Fifteen Men In a Smoke-Filled Room,' playwright Colin Speer Crowley focuses on the candidacy of Warren Gamaliel Harding, who would become the 29th President of the United States. The play examines his loveless marriage and lack of appetite for the political machinations that would eventually result in his election.
---
BWW Interview: John Loprieno, Nichole Jackson, And Members Of The Cast of CLUE: THE MUSICAL at Moorpark College

July 27, 2018

An inventive costume, makeup, and wig design highlights Moorpark College's production of 'Clue: The Musical,' playing through August 5 at the school's black box theatre.
---
BWW Review: THE LARAMIE PROJECT at Elite Theatre Company

July 26, 2018

The 1998 murder of Matthew Shepard in Laramie, Wyoming, is dissected in this riveting anatomy of a hate crime, and how it affected the residents of that small town. Elite Theatre Company's production is well-acted and directed by Morgan Keough for Lit Live Theatre.
---
BWW Interview: Susan Egan & Yvette Lawrence of BEAUTY AND THE BEAST at 5-Star Theatricals

July 6, 2018

For the first time in 22 years, Susan Egan takes to the stage in her pioneering role as Belle in 'Beauty and the Beast.' 5-Star Theatricals' production (July 20-29) is being directed by Yvette Lawrence, who took over the role of Belle after Egan vacated it in Los Angeles over two decades ago. We spoke with both Susan and Yvette in a fun, nostalgic, and warm conversation about the show.
---
BWW Review: SAME TIME, NEXT YEAR at Elite Theatre Company

June 25, 2018

Real-life partners Jennifer Ridgway and Kevin Ellis play perpetual adulterers George and Doris in Bernard Slade's timeless comedy 'Same Time, Next Year' at Oxnard's Elite Theatre Company.
---
BWW Interview: Paul Panico, Erik Sternad, Joelle Vessels of NEXT TO NORMAL at Panic! Productions

June 12, 2018

An interview with mental health professionals Erik Sternad and Joelle Vessels of Interface Children & Family Services and Panic! Productions co-executive director Paul Panico about the mental illness displayed in its recent production of 'Next to Normal.'
---
BWW Review: VIOLET at Actors Co-Op

June 1, 2018

Claire Adams stars as a young North Carolina woman seeking a miracle - to heal her disfigured face caused by a farm accident from when she was young. Embarking on a Greyhound bus bound for Tulsa just after the Civil Rights Act of 1964 was implemented, Violet deals with race, guilt, and shame in her quest to get an Oklahoma faith healer to make her inner and outer scars vanish.
---
BWW Interview: Mazie Rudolph & Fred Helsel of NEXT TO NORMAL at Simi Valley Cultural Arts Center

April 30, 2018

Mazie Rudolph knows where Diana Goodman is coming from in Tom Kitt & Brian Yorkey's Pulitzer Prize Winning musical 'Next to Normal.' In this revealing interview, Rudolph and director Fred Helsel talk about mental illness and Mazie's own journey into rediscovering her own traumas from the past.
---
BWW Review: LET IT BE at Fred Kavli Theatre

April 1, 2018

The newly revamped national tour of 'Let It Be' includes a fantasy 'reunion' of the group on John Lennon's 40th birthday, October 9, 1980, two months before his murder. The group combined note-perfect renditions of two dozen Beatles songs as well as songs from the group members' solo careers during the 1970s in a generally entertaining, nostalgic trip to the glory years of the Fab Four.
---
BWW Review: A CHORUS LINE at Thousand Oaks Civic Arts Plaza

March 25, 2018

Theater League's national tour of 'A Chorus Line' features a stellar cast, fabulous singing and dancing, but above all, the rock solid directing by Baayork Lee, the original Connie, who has ensured that Michael Bennett's original conception from over 40 years ago remains the same as he intended, as if Lee were encasing the show in amber.
---
BWW Review: TRUE WEST at Elite Theatre Company

March 5, 2018

Sam Shepard's 1983 black comedy 'True West' comes to life with Elite Theatre Company's searing portrayal of two brothers at war with one another. One is a struggling screenwriter, the other a parasitic bully. When the two clash, their personalities merge until you can't tell one from the other. Aaron Gardner and Sean Mason star in this devastating satire of Hollywood wannabes and a dysfunctional family relationship that runs amuck.
---
BWW Review: KINKY BOOTS at Thousand Oaks Civic Art Plaza

February 24, 2018

'Kinky Boots' overcomes a formulaic, predictable storyline with energetic performances and Cyndi Lauper's outstanding score. The national tour features outstanding work from its trio of stars: Lance Bordelon as frustrated shoe factory owner Charlie Price, Jos N. Banks as enterprising drag queen Lola, and Sydney Patrick as spitfire factory worker Lauren. The show plays at the Thousand Oaks Civic Arts Plaza though Sunday, February 25.
---
BWW Interview: Alan Waserman of OTHELLO at Playhouse 101

February 21, 2018

Alan Waserman plays Shakespeare super-villain Iago in Playhouse 101's production of 'Othello.'
---
BWW Review: HIGH SOCIETY at Alex Theatre

February 12, 2018

Cole Porter's 'High Society' sparkles with wit, glamour, and music in Musical Theatre Guild's concert version of the 1998 Broadway musical.
---
BWW Review: BUYER AND CELLAR at Rubicon Theatre Company

January 28, 2018

Brian McDonald brilliantly plays multiple roles in the one-man comic fantasy 'Buyer and Cellar,' about serving as shopkeeper in Barbara Streisand's ornate underground personal shopping mall. A tour de force for McDonald and the Rubicon Theater Company.
---
BWW Review: MOTOWN: THE MUSICAL at Fred Kavli Theatre

January 26, 2018

'Motown: The Musical' is, plain and simply, Berry Gordy's revenge on 'Dreamgirls.' After getting displayed in a negative fashion in that show, Gordy decided to create his own version of his career, painting himself in noble colors.
---
BWW Interview: Brian Robert Harris of FIVE WOMEN WEARING THE SAME DRESS at Camarillo Skyway Playhouse

January 22, 2018

The recent women's march and #MeToo Movement have suddenly made Alan Ball's comic-serio play 'Five Women Wearing the Same Dress' even more relevant than it was in 1993 when it made its debut. Read about how Brian Robert Harris came to direct the show at the Camarillo Skyway Playhouse.
---
BWW Interview: Timothy Reese of HEATHERS THE MUSICAL at YA4Ever

December 26, 2017

An interview with director Timothy Reese, who discusses the process of a first read-through of 'Heathers: The Musical' - which opens January 5 at the Hillcrest Center for the Arts in Thousand Oaks.
---
BWW Interview: A KLINGON CHRISTMAS CAROL at Santa Susana High School

December 12, 2017

A talk with the actors who portray the Klingon equivalents of Scrooge and the Ghost of Christmas Present in Lit Live's West Coast premiere of 'A Klingon Christmas Carol,' playing at Santa Susana High School in Simi Valley beginning December 14.
---
BWW Review: SCROOGE at Big Oak Theatre

December 6, 2017

A delightful abridged version of 'Scrooge,' the Leslie Bricusse musical adaptation of 'A Christmas Carol,' is now being staged at the rustic Big Oak Theatre in Chatsworth.
---
3