Lakeway Players Announce SHOWTUNE: CELEBRATING THE WORDS & MUSIC OF JERRY HERMAN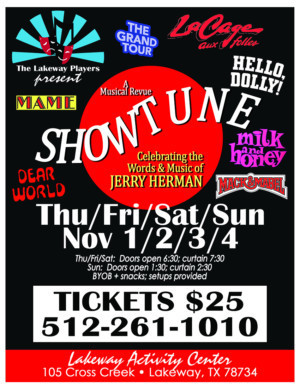 The Lakeway Players will be presenting 'Showtune: Celebrating the words & music of Jerry Herman', which is a wonderful uplifting musical revue.
Prepare yourself for a slice of musical theatre heaven. All Jerry Herman, all the time. Showtune delivers everything that its title promises... and then some!
No lyric is left unsung in this top-notch retrospective of Herman's phenomenal career in songwriting. Familiar tunes from such illustrious titles as Hello Dolly!, Mame, and La Cage Aux Folles will be stuck in your head long after this charming show ends. A performer-driven piece that has its heart in Herman's words, it is the perfect celebration for the recipient of the 2009 Tony Award for Lifetime Achievement in the Theatre.
The forty songs featured in Showtune come from Herman's Broadway musicals Milk and Honey (1961), Hello, Dolly! (1964), Mame (1966), Dear World (1969), Mack & Mabel (1974), The Grand Tour (1979), A Day in Hollywood / A Night in the Ukraine (1980), and La Cage aux Folles (1983).
The show will be performed at the Lakeway Activity Center on Thursday, Friday and Saturday nights, November 1st, 2nd, and 3rd at 7:30 as well as a Sunday matinee on November 4th at 2:30. Doors open an hour before each performance. Seating will be at round tables of 10 seats. Bring your own food, drinks, even adult beverages to enjoy while listening to these fabulous songs. Call the Lakeway Activity Center at 512 261-1010 for tickets which are $25 and include setups and snacks. Come out and enjoy some fabulous broadway music!