Review: WISH - A MUSICAL ADVENTURE is Wise, Witty and Wonderful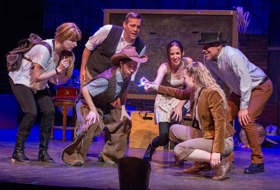 WISH is a world premiere new musical for young audiences that is set 100 years in the past and uses a highly theatrical and presentational storytelling style that successfully combines magic, music and youthful optimism with action and adventure. This unique and original story imagines the America of 100 years ago as a mythical place where the bold scientific discoveries and inventions of the era meet magic, superstition and wonder. It is even set in a town called Ideal. It is the story of young Samantha Major (Megan Hudson) and her friend Grace Strickland (Katya Welch) as they journey from the East to West coast to find and possibly save her father, inventor Tom Major (Scott Poppaw).
Using the highly inventive storytelling style of shows such as
Peter and the Star-catcher
, the six person cast creates various locales using just a blackboard, 4 cubes, a table, a trunk and a few simple props. Before the performance even begins, the cast engages the audience with a search and physical antics such as a tug of war between the males and females, ensuring that they have a firm grasp on their attention. After roughly fifteen minutes, director Damon Brown comes out and does a question and answer session with the young audience where he teaches them theatre etiquette without ever talking down to them. This point is part of what makes this such an unusual entertainment for young people. The audience is never talked down to and not a single opportunity to slyly teach is missed. The creators and cast create magic using a multitude of theatrical techniques. Small lights are passed from cast member to cast member to create shooting stars. When one character says they are slightly deaf, sign language is introduced as an opportunity to expose the young audience to signing. One particularly lovely moment in this charmer of a show is when Scott Poppaw signs while he sings a beautiful ballad, and does so with ease and grace. The show achieves multiple levels of education while it entertains. Never for a moment does it feel like a message is being hammered home. Damon Brown's direction is endlessly inventive and entertaining and as musical director, he extracts beautiful harmonies from his company as they sing Allen Robertson's melodic folk tinged score. One of many highlights is the song "Make A Wish", which will be pleasantly stuck in your head long after the performance is over. Sara Burke's choreography is clever and executed with whip sharp precision. Faith Castaneda has beautifully lit the proceedings, including a gorgeous moment where the walls of the theatre are awash in stars. While no program credit was given for the sound design, I really appreciated how it was used to advance the action. Barbie Sperberg's costumes had just the right look subtly echoing adventure films like
Raiders of the Lost Ark.
The cast is uniformly engaging and versatile, as everyone except Samantha and Grace plays multiple characters. Megan Hudson is the perfect plucky protagonist as Samantha and engages with the audience throughout by breaking the fourth wall to talk directly to them. Scott Poppaw makes a great inventor father as Tom Major, and turns in a warm and loving portrait of a Father every kid wishes they had. Katya Welch is great as Samantha's side kick in adventure. Her line "I thought we died! Isn't it great we didn't?" is delivered with a perfect childhood playground tone. Brandon Lindsey, Kelsey Kimble and
Kirk Kelso
all shine in multiple roles showing off tremendous versatility and range. In short, WISH is that rare entertainment for children that has smart lyrics, complex and engaging music and a witty script that also manages to charm the adults in the audience while the kids are being entertained by great creative storytelling that stimulates the imagination. WISH is a sweet hearted tale of inspiration and the heroes we make out of parents. This is entertaining as well as educational for the entire family an well worth both your time and money. It also delivers a message that we should all live by more often: "Do good, where ever you are." WISH - A MUSICAL ADVENTURE : Music and Lyrics by Allen Robertson, Libretto by Allen Robertson and Damon Brown
Running Time: Approximately One Hour with no intermission WISH - A MUSICAL ADVENTURE , produced by Georgetown Palace Theatre (810 South Austin Avenue, Georgetown, TX, 78626) . Performances are May 01 - May 12, 2018. School field trip performances happen Tuesday-Friday, May 1-11 at 10 a.m. & 12 p.m. at the Palace. There is one public performance on May 12, at 10 a.m.
Tickets are $5.00 per student. For every 10 student tickets purchased, schools receive 1 adult ticket FREE for teachers.
Reservations: 512-869-7469 ext 532 or
education@georgetownpalace.com
A Kansas native, Frank Benge has been involved in the Austin area theatre scene as a Director, Designer, Writer and Performer for the past 20 years. He holds a double BA in Theatre and English from... (read more about this author)