BWW Review: THE GRAPES OF WRATH at City Theatre Austin
Two of the greatest novels in American literature were published in a span of less than three years in the late 1930s, and comparisons between them are unavoidable. Both examined cultures at the moments of their demise - one historical, and the other contemporary. Margaret Mitchell's epic immersed readers in the collapse of the elite class, ultimate victims of their own inhumanity. John Steinbeck's masterpiece spotlighted the cultural extinction occurring at that very moment among the poorest and meekest as their livelihoods were, very literally, gone with the wind. Had it not been taken, that might have been a better title for Steinbeck's, THE GRAPES OF WRATH. The two books came to movie screens only six weeks apart to take their places in Hollywood history.
GRAPES focuses on the Joad family's hardship. Tom Joad has recently been released from prison and returns home to find his family farm at the blade of a bulldozer. Dust Bowl windstorms have destroyed their ability to sufficiently grow crops to pay the mortgage. The entire family is preparing their migration to California in response to handbills advertising for migrant fruit pickers. The hard journey along Route 66 is reminiscent of pioneer days, replacing a covered wagon with a 13 year-old Hudson flatbed truck. On arriving in California, the Joads find conditions no better than those they left. Jobs are not plentiful as had been promised and those that did exist draw dreadfully meager wages. Attempts to organize workers into an agricultural union are met with violence from farm owners in collaboration with legal authorities. GRAPES drew attention to conditions that were scarcely believed at first, but most who examined for themselves found its depiction of desperation slight compared to the reality.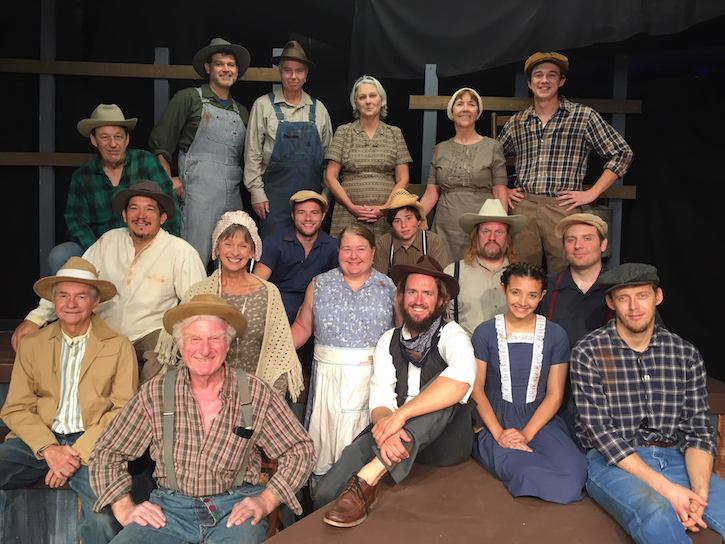 THE GRAPES OF WRATH at City Theatre involves a massive cast of 19 performers, with many playing multiple roles. Ty Wiley plays a sympathetic Tom Joad whose understandable indignation at the many injustices land him in habitual trouble. Ma Joad is expertly brought to the stage by Robyn Conner. Those two form the heart of the story, but excellent performances are given by many in the cast, including but not limited to Judith Laird and John Meadows and Granma and Grampa Joad, Zach Desutter as Jim Casy, Laurel Toupal as Rose of Sharon, and Lance Barnett in several roles.
GRAPES was first adapted to live theatre format in 1988 by Frank Galati and ran on Broadway for 188 performances with Gary Sinise in the Tom Joad role. City Theatre's production is under the direction of Artistic Director / General Manager Andy Berkovsky. The tensest moments are excellently brought forth, with well-choreographed fight scenes and exciting confrontations. The personal pathos of the central characters suffers during quieter soliloquies, however. This is not the fault of the actors, nor is it Berkovsky's. The necessity of projecting to the audience and the prohibitive difficulties of placing microphones on such an enormous cast seem to give those moments the feeling of performance rather than personal tragedy. In those moments, the material appears better suited to film than live stage.
That minor limitation notwithstanding, GRAPES is an evening of quality live theatre and is recommended by all interested in a serious dramatic experience. General Seating $15. Center Row Reserved $20-25. Thursday all seats $10. Tickets at the door $20. Group and student discounts. Tickets 512-524-2870 info@citytheatreaustin.org www.citytheatreaustin.org
Photo credit: City Theatre