BWW Review: THE BOOK OF LIZ - Different Stages Strikes Comic Gold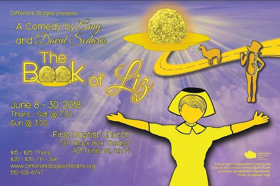 Different Stages has a reputation for bringing excellent theatre to the Austin stage and THE BOOK OF LIZ is no different. Supreme silliness and laughs galore fill the performance space at Trinity Street Theatre for the space 90 minutes of great, quirky entertainment.
Written by comedian Amy Sedaris and her brother David Sedaris, THE BOOK OF LIZ tells the tale of a religious sect, the Squeamish, who worship God with no interference from the modern, outside world. To maintain their isolation they make cheeseballs to sell through a distributor to the general public. The creator of this delicious snack is Sister Elizabeth Donderstock (Miriam Rubin), who begins to become dissatisfied with her lot in life. Reverend Tollhouse (Robert L. Berry) dismisses her concerns and welcomes a new member to the flock. Brother Nathaniel Brightbee bursts onto the scene with a eye to taking over the cheeseball production. Cheeseball production is vital to the Squeamish as their main source of income and Tollhouse is eager to have a man in charge. This is the straw that broke the camel's back and Sister Elizabeth flees into the big bad world, away from everything she's ever known. Luckily she lands straight into the arms of Ukrainian immigrant and Mr Peanut roadside advertiser, Oxana who studied English under a teacher with a Cockney accent. The characters Liz runs into transform her life and rebuild her confidence in unexpected and hilarious ways. The crisp dialogue, tongue-in-cheek mockery along with a superior cast and director make THE BOOK OF LIZ a must see.
Director Robert Tolaro has assembled a fantastic ensemble cast of actors who are extremely versatile. Among my favorites were Robert Berry as the good Reverend and Duncan the restaurant manager. Beau Paul as Brother Brightbee is hilarious as the newcomer; as is Katherine Schroeder as Sister Constance, the ever complaining kitchen helper. But I must sing the praises of Miriam Rubin, a master character actor who owns this role as she has so many others. After years of smaller roles it's awesome to see Rubin get to strut her comic chops in a leading role. She hits every joke perfectly and her wide eyed innocence is engaging and endearing. Miriam Rubin is an Austin treasure and she makes THE BOOK OF LIZ an absolute gem of a show. Her performance alone makes this a must see production. I must also mention Norman Blumensaadt's adorable turn as the show's narrator, he made me giggle with every scene change. Steve Williams smart set design includes my favorite set piece, periaktoi, a three sided piece that revolves, each side has a different scene painted on it and it's a simple, clean and clear way to change settings on a small stage. The simplicity of the set is a perfect offset to the zany comedy on stage. Benjamin Taylor Ridgway's costume design is flawless. He does a wonderful job especially with the severe Squeamish costumes, black fabric may seem easy but matching shades of black can be a nightmare, his white details are delightfully imagined. Ridgeway's Mr. Peanut costume is a work of comic art, being both functional and funky. James Jennings lighting design is simple and effective, not an easy feat on the Trinity Street stage. Tolaro's direction is crisp and keeps the action moving seamlessly giving the show an almost sitcom feel. All these elements spell another winner for Different Stages, entertaining Austin audiences since 1981.
If you want to see great comedy done by people who know what comedy is, go see THE BOOK OF LIZ at Trinity Street Theatre.
THE BOOK OF LIZ
by Amy and David Sedaris
Different Stages at Trinity Street Theatre, 901 Trinity Street, 4th Floor
June 8 - 30 at 7:30 PM and 3:00 PM Sunday
Running Time: 90 minutes with no intermission
Tickets: $15 - $30, differentstagestheatre.org