Review: CHILDREN OF EDEN Takes a Lackluster Exploration 'Beyond' at Aurora Theatre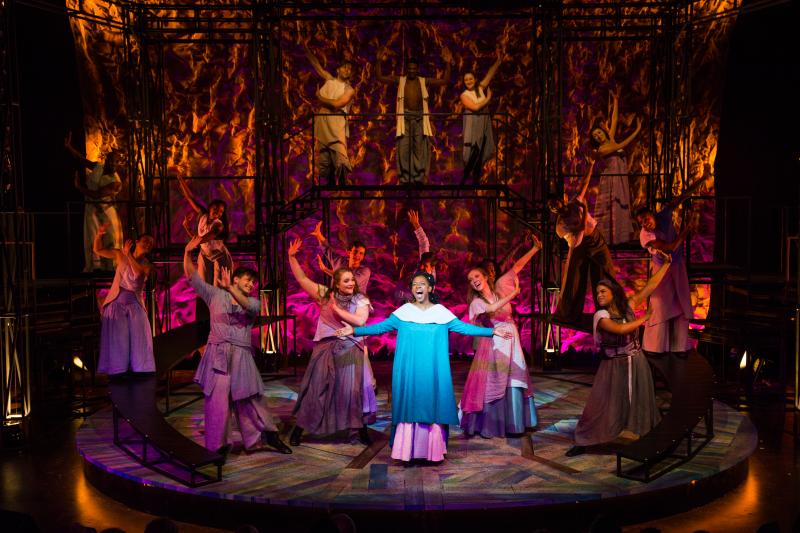 As a theatre fan, it is rare to watch a musical that I have never listened to before. But when such an occasion presents itself, I jump at the opportunity because there is no better way to experience a show for the first time than to see it professionally. Such was my experience with Aurora Theatre's CHILDREN OF EDEN this weekend. I only knew it was based on some Old Testament stories and affectionately known as "the other Stephen Schwartz musical."
Taking wild liberties in retelling the stories of Adam and Eve and Noah and the flood, CHILDREN OF EDEN is about as close to the source material as Schwartz's biggest hit, WICKED. So for those looking to see a biblically sound story, this is not the place. Any avid Sunday school attender could write an essay on the wildly inaccurate portrayals of the characters and copious amounts of extra-biblical plot additions.
The first major digression from the original text is the change of the forbidden tree's name from "The Tree of the Knowledge of Good and Evil" to "The Tree of Knowledge," with the suggestion that this God's desire is to keep Adam and Eve from discovering the world for themselves. Other stark changes include Cain's accidental rather than cold-blooded murder of his brother Abel as well as a Jonah-like thread towards the end of the Noah story.
Still, much like most mainstream interpretations of the Bible, the goal is not to put on a church pageant as much as it is to tell an original story using familiar characters. With a book by John Caird, the show can best be thought of as one about family relationships. There is a strong, satisfying theme highlighting the cyclical nature of families, showing that the same "kids" who say to their parents, "You just don't understand!" turn around and receive the same complaint from their own children. It also explores the innate desire of people and particularly children to know what's "beyond." These themes fail to keep the narrative afloat, with long stretches of forgettably similar tunes and fluffy dialogue. The plot drags through labored storylines, cheesy conclusions, and beaten-to-death buzzwords.
There is no question in my mind as to why this is the lesser-known Schwartz piece. It's one of those where theatre fans might sit there and think, "I've seen this before. This is PIPPIN, but less awesome. This is like a boring version of CANDIDE. Was that 'Alone in the Universe' from SEUSSICAL?"
While the singing and acting are both wonderful, the dancing brings down the performance. Throwing the lead actors into most of the ensemble pieces, the choreography looks dumbed down to accommodate "actors who move" and only begins to resemble Ricardo Aponte's recent award-winning work when small ensembles dance alone.
The most redeeming aspect of the performance is the incredible acting and vocal range of Naima Carter Russell. With a wide-eyed innocence that transitions into resolved confidence, you can't help but adore and want the best for her childlike Eve immediately. The Suzi Bass Award-winner navigates the growth of her characters seamlessly, also portraying Noah's wife in the second act. Cheesy '80s pop sound aside, the highlights of the show are her show-stopping songs.
The break-out performance of the night comes from Briana Young, whom audiences might remember as Random Newsie #3 in Aurora's NEWSIES last year when she was in their AppCo19. Let me tell you, she has graduated from her apprenticeship into leading lady status. Her resilient, effortless performance of "Stranger to the Rain," (which she also performed on Atl & Co last week- watch it here!) blew me away, and I didn't care that it was part of a weak plotline.
While the aforementioned ladies steal the show, the men also deliver flawless vocals across the board. Brad Raymond, Russell Alexander II, and Haden Rider soar with their truly unreal voices, reminding me that Atlanta has such an embarrassingly rich collection of gifted performers that their presence no longer seems like something to write home about. In his third Atlanta theatre appearance following a long absence, Maxim Gukhman proves a treasure, and I dearly hope he is here to stay.
---
CHILDREN OF EDEN plays at Aurora Theatre through September 1, with a discount matinee on Tuesday, August 20 at 10 a.m. Tickets are currently on sale; single tickets start at $30 and may be purchased online at bit.ly/ChildrenofEden or by calling the Box Office at 678-226-6222. For more information on this production or other programming, please visit auroratheatre.com.