BWW Review: CABARET at Serenbe Playhouse
It's hot out at Serenbe Playhouse this month. But the heat isn't coming from the oppressive Georgia-in-August sun. It's coming from the racy and enthralling production of Kander and Ebb's Cabaret on display at the Kit Kat Club, a neon-framed outdoor cabaret club, complete with cabaret tables flanking a long runway stage, very scantily clad cocktail waitresses, and an elevated first-rate orchestra. This impressive site-specific setting dazzlingly supports a talented cast, and celebrated visionary director Brian Clowdus, who takes on the role of The Emcee in this production, powerfully showcases the unsettling relevance of the beloved 1966 musical.
The musical tells the story of Sally Bowles, a free-spirited and promiscuous diva at a seedy cabaret club in Berlin on the eve of the Nazi rise to power. When Sally Bowles meets an eager young American novelist, Cliff Bradshaw, she attaches herself to him. She moves into his room at Fraulein Schneider's boarding house and becomes his lover. But as the two explore their exciting new relationship, around them the menacing spirit of Nazism threatens everything: their city, their friends, and their futures.
Clowdus's turn as The Emcee has certainly created buzz around this Serenbe Playhouse outing. And Clowdus is quite good in his role. He cavorts around the stage with a sleazy confidence, selling the disreputable wares of the Kit Kat Club. But this isn't where Clowdus makes his most valuable contribution to the play. He is at his best when he is standing on the dim edges of the narrative scenes, a voyeur in shadows who covers each scene with a blanket of awful knowingness.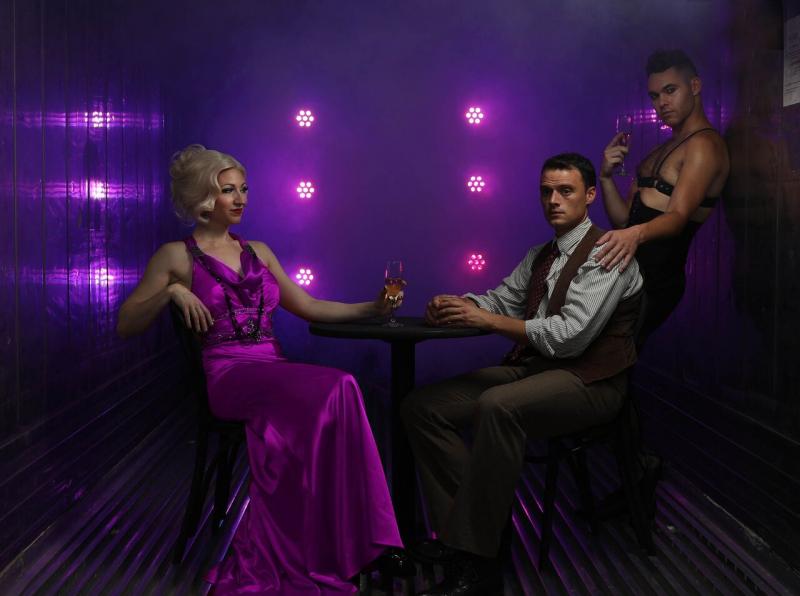 The starriest star in this production is Molly Tynes in the role of Sally Bowles. And she shines very bright. Tynes brings everything to the role that Michelle Williams was unable to in her recent Broadway turn. Tynes's Sally is likable. She is sexy. She is high-spirited. She is reckless and naïve. And - whoa! - can she sing. It almost seems hard to believe, within the world of the play, that someone who sings that well can't rise above the seedy second-rate club that employs her. Almost. And Tynes, an original cast member from the Broadway production of Pippin, has lent her Pippin-y circus skills to this production, much to the delight of the club's patrons. Several times during her performance, she hangs suspended high above the stage on a hoop. Sometimes by one leg. Sometimes without the use of her arms. Sometimes in an evening gown. It's magical.
Tynes's Cliff, played here by Lee Osorio, is excellent in his role, as are Robert Wayne as Herr Schultz and Heidi Cline McKerley as Fraulein Schneider. Proper execution of this story is tricky business. It sometimes happens that productions of Cabaret are troubled by an unevenness that is resultant of the secondary storyline, the one that sees Schultz and Schneider torn apart by Nazi antisemitism, being thrust into a greater position than the structure of the play can support, muddying the narrative waters. It happened on Broadway in 2014. But it doesn't happen here. Clowdus is an adept storyteller, so Schultz and Schneider, though both quite likable and engaging, remain as characters who project a backdrop for the story of the young lovers, and that's exactly as it should be.
The production isn't perfectly perfect. The shifting of scenes is a little clunky. The ensemble of Kit Kat Girls is a little uneven in the execution of the choreography. A few of the bawdy jokes are not as funny as they want to be. But none of these small things prevent Clowdus from making an important statement about where we have been and where we are headed as the keepers of the human spirit. Towards the end of the play, Cliff says, "There was a cabaret and there was a master of ceremonies and there was a city called Berlin in a country called Germany. It was the end of the world...and I was dancing with Sally Bowles and we were both fast asleep." Fast forward to America in 2017, and these lines feel like a big punch in the gut. We are ideologically fractured. We are friends turning on friends. We are nursers of hatred. And we are fast asleep. Fast asleep.
Cabaret runs through August 27.
For tickets and information, visit http://www.serenbeplayhouse.com/