Review: 42ND STREET at City Springs Theatre
Look out, Atlanta! There's a new musical theatre hotspot in town! The City Springs Theatre Company opened its inaugural season in the Byers Theatre at City Springs Civic Center over the weekend with a razzle-dazzle production of the fluffy 1980 tuner 42nd Street, adapted from the Bradford Ropes novel and the subsequent 1933 film of the same name. The lavishly staged production, featuring Tony Award Winner Shuler Hensley, who also serves as the Associate Artistic Director for the new company, and Atlanta favorite Deborah Bowman at her best, is a bonafide triumph for director Brandt Blocker. It's well-acted. It's well-sung. And... those dancing feet. Oh, those dancing feet!
The musical, featuring a delightful catalogue of well-known songs like "We're in the Money" and "The Lullaby of Broadway," offers up a wafer-thin plot that barely services the production. Has-been director Julian Marsh (Shuler Hensley) is putting together a new musical revue called Pretty Lady, and it's destined to be a beauty. But when the production's leading dame, Dorothy Brock (Deborah Bowman), is injured, Marsh must replace her with fresh-eyed Peggy Sawyer (Leigh Ellen Jones), a young ingénue who's just come to New York to chase that Broadway dream.
The new company's most impressive calling card in this inaugural outing comes courtesy of Cindy Mora Reiser's delightful choreography. Reiser's choreography steeps itself in the unexpected, and the result is dazzlingly pizzazz-y. Each big dance number - and there are many - is full of life and executed by this talented company of dancers with absolute precision.
Working in tandem to bring the Depression-era 1930s 42nd Street to life are costumers Betty Johnson and Amanda Edgerton West and scenic designer Bruce Brockman. What they've turned out is a top-notch display of period-specific visuals, including the bright neon lights of Broadway, that beckon us to journey back to the age of the lavish 1930's Broadway spectaculars. The gorgeous costumes, from the Peter Pan-collared street clothing of the young hopefuls in the chorus line to the flashy and fringed Broadway costumes of Pretty Lady to the rich, ostentatious fur-trimmed clothing of the Broadway diva, Dorothy Brock, go far to sell us a world that we're eager to embrace. The showy set completes the world, nimbly showcasing multiple settings in grand fashion, including an unforgettably striking train interior and, of course, 42nd Street, the heart of old New York.
The cast has the daunting task of making something memorable out of a completely forgettable story, and they ably meet their challenge. Deborah Bowman is a perfect Dorothy Brock. As usual, she's all energy, always threatening to suck up all of the air from the performers around her. And the jazzy tunes under her management, in the sweet spot of her range and complemented by her sultry, smoky voice, make her songs some of the most memorable of the show. Leigh Ellen Jones, in the role of Peggy Sawyer, also comes out smelling like a rose. She's light on her feet and believable as the ingénue. An able and confident Shuler Hensley is underused in this show, which decidedly favors its leading dames.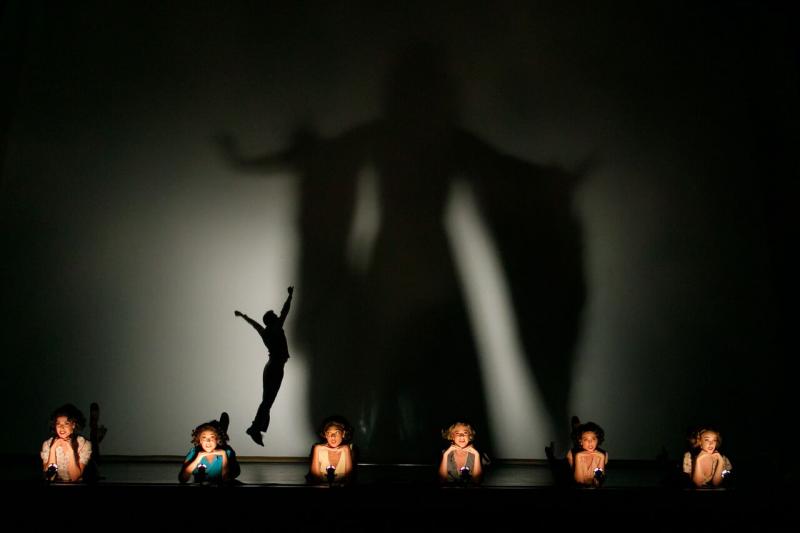 It's true what they say: Those neon lights are bright on Broadway. And they're also bright - bright, bright - in this inaugural outing that will, assuredly, be the first of many successful productions for this impressive company.
42nd Street runs through September 23 at the Byers Theatre,
For tickets and info, visit www.cityspringstheatre.com.