BWW Interview: Tony-Winner Shuler Hensley Applauds the 'Tapping Phenomenon,' Escapism, and More in 42ND STREET at City Springs Theatre Company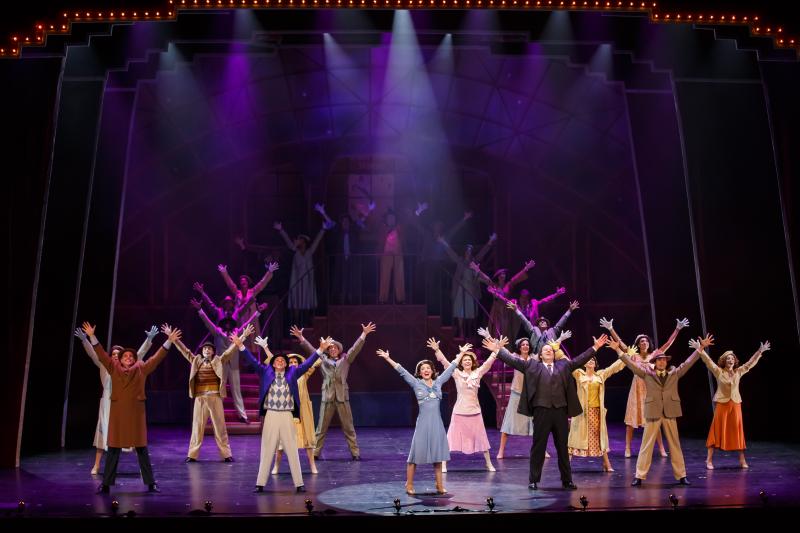 "I don't know that tap-dancing is as prevalent in modern musicals as it was back in the day, but it's still one of those talents that when you have 25 people on stage tapping at once and creating this duet with the orchestra, it's just amazing. So I think for people wanting to see an example of musical theatre at its best, that's what they're going to see." -Shuler Hensley, 42ND STREET's Julian Marsh
Though Atlanta native Shuler Hensley claims our city as home, he made his way in acting elsewhere, including the 2002 Broadway revival of OKLAHOMA! where he won a Tony Award for his performance as Jud Fry opposite Hugh Jackman. Amid Broadway, film, and television roles, Hensley has maintained his connection to Atlanta's arts scene by working with young artists on the Georgia High School Theatre Awards year after year, and now, he is bringing his performing talents home as he stars in 42ND STREET at the new City Springs Theatre Company.
Below, check out our conversation, wherein Hensley gushes over the company of brilliant dancers, shares what playing Julian Marsh means to him, and the necessity of theatre as pure entertainment.
---
We're so excited to have you in 42ND STREET!
Yes, I'm very excited about the show! It's one of those throwback shows that's just extraordinary to watch even when you're in it. Especially the dancing. That's the main thing about me in this show. I get to do a lot of scene work, but I just get to watch these kids dance, and they're amazing. I've been involved with the High School Musical Theatre Awards, so I've watched over the 11 years of doing it how the talent has just exploded in Atlanta and Georgia. It's as good as everywhere, and I can say that with confidence because I've pretty much performed everywhere. So it's great to see that on a daily basis now because I would put these dancers and singers against anybody in the business in terms of quality.
Oh wow, what a selling point! Well actually one of my great friends, Kiley Washington is in this- she's the Peggy understudy and Phyllis Dale, I believe.
Yeah! They're just ridiculously talented. I'm just glad that I came along when I did because I don't think I'd be able to work at all if I [were starting out] here now. I'd show up, and they'd be like, "Well, he's a big guy, but he can't dance... Let's put him in the back. Maybe he can move sets...?" [laughs] When you see the show, I'll be the guy on stage being inspired by the dancers! I'll be the Guy Standing off stage left watching the tapping phenomenon.
As far as your specific character in 42ND STREET, what can you tell my readers about how you play into the show?
Well, Julian Marsh, like [in] the throwback '50s movies, is the typical Broadway producer-type who's sort of a legend producer towards the twilight of his career, and he hasn't had a hit in a long time. So he's a bit on the surly, negative side of the business of theatre, and I think he feels like this is his last hurrah, his last chance to do anything of importance. But it's very interesting: he comes in having had a career, and then he meets this girl who is fresh at the beginning of her journey with theatre and with musicals, and through her he realizes what it was that got him into the business in the first place and a love of the innocence and pure joy of performing in theatre.
And I say that as really, something I can relate to personally because every year I come back and do the Georgia High School Musical Theatre Awards, which are the Shuler Awards, for lack of a better name [laughs]. I host them because that's exactly what I get from these high school kids- a re-energizing, a fresh perspective of what it was like when I first fell in love with theatre. I love doing it for the kids, but I also do it for myself because they give me so much. So that's Julian for me, the old veteran who is re-energized and re-inspired by the new generation.
That sounds so special! And what can you tell us about the show overall?
It's a throwback, feel-good, nostalgic Broadway show. You have a story about someone coming to New York, fresh off the bus- or train- but she's got a suitcase in hand, and she's the typical chorus girl. Then there's an injury involving the leading lady, so she gets to go on and become a star. So it's all the things that we associate with the Broadway dream.
And then the tapping- there's nothing like tapping! I don't know that that art form is as prevalent in modern musicals as it was back in the day, but it's still one of those talents that when you have 25 people on stage tapping at once and creating this duet with the orchestra, it's just amazing. So I think for people wanting to see an example of musical theatre at its best, that's what they're going to see. And I think that's what [artistic director] Brandt Blocker really wanted to do with this first show- allow people to see the possibilities of great dancing, great singing, great acting, and great story. And that's what makes musicals unique.
It definitely sounds like the quintessential classic Broadway style.
Exactly. It's not rocket science, and it's not something that's going to solve modern day problems, but what it does is it just gives you a chance to take 2 hours and enjoy a really wonderful story with a happy ending.
My Broadway debut was during 9/11, and I was playing Javert, and when that happened I was like, "What is this business that I'm in? Is it really important to people?" and I'll never forget the day we came back to perform after 9/11. There were maybe 300 people in the audience for LES MIS. Every single one of them after the show came to the stage door, and they said, "Thank you for giving us a place to go and escape for two hours." That was a lightbulb moment for me, and I was like, "That's what theatre is able to do for people." On a very basic level, it just gives people a place to go and be part of a different world for a couple of hours. I think 42ND STREET is a beautiful world to inhabit for a couple of hours. And it's for family, it's everything. That's what I love.
Anything else you'd like to tell our readers?
I just would love to say that I'm really, really proud and excited to be a part of regional theatre and being able to know that the talent and the energy and the creative force behind theatre is alive and well in Atlanta and other regional theatres. It's really been a pleasure to be a part of that too.
---
City Springs Theatre, Atlanta's newest professional theatre company presents Tony Award winner Shuler Hensley in "42ND STREET," the ultimate Broadway musical, playing at the brand-new Byers Theatre at The Sandy Springs Performing Arts Center (1 Galambos Way, Sandy Springs) September 14th through the 23rd. Tickets are $30-$62, with discounts for seniors, students, groups, and active and retired military personnel. Visit www.CitySpringsTheatre.com or call 404-477-4365 for more information.