FUN HOME to Headline Young Vic's 2017-18 Season; Lineup Announced!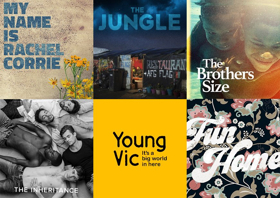 The new 2017-18 season at Young Vic was announced today. Highlights for the upcoming season include:
• The world premiere of The Jungle by Joe Murphy and Joe Robertson, directed by Stephen Daldry and Justin Martin designed by Miriam Buether - a Young Vic and National Theatre co-production
• A revival of The Brothers Size by Tarell Alvin McCraney (Academy Award Winner for Moonlight) directed by Bijan Sheibani - a Young Vic and Actors Touring Company production
• The world premiere of The Inheritance, a new play in two parts by Matthew Lopez, directed by Stephen Daldry, designed by Bob Crowley
• The UK premiere of the five Tony Award-winning Broadway musical Fun Home, by Jeanine Tesori and Lisa Kron, directed by Sam Gold
• JMK Award 2017 winner Josh Roche directs My Name is Rachel Corrie
Alongside the previously announced:
• Billie Piper reprises her award-winning role in Simon Stone's new version of Yerma
• Sienna Miller and Jack O'Connell lead the cast as Maggie and Brick in the Young Vic production of Cat on a Hot Tin Roof at the Apollo Theatre
• Juliet Stevenson reunites with director Natalie Abrahami in Arthur Kopit's Wings
• Ramin Gray and David Grieg's acclaimed production The Suppliant Women
• Nina: 'a story about me and Nina Simone' with Josette Bushell-Mingo
• Edinburgh Festival hit How To Win Against History by Seiriol Davies
• Genesis Future Directors Award 2017 winner Nancy Medina directs Yellowman by Dael Orlandersmith

Artistic Director David Lan on today's announcement: "Putting a season together is always a mixture of chance and intention.
My intention is always that the voices you hear at the Young Vic will be the most urgent, the most in need of being heard. Chance is that I happen to be in the right place at the right time to hear them.
Patterns emerge: in all the shows in this new season you'll hear voices from the edge - refugees, the black working class, young gay women, young gay men - engaged voices raised in protest and in discovery.
The Jungle by Joe Murphy and Joe Robertson, the founders of Good Chance Theatre, tells the story of the refugee camp at Calais. It centres on the meeting of the Afghans, the Kurds, the Somalis, the Syrians with the UK volunteers, younger and older, who arrived in Calais to offer help. Directed by Stephen Daldry and Justin Martin, it's a dark story told in a disarmingly light style. With Miriam Buether transforming our theatre into an Afghan Café, we are delighted to co-produce this with the National Theatre as part of our Horizons series of shows putting the experience of refugees at the forefront.
The first anyone in the UK heard of the now celebrated Tarell Alvin McCraney was our production of his first play The Brothers Size. An instant classic, winner of the Evening Standard Most Promising Playwright Award, we toured it to enormous success. A decade later, we're reviving it for a new generation, this time in our Main House. As before, it's a co-production with the Actors Touring Company, directed by Bijan Sheibani.
The Inheritance is a major new work by an exceptional young writer. Set in present-day New York City, two decades after the worst of the AIDS epidemic, it asks: 'What do gay men hand down from one generation to the next? What do we learn from our past? How do we heal? How do we change?' Hilarious and profound, in two parts presented over two evenings, it's directed by Stephen Daldry and designed by Bob Crowley.
It was always obvious that the Young Vic is the natural London home for the phenomenon that is Fun Home. After five Tony Awards and a Broadway run, we're delighted to welcome Jeanine Tesori and Lisa Kron's ground-breaking and immensely enjoyable musical adaptation of Alison Bechdel's graphic novel about growing up gay in a close complicated family. Sam Gold directs a UK cast.
My Name is Rachel Corrie was edited by Alan Rickman and Katharine Viner from Rachel Corrie's diaries. This now famous account of one young woman's opposition to the plight of the Palestinians is, sadly, as topical as ever. It's directed by this year's JMK Award winner Josh Roche."

Tickets for the 2017/2018 season go on sale to Friends of the Young Vic on Friday 14 July at 10am. Public booking opens on Friday 21 July at 10am. Become a friend from £35 by calling the Box Office: 0207 922 2922 or visiting www.youngvic.org.