Words From the Wings: Jewelle Blackman of HADESTOWN Shares Her Pre-Show Rituals and More!
Jewelle shared her favorite moments to watch from backstage, her fun routine with the dressers, and much more!
BroadwayWorld is bringing you Words From the Wings, a new series of interviews that take fans behind the scenes of some of their favorite Broadway stars' backstage routines!
Today we're chatting with Jewelle Blackman of Hadestown, who told us all about her favorite backstage moments, pre-show rituals, and more! Check out her answers, along with photos taken by BroadwayWorld's Jennifer Broski, below!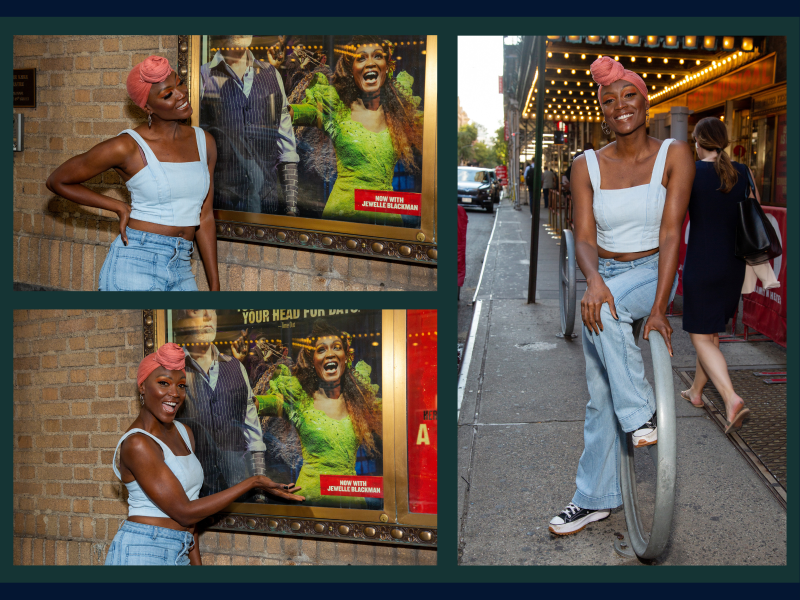 What's the first thing you do when you arrive to the theatre?
First thing I do when I get to the theatre is usually get tested if it's a testing day, sign in and then stop by stage management and pick up the list of the band members that night so I can start memorizing it for when I shout them out in "Our Lady of The Underground."
What's the last thing you do before you go on stage?
Drink water, pop a couple Altoids and do a few lip trills
What's your must-have backstage snack?
Salt! Any snack that is salty!!
Pre-show ritual that others may think is weird?
I don't do this every show but at least 4 times a week before the house is open, I go onstage and touch the Evelyn microphone and practice attaching and detaching her from the mic stand.
What are five must-haves in your dressing room?
Pictures of my loved ones including my son and parents. Plants, plants and more plants. A sodastream. A lamp for that mood lighting and a little rug.
What's your favorite moment from the show to watch from the wings?
I don't have much time to watch from backstage but I love watching the stage break open in "Wait For Me"
What has been your favorite backstage moment in your time with this show so far?
This has become somewhat of a routine but when I get off the elevator during "Chant" I usually do a little dance routine to the last beats of the song for the dressers who are waiting for the "workers". It's become such a thing now that they actually grade me. I love it.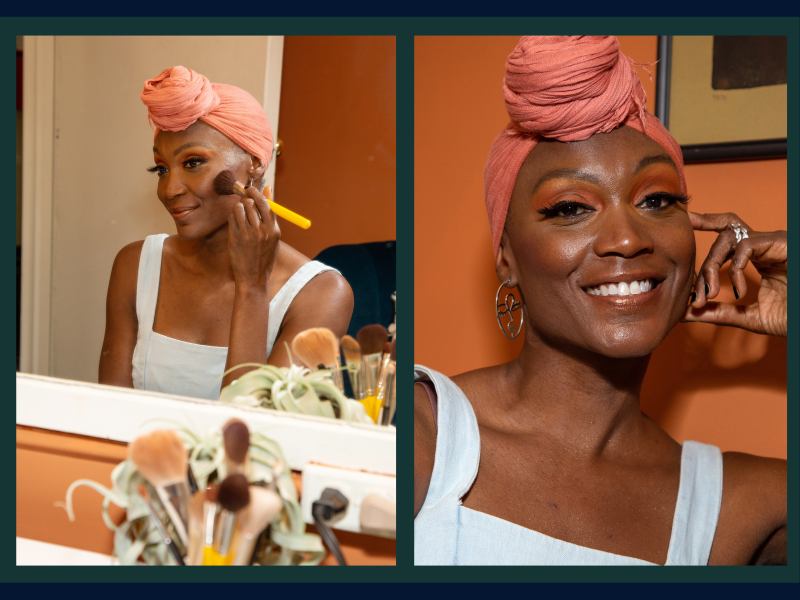 ---
About Jewelle Blackman:
As the original "Contralto" fate, Jewelle is thrilled to be stepping into the role of Persephone, "Our Lady of the Underground." A role she has been coveting since she first became involved with Hadestown in 2017. A native of Toronto, Canada, past credits include the Canadian companies of Hadestown; The Lion King; We Will Rock You; Caroline, or Change; Dreamgirls; and three seasons at the Stratford Festival. Television/Film: "Ghostwriter," "The Coroner," "Frankie Drake," "Nine Lives." Jewelle continues crafting her new musicals Boy Boy and The Magic Drum and The Trials and Triumphs of a Tar Baby.
About Hadestown:
In Hadestown, a song can change your fate. This Tony-winning new musical by Anaïs Mitchell and innovative director Rachel Chavkin is a love story for today, and always. Intertwining two mythic Greek tales - that of young dreamers Orpheus and Eurydice, and of King Hades and his wife Persephone - Hadestown invites you on a journey to the underworld and back.

Mitchell's alluring melodies and Chavkin's poetic imagination pit industry against nature, doubt against faith, and fear against love, with art perhaps being the one thing that can save it all. Hadestown is a haunting and hopeful theatrical experience that grabs you and never lets go.

Related Stories
Stephi serves as Managing Editor for BroadwayWorld, and has been a member of the team for over five years. Among many hats, she curates the daily "Wake Up With BWW" briefing,... (read more about this author)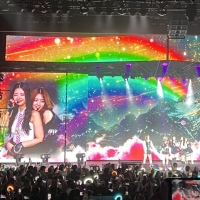 Concert Review: ITZY Brings Charm and Charisma to New York City's Hulu Theater For Final North American Stop on the 'Checkmate' Tour
November 14, 2022
Itzy wrapped the North American leg of their Checkmate World Tour in New York City at the Hulu Theater on November 13, where they were met with a sold-out theater brimming with over 5,000 MIDZYs. The five-member girl group under JYP Entertainment consists of Yeji, Lia, Ryujin, Chaeryeong, and Yuna, who all showed off their individual charms, as well as their solid group dynamic.
---
Words From The Wings: April Matthis of THE PIANO LESSON Shares Her Backstage Routine

November 4, 2022

We're chatting with April Matthis of The Piano Lesson! She told us all about her backstage routine, must-haves, and more!
---
Take A Look Back at Gabriel Byrne's Journey on Broadway

October 28, 2022

Internationally renowned actor and writer Gabriel Byrne has returned to Broadway in his acclaimed solo show, Walking with Ghosts, adapted from his best-selling memoir of the same name. Learn more about Byrne's journey on Broadway by taking a walk down memory lane through his past credits!
---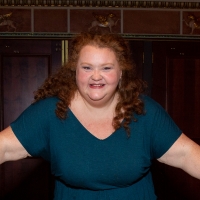 Words From The Wings: Shawna Hamic of 1776 Talks Pre-Show Rituals, Backstage Must-Haves, and More!

October 27, 2022

BroadwayWorld is bringing you Words From the Wings, a new series of interviews that take fans behind the scenes of some of their favorite Broadway stars' backstage routines! Today we're chatting with Shawna Hamic who plays "Richard Henry Lee" in 1776! She told us all about her pre-show rituals, backstage must-haves, and more!
---
Concert Review: THE ROSE Brings K-Rock to Terminal 5

October 20, 2022

The Rose, the four-piece Korean rock band consisting of Woosung, Dojoon, Jaehyeong, and Hajoon, are embarking on their first tour as a group since returning from their mandatory military service in South Korea.
---