West End's THE WIND IN THE WILLOWS Musical Will Hit Cinemas & More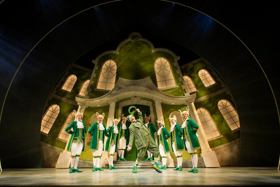 West End musical THE WIND IN THE WILLOWS which recently ended its strictly limited summer season at the London Palladium has been filmed for cinematic, television and online releases.
Based on Kenneth Grahame's treasured novel, the production opened on 29 June, brought to the stage by producer Jamie Hendry in a new adaptation with book by Academy Award-winning screenwriter and DOWNTON ABBEY creator Julian Fellowes and Olivier Award-winning composer and lyricist duo George Stiles and Anthony Drewe.
The filmed version stars Rufus Hound as the amazing MR Toad, Simon Lipkin as Ratty, Craig Mather as Mole, Neil McDermott as Chief Weasel, Denise Welch as Mrs Otter, Gary Wilmot as Badger and the entire West End company.
The Wind in the Willows is produced for the screen by Jamie Hendry, Austin Shaw and Gavin Kalin alongside executive producers BroadwayHD who will release the film on their online platform. It is directed by Tim van Someren.
Producer Jamie Hendry: "I am delighted that our magnificent production has been captured in all its GLORY at the London Palladium. The Wind in the Willows has been a joy to produce and I'm so pleased that audiences around the world will be able to experience the adventure."
BroadwayHD co-founders, Stewart F. Lane and Bonnie Comley: "We're honoured to capture and preserve The Wind in the Willows as it will give theatregoers around the world a chance to enjoy the eye-popping set design and choreography for years to come. Along with New York City's Broadway, London's West End is renowned as a pillar of the international theatre community. We're thrilled to continue building our line-up of West End productions and preserving theatre for all audiences."
The stage production is produced by Jamie Hendry, MJE Productions and Josh Gilinski, in association with Theatre Royal Plymouth, THE WIND IN THE WILLOWS is directed by Rachel Kavanaugh with choreography by Aletta Collins, set and costume design by Peter McKintosh, lighting design by Howard Harrison, sound design by Gareth Owen, wig and makeup design by Linda McKnight, orchestrations by Chris Jahnke and David Shrubsole and musical supervision by Simon Lee.
Full details or release dates will be featured on www.WillowsMusical.com. The original cast recording is available to buy here.
Photo Credit: Helen Maybanks