Video: Go Inside Rehearsals of David Henry Hwang & Jeanine Tesori's SOFT POWER!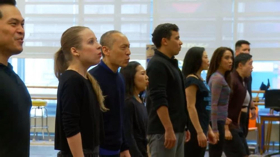 The upcoming world premiere of "Soft Power" by David Henry Hwang (play and lyrics) and Jeanine Tesori (music and additional lyrics) will be produced by Center Theatre Group at the Ahmanson Theatre from May 3 through June 10, 2018. Directed by Leigh Silverman and choreographed by Sam Pinkleton, the opening of "Soft Power" is set for May 16. Following its run at the Ahmanson, "Soft Power" will play San Francisco's Curran from June 20 through July 8, 2018.
The cast includes, in alphabetical order, Billy Bustamante, Jon Hoche, Kendyl Ito, Francis Jue, Austin Ku, Raymond J. Lee, Alyse Alan Louis, Jaygee Macapugay, Daniel May, Paul HeeSang Miller, Kristen Faith Oei, Maria-Christina Oliveras, Geena Quintos, Conrad Ricamora,Trevor Salter and Emily Stillings.
The creative team includes scenic design by David Zinn, costume design by Anita Yavich, lighting design by Mark Barton, sound design byKai Harada, orchestrations by Danny Troob, dance arrangements by John Clancy, music supervision by Chris Fenwick, music direction by David O, hair and wig design by Tom Watson, make-up design by Angelina Avallone and casting by Heidi Griffiths, CSA and Kate Murray, CSA. The dramaturg is Oskar Eustis. The production stage manager is David Lurie-Perret.
A contemporary comedy explodes into a musical fantasia in the first collaboration between two of America's great theatre artists: Tony Award winners David Henry Hwang ("M. Butterfly") and Jeanine Tesori ("Fun Home"). "Soft Power" rewinds our recent political history and plays it back, a century later, through the Chinese lens of a future, beloved East-meets-West musical. In the musical, a Chinese executive who is visiting America finds himself falling in love with a good-hearted U.S. leader as the power balance between their two countries shifts following the 2016 election.
As original as it is topical, "Soft Power" overflows with the romance, laughter and cultural confusions of the golden age of Broadway. "Soft Power" is inspired by the legacy of classic American musicals such as "The King and I" as well as China's current quest for international cultural influence, also known as "Soft Power."
Check out a brand new sneak peek of this exciting new musical below!