VAMOS TODOS! A New Fiesta Kids Musical Opens Across NYC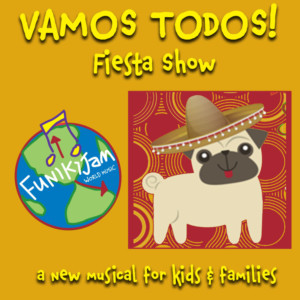 VAMOS TODOS! Fiesta de Mayo, The latest installment in FunikiJam's ongoing season of original musicals for kids and family audiences is here! Interactive fun for the young - and young at heart - the high-energy Spanish celebrations run now through Cinco de Mayo weekend. No tequila needed.
ABOUT THE SHOW: When the Agents of Jam decide to throw a special FIESTA de MAYO celebration, they embark on a tune-filled journey around the world where audience members become "new recruits" to help explore Spanish, European, South American and Farm Gardens with a special emphasis on Mexican Folklore, Spanish Language, and Latin Dance!
Written by and starring Brian Barrentine as Captain Jam with International Artists Juan Espinal, Victoria Raidorosky, Andrea Galata, Ashton Parrack, Beatriz Calivieri, Damien Alix-Souhabi, and Meghan Doherty as the Agents of Jam, Fiesta de Mayo is a 3-week series of music and movement programs that culminates with a special performance of FunikiJam's newest Off-Broadway family musical. Recommended for ages 10 and under, "Vamos Todos! FIESTA DE MAYO" opens Off-Broadway at the Actor's Temple Theatre on Sunday May 6th at 11am.
FIESTA CLASSES & MUSIC IN THE PARK are ecommended for ages 5 and under. Fiesta De Mayo is presented daily at over 20 venues and parks throughout NYC as part of FunikiJam's Spring MUSIC GARDEN series.
Ticket admits one adult with child.
Prices for a drop-in/single visit range from $30 - $40.
Prices with a class pack range from $15 - $25.
visit www.funikijam.com for complete schedule and bookings.